COMMENT
By Paul Macdonald | Associate Editor
It was another relatively straightforward evening for Barcelona and Real Madrid on Saturday; the big two collected victories by three-goal margins, as Gonzalo Higuain inspired the capital giants to a 4-1 win over Real Betis, while Lionel Messi was at his imperious best to humble Racing 3-0.
Spain's behemoths moved ominously into the top two positions in the table as a result of their respective triumphs, where they are likely to stay for the rest of the season. But while both victories were ultimately comfortable in nature, there appeared a distinct difference in the attitudes of the visiting sides.
Betis, just as Rayo Vallecano had a few weeks ago, attacked Real Madrid and looked threatening in opposition territory. They were able to find the net, and had Higuain not restored Madrid's two-goal advantage almost immediately after Molina's strike, Jose Mourinho's men may have enjoyed a nervous closing spell.
Minimal resistance | Racing had resigned themselves to defeat before a ball was kicked
As it was, the result was comprehensive, but at least Betis conveyed a level of self-confidence that suggested they could potentially damage their illustrious opponents. The same could not be said of Racing at Camp Nou, and their insipid performance, punctuated by minimal resistance, indicated a trend of visiting teams accepting their fate long before stepping out on the turf in Catalunya.
The Santander side conveyed a distinct lack of belief that anything other than defeat awaited them, and when facing a team that many consider to be close to invincible, it really isn't necessary to offer up any further advantage.
Hector Cuper's players succumbed within 11 minutes, allowing Messi to drift through, latch onto an Iniesta pass and slalom around Tono before passing home. Barcelona do have a penchant for making everything look remarkably easy, yet at times in the first half it simply
was
too easy. Xavi, all 5' 7'' of him, was allowed to nod home a second, finding space among seven defenders present in body but not in mind. Messi's rebound after Iniesta had struck the post made it three, but had their desire to add more been greater, the margin of victory would unquestionably have been wider.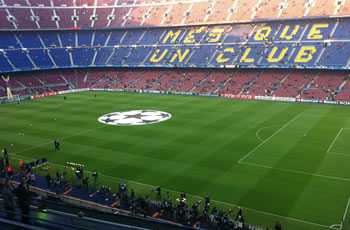 HOME COMFORTS

Barcelona's La Liga results at Camp Nou in 2011-12

5-0 v Villarreal, Aug 29

8-0 v Osasuna, Sep 17

5-0 v Atletico Madrid, Sep 24
3-0 v Racing, Oct 15

Just as Villarreal were dominated, as Osasuna were humiliated, and Atletico Madrid annihilated, Racing had effectively struck a pen through this match long before it had commenced. Anything gained against either Barcelona and Real Madrid represents a thoroughly unexpected bonus for the remainder of La Liga these days, but there are rather different ways of fulfilling the fixture.
Remaining compact and organised, and daring to threaten the opposition goal has proven successful for the likes of Athletic Bilbao, Hercules and Mallorca in the past 12 months. Accepting your fate with little or no defiance does not healthily cultivate a combative Primera Division.
Cuper had already enthused over Barca in midweek, proclaiming Pep Guardiola's men to be the best team in history, though in truth the Catalan giants barely needed to shift from first gear in order to get the result they required.
Yes, Racing have one of the weakest squads in the league and significantly better teams than them have been forced to bow to the majesty and superiority of Messi and Co, but there is an unshakable sense that teams venturing to face the champions can't wait for the match to be over. 21 goals scored, none conceded, in just four home league matches is a record that is as ridiculous as it is astounding - bear in mind Barca have barely been able to field a recognised central defensive pairing so far this season - and Racing were just the latest team to go through the motions.
In the capital city, Betis went for goals and in the end were punished by ruthless finishing from Madrid. Rayo led at the Bernabeu before their enterprise was undone by defensive naivety. On the face of it, teams have a greater propensity to attack Mourinho's side, but the sheer concept of facing such a lauded and utterly-respected side such as Barcelona doesn't seem to be even worth challenging.
At a time when the earnings gap of Barcelona and Real Madrid versus the rest has never been wider, the general competitiveness of the division has been been called into question. Those looking to defend the merits of La Liga's depth would do well to forget this fixture took place.
The flip side, of course, is that Barca don't allow teams to dictate their own formation, and visiting teams' chances of success are directly correlated to how motivated the hosts are to showcase their talents. Furthermore, it could be suggested that Racing will in fact be encouraged by only conceding three times.
But, moments of Messi genius aside, this was far from vintage Barca in comparison to their own high standards, and yet the result was never in doubt. Unless opposing sides begin to believe in themselves, it's difficult to foresee anything other than a slew of big Barca wins at Camp Nou across the rest of the season.