COMMENT
By Keir Radnedge
Out of the hearing of the rest of the world, the temperature is rising within Spanish football over a dispute whose resolution has significant implications for sport, the media and the sports-loving public at large.
The core of the issue is as follows: What is a football match (or other sports event, for that matter) for which tickets are sold? Is it a private event or is it an event of public interest?
For the sake of debate, let's keep this to football or soccer, or calcio, or futbol, or futebol, or Fussball, or any other linguistic variation and translation.
Professionalism arrived in the early 1880s. Since then clubs have sought to meet the ever-increasing costs with a succession of money grabs. Entrance tickets, perimeter advertising, shirt advertising and now stadium-naming deals have evolved in parallel with sponsorship and television fees.
The difference between TV and the written press is that newspapers and magazines are held to be providers of information, while TV provides entertainment. Hence football believed that, just as broadcasters pay rights fees for music as entertainment, so they should pay for match coverage (also in consideration of the logistical upheaval demanded within stadia).
Rival broadcasters bid aggressively against one another for the rights to exclusive coverage of the World Cup or European Championship, or Champions League, or Premier League, etc.
The very fact that one TV channel's coverage shuts out the rest is a fundamental difference to football's coverage in the written press; all major newspapers are granted press box presence (apart from, on a local level, those who may occasionally upset the likes of Ken Bates & Co).
Even here, however, the written media's ability to report a match it likes is restricted, in England, for example, by the terms and conditions laid down by the Premier League and Football League through a jointly-owned company named Football DataCo.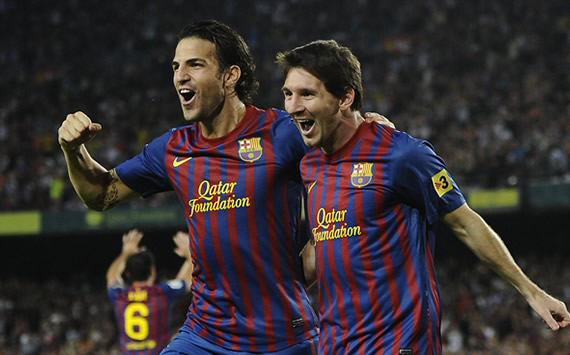 Radio Na-Na | Spanish radio is commentating on Fabregas & Messi from home
The raison d'etre of DataCo is to monetise, as far as possible, every kick of the ball to the financial benefit of the leagues and the clubs (this has peculiar side-effects such as a row over whether reporters can Tweet from a press box, but that is an issue for another day).
National associations, leagues and clubs from all around the world have sent delegation after delegation to learn from the Premier League commercial model. What the Premier League commercialises today, other countries will commercialise tomorrow and then so will other sports.
Hence, the present row in Spain where radio channels who have always enjoyed total freedom of access on match-day are up in arms that the Spanish league – with a mixed level of support from its clubs – is demanding that radio now puts its money where its commentary is.
Radio stations have refused to pay and many have taken to commentating from their studios off TV feeds and arranging to meet players for interviews outside the stadia after games.
Now the LFP (La Liga Nacional de Fútbol Profesional) has instructed its contracted television partners to cut the transmission signals, where possible, to radio stations. This is aimed at radio commentators who have continued to work off the TV screens after being barred from the stadia.
The LFP has apparently provided the TV operators with a list of 'offending' radio companies and their addresses.
"Now the LFP has instructed its contracted television partners to cut the transmission signals, where possible, to radio stations.

"




Radio channels say that such action would be in direct contravention of all the usual norms of freedom of access to information; the LFP says this is nothing to do with freedom of the press or freedom of information, merely an issue about a "violation of broadcasting rights."
The LFP is pointing to an end-user agreement in its television contracts which bars TV companies from passing on the transmission signal to radio stations, even stations they own and/or control.
It has asked TV companies not only to cut the signal to reclaim all associated decoders, access cards, dishes and aerials and then cancel any or all radio contracts.
European football federation Uefa is watching on with some concern but unable to intervene, understandably: to become involved in any domestic issue would set a political game-changing precedent of massive proportions.
Many countries, particularly in southern Europe and Latin America, are watching events in Spain with intense interest. Radio coverage of domestic football remains free in many countries even though the payment of rights fees for live coverage exclusivity is accepted without question in England, Italy and many others.
Meanwhile, across Spain's northern border in France, radio access for domestic games is not only free but that freedom has been enshrined in law.
Spanish radio stations may wish they enjoyed a similar legal formality; it just never occurred to them that one day such freedom might come at a price.
Follow Keir Radnedge on

Keir Radnedge has covered every World Cup since 1966, analysing the international game for newspapers, magazines, TV and radio around the world