COMMENT
By Kris Voakes | Italian Football Editor
Even during the international break, Juventus' positive start to the new season has continued. Sitting top of Serie A after five games, the subject of countless positive reviews in the media, and full of hope for a long overdue Scudetto push to come, there has been no let-up in the good news coming out of Turin. The reason? It's the club's renaissance as the driving force behind the Italian national squad just a few months before the Azzurri head for the Euro 2012 finals.
Having won seven and drawn two of their nine qualifying matches so far, Italy take on Northern Ireland in Pescara on Tuesday looking to complete a near-perfect campaign, and they do so with a growing band of inclusions from the Vinovo club. Andrea Barzagli's recall to the national side meant that Friday's draw in Serbia was achieved with six Juventus players in the starting XI.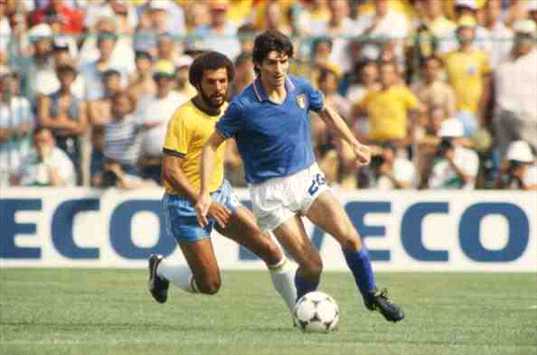 Paolo Rossi | An ItalJuve winner in 1982
It is far from a new phenomenon for a country to call upon a large number of stars from a single club, and Italy themselves have quite the history – particularly in relation to Juventus – and it has proven to be a winning formula for them in the past.
The Azzurri's first-ever World Cup win in 1934 came in the middle of a run of five straight Scudetti for the Turin side, and the likes of Giovanni Ferrari, Raimundo Orsi and Umberto Caligaris were among a nine-strong band of Juve players in the 22-man squad which triumphed on home soil under Vittorio Pozzo. Four years later, Italy grabbed a second world title immediately after the Bianconeri had added a Coppa Italia win to their roll of honour. The 1930s remains the second most successful decade in the club's history.
ITALJUVE
How Juventus' successes have translated to the Azzurri

1934

Italy - world champions
9 Juve call-ups
Juventus - Serie A winners 1930-31, 31-32, 32-33, 33-34

1938

Italy - world champions
2 Juve call-ups
Juventus - Coppa Italia winners 1937-38
1968
Italy - Euro champions
3 Juve call-ups
Juventus - Serie A winners 1966-67
1982

Italy - world champions
6 Juve call-ups
Juventus - Serie A winners 1980-81, 1981-82
2006

Italy - world champions
5 Juve call-ups
Juventus - Serie A winners 2004-05, 2005-06*
*titles later revoked
And it didn't end there. The additional World Cup wins in 1982 and 2006 were both achieved after back-to-back Juventus titles, with a total of 11 Bianconeri – including names such as Dino Zoff, Paolo Rossi, Gianluigi Buffon and Alessandro Del Piero – being added to the list of Italian medal winners. Throw in the Scudetto won by the club a year before their 1968 European Championships victory and there is quite a history to speak of. It has proven enough for the moniker 'ItalJuve' to be coined for successful Azzurri outfits.
The latest wave of Juve call-ups have perhaps naturally evoked memories of the successful national squads of the past, especially in the defensive half of the pitch. With nine defenders and three goalkeepers among their 22 World Cup winners – and all three of their European champions having come from the backline – the inclusions of Buffon, Barzagli, Leonardo Bonucci, Giorgio Chiellini are a particular reminder of successful 'ItalJuve' teams of yesteryear.
But it is perhaps in midfield where there is a particular renaissance, with Andrea Pirlo's influence on his new club being replicated in Belgrade on Friday, while Claudio Marchisio's first-minute goal was his fourth in all competitions this season – and his third in nine minutes following his late double against AC Milan last week.
The Turin club's near-constant attempts to build an Italian heart to their side are perhaps always going to result in a heavy influence in the national setup, but the parallels of success are clearly not coincidental. And the current Juventus team could well be the main driving force behind a challenge for a second European crown for La Nazionale next summer.
While Italy are not among one of the obvious favourites as things stand, the recipe for success is just about in place. And a continuation of Juve's great start to the season will only have Italians dreaming even more.
Follow Kris Voakes on