COMMENT
By Chamroeun Ung
Much like regional neighbours Vietnam and Indonesia, the secret to success for Cambodia's national football team could be scouting talent abroad. While young domestic players are constantly improving, notable individuals with Cambodian heritage born on foreign soil offer an intriguing way to boost the team.
Football Federation of Cambodia (FFC) president Sokha Sao revealed that they are eager to see the national team strengthened. "We welcome any players of Cambodian blood to help the national team and we will always try to facilitate them," he the
Phnom Penh Post
.
Three players have caught the eye after scouring the football globe with the hope that the Federation and national team coaching staff are taking note.
Chhunly Pagenburg
Cambodian-German striker Chhunly Pagenburg, 24, was born in the Bavarian city of Nuremberg, spent his youth with SB Phoenix Nurnberg's youth team as well as youth sides of Greuther Furth and FC Nurnberg.
Chhunly progressed to feature in the senior squad of German club Rot-Weiss Erfurt and this July signed with Regionalliga West (fourth-tier) squad Eintracht Trier.
| | |
| --- | --- |
| "Chhunly has international experience, having enjoyed call-ups for the Under-19 and Under-20 German national teams in 2004 and 2005." | |
His club career featured a stint with Bundesliga outfit Nurnberg during the 2006-07 season, during which he scored once from 12 appearances. Chhunly also scored during Nurnberg's triumphant 2007 DFB Pokal Cup run.
Chhunly has international experience, having enjoyed call-ups for the Under-19 and U-20 German national teams in 2004 and 2005. He had five appearances and one goal when the U-19 side reached the 2004 European Championship semi-finals. Now, Chhunly has turned his sights on representing Cambodia.
"I am so happy if I have chance to play for the Cambodian team, where my mother was born. It's my great honour," Chhunly wrote to the
Phnom Penh Post
.
Davy Armstrong
Davy Armstrong, 19, was born in Aurora, Colorado to a Cambodian father who emigrated during the Vietnam War. In high school, he was honoured as MVP during the 2008 Denver Post All-Colorado tournament.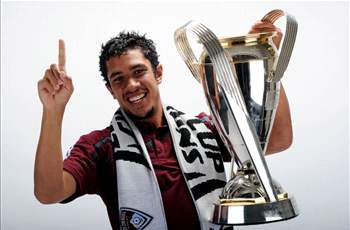 "Despite never having visited the Kingdom, Davy has expressed interest."
He joined MLS side Colorado Rapids' youth system in 2007, making numerous appearances. Last year, Davy became the first Colorado-born player to join the senior team.
The Rapids captured their inaugural MLS title that year, although Davy stayed on the reserves list throughout. The young midfielder finally got some pitch time a few weeks ago when he was subbed in during their 3-1 Concacaf Champions League win over hosts Metapan of El Salvador on August 28.
Despite having never visited the Kingdom, Davy has expressed interest. "My uncle still does an orphan camp down there with all the missionaries. My sisters have gone down and helped out, so I hope to get there someday, too." he told told local newspaper
Aurora Sentinel
in June.
Chan Tolson
Chan Tolson was born in 1990 in Battambang province to an Australian father and Cambodian mother before the family relocated to Brisbane, Australia. Prior to taking up football, Tolson showed promise as a sprinter but made the conversion because he liked football's use of multiple skills.
The 21-year-old excels on either wing and as a forward. After playing for Brisbane-area youth teams, last year he joined the U20 side of English Premier League club Bolton Wanderers.
Tolson now plays on the U21 team of the Pro Football Australia program, which is funded by Bolton. When contacted, Tolson revealed his eagerness to join the cause in the Kingdom.
"I have played in England, Wales, and Australia, so I really want chance to play for my home country," he said by email to the
Post
.
"I am still young. I want to share experiences which I have learned in different countries to develop Cambodian football and create a higher ranking for Cambodia in Fifa," he added.

Cambodian teams abroad
Work is also being done to create Cambodian football teams in foreign countries. Pen Phat, a celebrated national team striker of the 1960s and 70s, is developing a Cambodian youth team in Paris.
In Washington DC, the Cambodian American Soccer Association was founded last year under the slogan "For the Love of Cambodia", with the aim of recruiting and training young Cambodian footballers across the US in the hope they will one day compete internationally.
Chamroeun Ung writes for the Phnom Penh Post, Cambodia