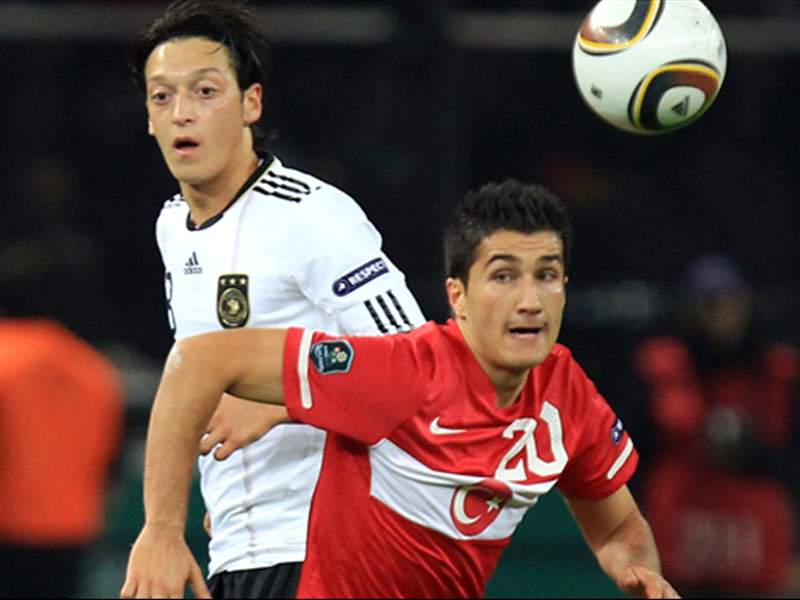 SPECIAL
By Clark Whitney | German Football Editor
The growing immigrant population in Germany is one that has been the subject of heated political discussion in recent times. A year ago, Chancellor Angela Merkel famously opined that her country's attempt at a fully integrated, multicultural society had "utterly failed".
However, even the greatest cynics must admit that the increasing population of ethnic Turks in Germany is yielding dividends on the football pitch. For example, Mesut Ozil, the Gelsenkirchen-born son of immigrants, has become a permanent fixture in Joachim Low's team, much to the dismay of Turkish nationalists.
The Real Madrid playmaker's decision to represent Germany has come with plenty of controversy. Twelve months ago, Hamit Altintop suggested the move was influenced more by business than Ozil's heart. Others have simply labelled Ozil a 'traitor'. But the player, who was indeed raised in German society and represented his homeland at Under-19 and U-21 levels, has insisted purity in his intentions.
"I am a tolerant person and I respect Mesut's path but I cannot stand to support his decision. If he had opted for Turkey, he would not have played at the World Cup and would not be at Real Madrid. It is that simple."



- Hamit Altintop

Ozil is just one of a very large number of players, past and present, eligible to represent both Germany and Turkey. With the two nations set to face off in Istanbul on Friday,
Goal.com
takes an in-depth look at the many German-Turkish footballers, and their chosen national affiliation.
WHO GOT WHO? The international affiliation of dual-eligible German-Turks

Name

Birthplace*

Youth NT

Name

Birthplace

Youth NT

Mustafa Dogan
Isparta

-
Serhat Akin
Bretten



Malik Fathi

Berlin

-

Halil Altintop

Gelsenkirchen

Mesut Ozil
Gelsenkirchen


Hamit Altintop
Gelsenkirchen
-

Mehmet Scholl
Karlsruhe


Volkan Arslan
Hannover



Serdar Tasci
Esslingen


Yildiray Basturk
Herne
-

Mehmet Ekici
Munich


Ceyhun Gulselam
Munich


Tayfur Havutcu
Hanau
-
Umit Karan
Berlin
-
Tayfun Korkut
Stuttgart
-
Ilhan Mansiz
Kempten
-


Nuri Sahin
Ludenscheid



*

All in Germany except Isparta, Turkey

Gokhan Tore
Koln

Note: Turkey internationals included are U21 or have 5+ senior international caps



Tunay Torun
Hamburg


Cenk Tosun
Wetzlar


In addition to the above, there are a number of others who have yet to officially confirm their national affiliation. While they may have publicly spoken on the matter of their preferred choice, they have not yet been capped competitively for a senior national team, and could still choose either side.
Omer Toprak is expected to earn his first cap for Turkey on Friday and put an end to all doubts over their affiliation. Ilkay Gundogan, meanwhile, has been pencilled in by Germany coach Joachim Low to earn his debut against Belgium on Tuesday.
UP FOR GRABS | The most coveted German-Turks yet to earn senior caps

| | | | |
| --- | --- | --- | --- |
| Name | Birthplace | Youth NT | Leaning Towards |
| Tolgay Arslan | Paderborn | U19, 21 | |
| Ilkay Gundogan | Gelsenkirchen | U18-21 | |
| Omer Toprak | Ravensburg | U19 | |
In all likelihood, the tension between Germany and Turkey will only increase in the coming years. The German team that set a record for goals scored during an Under-17 World Cup this summer included eight players of mixed heritage, six of whom were starters. Following the tournament there was immediate controversy as Turkey scout Erdal Keser claimed that some among the DFB's team had pledged to switch affiliation, while captain Emre Can and top scorer Samed Yesil publicly committed to Germany.
As more German-Turkish talents emerge, the stakes will only increase. The controversy over Ozil was the first real sign of tension between the German and Turkish associations, but in the coming years may be remembered as a mere preview to a lengthy power struggle. Neither side can expect to be fully satisfied with the decisions of youngsters of mixed heritage. However, regardless of the players' decisions, Germans and Turks alike can be proud to have kinship with a demographic that is ever-growing both in population and stature in the international football scene.
Follow Clark Whitney on