SPECIAL
By Gianluca Pepe | Generazioneditalenti.com
Enzo Zidane Fernandez was born in Bordeaux, France, on March 24, 1995. Back then, his father was already a great player, capturing the attention of Juventus, starring for France in the 1998 World Cup win and later earning a big move to Real Madrid, where he would end his playing days.
But as Zinedine grew, so did Enzo, and Zizou still had time to teach his son the game that he loved. Growing up with a famous father can be either an advantage or a burden; there's no middle ground. Can there be a better coach for a growing boy, though, than Zinedine Zidane? Probably not. Watching his father shine at Juventus and in Madrid, Enzo - named after Uruguayan great Francescoli - showed the same passion for football, a desire to follow in the footsteps of his father. And now he is.
While Zinedine took a long route to the top, via Cannes and Bordeaux, Enzo begins in a privileged place: Madrid. And the youngster, a very mobile midfielder with excellent vision of the game, is keeping his options open, with both French and Spanish nationality, plus eligibility for Algeria. One day he must choose which country to represent, but that will come later. For now, he is having fun at Real.
SNAPSHOT
| Enzo Zidane
(Real Madrid
)




Age: 16

Born: Bordeaux

Clubs: Juventus, Liceo Frances, San Jose, Real Madrid


Position: Attacking mid

Height: 5ft 9in

International: Yet to decide. Eligible for France, Spain and Algeria



Current Form: Very promising
A bit like: Zinedine Zidane
Asked about the progress of his son, Zizou responded: "He's named Zidane, so he doesn't have square feet." Of course not. The young midfielder with the thick mop of hair has been a revelation at junior level and has already come to the attention of Jose Mourinho. The Portuguese called Enzo for a workout with the first team on September 5, and the youngster lined up in training alongside Cristiano Ronaldo, Kaka, Mesut Ozil, Angel Di Maria et al.
And of course, his dad - now Madrid's sporting director - was present, too, watching on as Enzo rubbed shoulders with some of the world's greatest talents. At the age of 16, the youngster is a step closer to emulating his idol - his own father.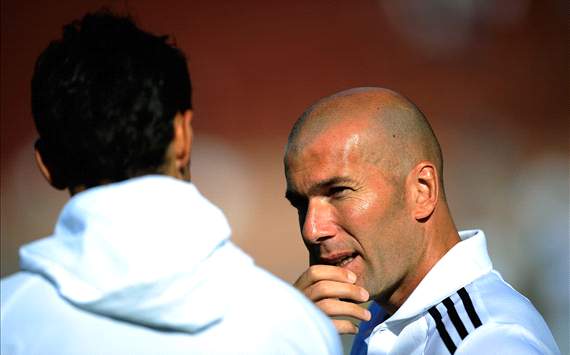 Father figure | Zidane is around to keep a watchful eye on Enzo in Madrid
The latest Zidane possesses excellent ball control, wonderful technique, awareness and a vision reminiscent of the great man himself. He has fantastic shooting ability, can create space where there appears to be none and has even inherited his father's famous 'Roulette'.
Footballers' sons don't always make it big, of course, but the talent is there for Enzo Zidane and under the watchful eye of Zizou and Mourinho, his future lies in the best possible hands.