SPECIAL
By Michael Yokhin
The Bela Guttmann curse is almost 50-years-old, but we will never know exactly what the great Hungarian coach said. The classic, most popular version claims he announced that "not in a hundred years from now will Benfica win a European Cup", when angrily leaving the club in 1962. That, however, is far from certain. The reason for Guttmann's abrupt departure from Lisbon was all about the Benfica management's refusal to pay him a bonus for winning the European Cup twice in a row, since there was no such clause in his contract. Thus Guttmann allegedly sniped that Benfica will never win a European Cup until he was paid his due. Additionally, some say he stated in an interview that no Portuguese team, in 100 years, will manage to win the cup twice in succession like he did.
Whatever you would like to believe, all Guttmann's predictions - real or invented - have come true. Porto did lift the coveted trophy, in 1987, thanks to that extraordinary Rabah Madjer backheel versus Bayern Munich, and again in 2004 under Jose Mourinho, but naturally couldn't successfully defend the title. As for Benfica, the debt was never paid and the cup was never won again. The Eagles reached the final on five occasions since Guttmann's famous words and lost all of them. AC Milan dethroned them in 1963; Inter got the upper hand in 1965; Matt Busby's Manchester United won the famous Wembley extra-time in 1968; PSV Eindhoven took the title on penalties in 1988 in a strange season when a mediocre Lisbon side conceded just a single goal in the whole competition while the Dutch drew all their games starting from the quarter-finals, and, finally, the much more flamboyant Dutchman Frank Rijkaard was responsible for the 1-0 win in 1990. That historic final took place in Vienna, where Guttmann - who died 30 years ago last month - is buried, and the great Eusebio went to pray on his grave beforehand, asking for the curse to be removed. It didn't help.
Guttmann, the greatest Jewish coach of all time, whose whereabouts during the Holocaust were never discussed, was an extremely controversial and colourful character. A kind of Mourinho predecessor, he always liked to be the centre of attention, making bold decisions and audacious statements. Unlike most (but like Mourinho), Guttmann's belief was that he should never stay at the same place for too long. "A coach is like a lion tamer. He dominates the animals as long as he shows self-confidence and has no fear. But when the first hint of fear appears in his eyes, he is lost," Guttmann used to say. As for his employers, the Hungarian once stated: "During the first season, the coach gets to work quietly, the second is more difficult, and the third one is fatal". To be closer to truth, Guttmann almost never spent even two years at the same club. He became an eternal maverick, betraying or being betrayed almost every year. In 22 years, between 1945 and 1967, he changed squads no less than 18 times. Whenever there was something not to his liking, he just walked away to another project.
"The third season is fatal."
One of the first examples came at Romanian club Ciocanul, where Guttmann received his salary in vegetables due to food problems in the country. The president dared to think he could influence the team selection."You've got the basics. Good luck!" Guttmann told him, and left immediately. At Kispest, the biggest Hungarian club back in those post-war years, Guttmann had a difficult relationship with Ferenc Puskas, whose father he succeeded as coach. When the 'Galloping Major' attempted to convince a player to ignore Guttmann's tactical instructions at half-time, the Hungarian simply went to the stands, then took the tram home, never to return.
Probably his most bizarre statement arrived when Milan decided to sack him in 1955, even though the team were leading the league and playing great football. "I have been sacked, even though I am neither a criminal nor a homosexual," Guttmann told journalists. Today, even Mourinho would never dare to think of such a stupid phrase. More than half a century ago, though, it only served to boost his image. He became the game's most outspoken figure, outshining everyone around him.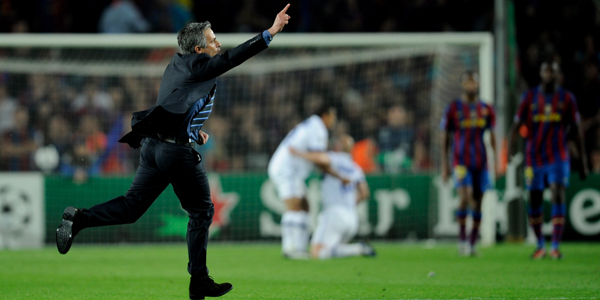 Bel-Canto | Mourinho's personality and philosophy is extremely similar to Guttmann's
He was also a brilliant tactician. It would be fair to say Guttmann played a very important part in Brazil's 1958 World Cup triumph, exporting his revolutionary 4-2-4 system to South America while working at Sao Paolo and leading them to the State Championship title. His greatest success came in Portugal, and, contrary to what you would imagine, it started at Porto, where he won the league title in 1959, stealing it from Benfica late in the season. His next step was to leave and move to Porto's fiercest rivals, winning another two league crowns in Portugal, as well as those two European Cups. His attacking philosophy was extremely successful, and he famously said: "I never mind if the opposition scores, because I always believe we can score more". That is exactly what happened in the great 1962 final in Amsterdam, as Real Madrid led 2-0 and then 3-2 through Puskas' hat-trick, only for the Portuguese to win 5-3 thanks to Eusebio. After the final whistle, Puskas gave the Mozambique-born youngster his shirt in admiration.
Benfica were the only team in Guttmann's career that he stayed with for three whole seasons, and the third one WAS fatal mainly because he wanted it to be. The Hungarian could have continued to build an empire similar to that of Real Madrid in the late 1950s, with Eusebio and Mario Coluna both worshipping him. But that was totally out of his character, and he decided to attack his superiors, demanding that elusive bonus and delivering his curse.
"Not in one hundred years from now will
Benfica win the European Cup."
The curse doesn't seem likely to be broken anytime soon. Benfica are light years from competing with the top teams in the Champions League. It's been almost 50 years since Guttmann uttered those fateful words, and the game has changed without recognition. When the Jewish great led his team in the 1962 final, he only had Portuguese players in the line-up. When Benfica won against Twente in the qualifying round this season, there amazingly were none. All 14 players used, including the substitutes, were foreigners. Ironically, though, Benfica had a foreign coach in 1962, while now they have their very own Jorge Jesus. His attacking philosophy matches that of Guttmann, but he is, of course, not the most successful Portuguese coach.
Jose Mourinho was born in Setubal, some 50 km from Lisbon, just eight months after Guttmann left Benfica. There is no doubt he heard many stories about the legendary coach growing up, and his influence on the current Real Madrid coach was immense. Guttmann's legacy lives on in more ways than one, for right and wrong, and so does his curse.
Follow Michael Yokhin on