SPECIAL
By Ben Hayward | Spanish Editor
Barcelona began their quest for a fourth consecutive La Liga title with a stunning 5-0 victory over Villarreal on Monday, having seen fierce rivals Real Madrid thrash Zaragoza 6-0 the previous night. Spain's big two will battle it out for the Primera Division this term but here, and having offered
five reasons yesterday why Real Madrid will win the title,
here
Goal.com
why the trophy is likely to be heading back to Catalunya.
1. 'PLAYSTATION' MESSI IS STILL UNPLAYABLE

Lionel Messi had only just returned from his holidays ahead of the Spanish Supercopa against Real Madrid, but proved the difference as he scored three and assisted the other two of Barcelona's five goals to clinch the first trophy of the season, even though Jose Mourinho's men had dominated for long periods over the two legs.
Messi added two more in Barca's 5-0 win at home to Villarreal in Monday's Liga debut and also opened the scoring in Friday's Uefa Super success against Porto.
The Argentine, like Madrid's Cristiano Ronaldo, netted an incredible 53 goals in all last season, but eclipses the Portuguese in his provision for others. Last term, Messi racked up 24 assists in all competitions, and has already set up two goals for Cesc and another for Andres Iniesta in glorious style this time around, as well as David Villa's strike at the Santiago Bernabeu.
Arsene Wenger once called him a 'Playstation' - and he remains unplayable.
2. CESC IS THE SIGNING OF THE SUMMER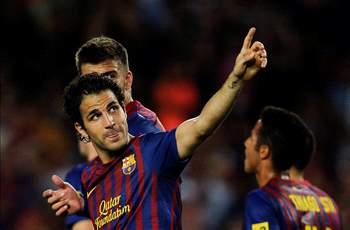 There had been much debate over whether Cesc Fabregas was needed at Barcelona. Xavi's peerless performances in 2010-11 and the emergence of the excellent Thiago Alcantara saw Barca fans question their side's persistent pursuit of the Arsenal captain.
Three games in, they won't be questioning it now.
Cesc has slotted in seamlessly at Barca, showing a fantastic range of passing and an eye for goal as well.
Fabregas played a pivotal part in Messi's Supercopa clincher against Madrid to impress on a 10-minute debut and followed up that effort with the second goal in a similar cameo in the Uefa Super Cup versus Porto on Friday night.
Having also scored in the Gamper Trophy friendly against Napoli, the midfielder bagged his first official Camp Nou strike on Monday as he notched Barca's second in the 5-0 win over Villarreal. Cesc can operate in a number of positions and his arrival also allows Pep Guardiola to rest Xavi, as he did last night. Fabregas looks as if he has never been away and has already improved the best side in the world. Some signing.
3. LA MASIA KEEPS ON PRODUCING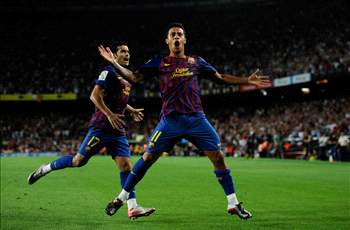 Barcelona's fabled farmhouse may have famously closed its doors earlier this summer, but that's only because the centre was no longer large enough to house the array of talent emerging through the youth ranks at the Catalan club.
Xavi, Iniesta, Messi, Carles Puyol, Gerard Pique, Pedro and Fabregas are all La Masia products, like Pep himself, but a new generation of talents are ready to graduate and offer Guardiola valuable options this term.
Thiago is the latest in the line of stylish midfielders to emerge from the club's astonishing academy, and the 20-year-old showed his worth with a fine opening goal against Villarreal on Monday and a late assist for Messi in a typical all-action performance.
In his footsteps are likely to follow right-back Martin Montoya
, central defenders Marca Bartra and Andreu Fontas, attacking midfielder Sergi Roberto and forward Isaac Cuenca - all rated highly at the Catalan club.
When Jose Mourinho took over at Real Madrid a year ago, many believed the tide would turn in Spanish football.
Barcelona had just won the La Liga, but been upset by Mourinho's Inter in the semi-finals of the Champions League and the Italians had gone on to win Europe's premier club competition.
Suddenly, Mourinho's Madrid would be a threat to Barca both domestically and continentally. And so it proved. Pep, however, had the answers.
Barca's short squad survived the absence of captain Carles Puyol for long periods in 2010-11 to win both La Liga and the Champions League as Guardiola used both Javier Mascherano and Sergio Busquets as unorthodox central defenders. It seemed like filling square pegs with round holes, but now looks as if it may have been the plan all along; Barca haven't signed a centre-back this summer and the two midfielders have been filling in again at the back this term.
That allows Barca to bring out the ball from defence, while summer signings Fabregas and Alexis Sanchez have given the Catalans a plethora of options all over the park. So while Madrid look fitter and stronger than ever, Pep still looks to be a step ahead.
How do you motivate a group of players who have won everything there is to win in the game? Quite easily, it would seem. "I ask the players if they want to keep on winning and they always respond," Guardiola said after his side secured the Uefa Super Cup on Friday.
Fabregas has also been impressed with the attitude at Camp Nou. "I am surprised by the desire these players have to carry on winning," he claimed last week.
But success breeds success and the Barca players aren't about to lose their hunger just yet. "Just because we have won before doesn't mean we don't want to win again," explained Xavi, now the most decorated player in the history of the club. "If we don't win this season we will all be disappointed."
And with Madrid - and particularly Jose Mourinho - stoking the fires of an already intense rivalry, the Catalans' passion and desire for success in La Liga and beyond remains very much intact.
Follow Ben Hayward on