FEATURE
By Ben Hayward | Spanish Football Editor
A lot can happen in eight years. Back in 2003, Real Madrid remained the dominant force in Spanish and European football - despite Valencia winning the previous La Liga - while Barcelona had gone four years without any title at all. The Catalan club had just failed to sign David Beckham and bought Ronaldinho instead, Lionel Messi was an unknown and Jose Mourinho simply a former assistant coach taking his, albeit very successful, first steps in the game in his native Portugal.
Mourinho had worked under Bobby Robson and Louis van Gaal at Barca, gaining popularity as he spoke of his warmth for the club and impressed in his role as a knowledgable and dedicated number two. And after leading Porto to league, cup and Uefa Cup success in 2003, he was instrumental in inviting back his old club for a prestigious friendly meeting to inaugurate Porto's brand new stadium, Estadio do Dragao, built for the European Championships of 2004.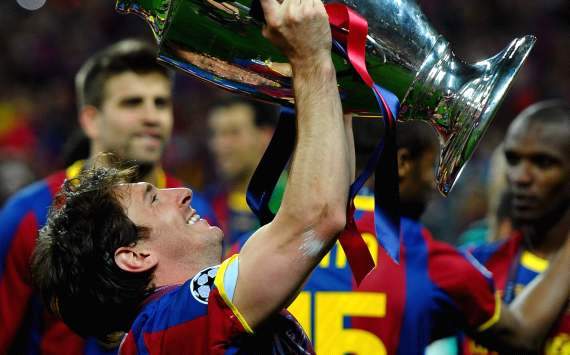 Trophy boy | The honours have kept on coming for Leo Messi since his 2003 debut
Porto offered Barca €250,000 and incoming president Joan Laporta, reeling from bad buys at elevated prices in previous mandates, gladly took up the offer. As it was mid-November, coach Frank Rijkaard, who would later lead the Catalan club to two Primera Division titles and a Champions League crown in 2006, picked a scratch side with mostly youth-team players joined in the starting XI by Xavi, Mexican defender Rafa Marquez and current Roma coach Luis Enrique, who was coming to the end of his career.
The match turned out to be a scrappy affair on a poor pitch, but it was made memorable by two men: Messi and Mourinho.

"On Messi's first day of training with us, we wondered why he was there because he was so tiny. But then we saw him play.
"

- Gerard Pique on young Leo
The Argentine, a tiny teenager of just 16 years and five months, began on the bench and was expected to feature at some stage. "Argentine footballer Luis Lionel Messi, a youth-team player with FC Barcelona, could make his debut with the first team against Portuguese side Porto in the inauguration of their new stadium on Sunday," read an understated report by Buenos Aires-based national news agency
Telam
. Little did they know what was to come from young 'Luis Lionel' as the youngster replaced defender Fernando Navarro late in the game and immediately caused Porto problems with a serious of dazzling dribbles. He should have scored as well, but opted to keep running instead of shooting with the goal at his mercy.
From the dugout, Mourinho watched on with interest. The Portuguese was hardly a household name back then, either, but he would be less than a year later as he led Porto to an improbable triumph in the Champions League and subsequently moved to Chelsea. It was a first meeting with former club Barca for the self-styled 'Special One' and a premiere performance for Messi, who later watched the highlights of the game with his father, proud and touched at his son's showing, as part of a television special in Catalunya.
Mourinho, ultra-competitive as always, won that particular meeting with Messi and Barca as his side triumphed 2-0, thanks to a penalty from Derlei and a late Hugo Almeida goal. Nobody remembers that now, of course, but the rest, as they say, is history.

"If I had known how good Mourinho was, I would have told Barcelona to keep him here when he was working as assistant coach.
"

- Pep Guardiola in 2010
Just last week, Mourinho's Real Madrid side came as close as anyone has to exposing Barcelona in recent times, giving as good as they got in the Spanish Supercopa before ultimately losing out, as so often before, to Messi. But big battles lie ahead in 2011-12 following five frenzied fixtures between Spain's big two last term.
Together, the Portuguese and the Argentine have helped create - along with Pep Guardiola, who was winding down his playing career in Qatar late in 2003 - what is perhaps modern football's greatest rivalry.
So if Messi nets tonight in the only competition in which he has played and failed to score, and leads his side to yet another victory, the newly-crowned European Player of the Year will have beaten both Mourinho and Porto in the space of just over a week. He will have come full circle. And if that happens, he will surely look back to when he stepped nervously off the bench that night in northern Portugal in 2003 to face Porto, Mourinho and the watching world for the very first time in his first-team career. Eight years is a long time in football.
Follow Ben Hayward on