After the top clubs from around Europe learned their fate in the Champions League group stage draws,
Goal.com
put its team of football experts to the task of answering readers' queries in a Q&A session.
Our
Twitter
page was inundated with questions from fans from all over the world as they pondered what lies ahead for the continent's elite.
Click here for a full transcript of the session
- here are some of the highlights:
Q:
Will
Arsenal
win Group F? - Andrew
Greg Stobart:
"I think Arsenal should rightly be considered favourites to win Group F given the quality of their squad and their history of reaching the knockout stages in the Champions League. After all, that's why they were drawn out of Pot 1 as one of the top eight seeds. However, it's difficult to judge how Arsenal will get on until Arsene Wenger has spent some money and we know exactly what the Gunners' squad will look like. They finished second last season in an easier group and with a stronger squad, so no Arsenal fan should be feeling too confident. They have not been given any easy matches and the key will be how they fare away from home."
Q:
Can
Napoli
get out of Group A? - MMAN
Kris Voakes:
"It may be difficult - very difficult, in fact - but it's not impossible. If they approach their games in a positive enough manner, particularly at the San Paolo, they have an outside chance. The key is not to revert into their shell, as they were devastating at times last season when taking the game to the opposition, and if they can get as close to nine points as possible at home, then they may be able to grab enough away to sneak through."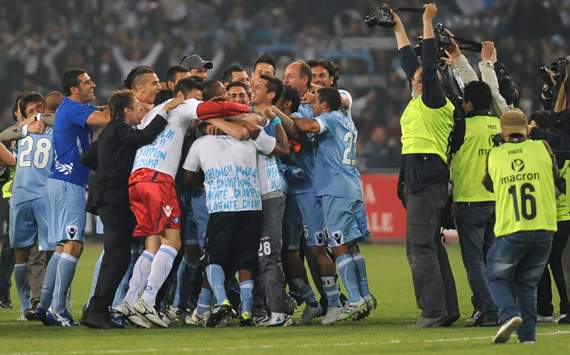 No time to Nap | Napoli may not have much to cheer about in the Group of Death
Q:
Which is this year's "Group of Death"? - Imran Anka
Clark Whitney:
"Only
Group A
could be worthy of the name 'Group of Death'. As four-time European champions and Champions League finalists just over a year ago,
Bayern
need no introduction.
Manchester City
have a better squad than most Pot 1 teams, and judging by their start to the Premier League season, have already integrated many of their new stars.
Villarreal
, meanwhile, were Europa League semi-finalists last season, losing out to eventual winners Porto; they will absolutely be in the running for a top-two finish.
Napoli
will have their work cut out, but are definitely better than the typical Pot 4 team. If they play aggressively, they could create quite a stir."
Q:
Isn't everyone tired of
Real Madrid vs Lyon
in the Champions League by now? - Rotimi Oyenekan
Robin Bairner:
"It's certainly a fixture that's appeared several times in recent seasons. Lyon have proven something of a bogey team for the Spanish club in the past, but that spell was broken last season and they'll be doing well to match Madrid this season. It's fair to say it's probably not a draw too many OL fans wanted!"
Q:
What will be going through
Juan Mata
's mind when
Chelsea
face his former club
Valencia
, and how will the crowd receive him? - Emmanuel Usoro
Ben Hayward:
"Well no doubt he will almost feel as though he hasn't left. Mata has a lot of good friends at Valencia and a return will bring both emotion and nostalgia. Having said that, the young forward is hugely excited about his new adventure at Chelsea and playing for what he sees as one of the biggest sides in Europe. The crowd appreciate his years of good form and hard work after arriving for free and understand his desire to move to a bigger club. He will receive a rapturous reception."