COMMENT
By Kris Voakes at San Siro
After cutting back onto his left foot, he unleashed a stinging drive which flashed off the far post. The large Juventus contingent at San Siro stood and applauded.
It was a rare bright moment for Claudio Marchisio in the Trofeo Berlusconi defeat to Milan last night, but in those few seconds alone he gave his band of sympathisers just enough ammunition to continue their adulation of a player who continues to fall short in his quest to become the club's next great midfield force.
It is hardly the first time he has popped up with one bright contribution in an otherwise underwhelming performance, and it is unlikely to be the last as the great Marchisio debate threatens to continue endlessly.
Juve fans largely seem to be right behind the man picked out as a capitan futuro for the Bianconeri, but many has been the time when he has fallen short of the mark required. Last night was just the latest example. There were occasions last season – against Sampdoria and Udinese being the most stark – when an utterly anonymous midfield display was overshadowed by a spectacular attempt at goal. And while that may be enough to pull the wool over the eyes of some, those strikes are far too rare for the myth to continue unabated.
CAREER STATISTICS | Claudio Marchisio
(Juventus & Italy)



Age: 25

Contract: 2016

Position: Midfielder

Clubs: Juventus, Empoli



Honours: Serie B (2006-07)

| | | | | |
| --- | --- | --- | --- | --- |
| Games | Goals | Assists | Caps | Goals |
| 163 | 10 | 13 | 14 | 0 |
Once more he went missing in midfield last night. Milan rarely had the ball in the first half, but when they did they found it all too easy to carve openings through the middle. With Antonio Conte having moved Arturo Vidal to the left in a lop-sided pseudo-4-3-3 formation, he had taken his most forceful presence out of the centre, where he had dominated the Rossoneri for large spells of their Trofeo TIM clash in Bari on Thursday.
Alongside Andrea Pirlo, the Old Lady need someone who thrives on getting tackles in, but Marchisio too often resembles a midfield version of Marco Motta, preferring to stand off his man rather than get on top of the challenge early on. At San Siro it gave the likes of Antonio Cassano and Clarence Seedorf free reign to pick up space and begin threatening attacks.
His passing percentages also fall shy of the requirement, and on at least two occasions he played simple balls straight to a red and black shirt. One time he even had the temerity to hold out his hands to his team-mates as though the two free colleagues had provided no option but to surrender possession.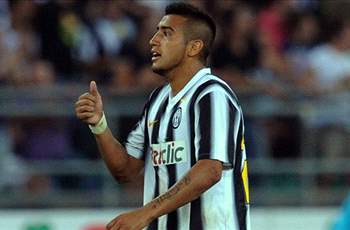 Vidal | Fits the bill
Many supporters point to the 25-year-old's being played out of position on the left as a reason for his stagnation over the last couple of years, but if he had been good enough as a central midfielder he'd have been able to push out the likes of Mohamed Sissoko, Felipe Melo and Alberto Aquilani under any of the four coaches he's played under in that time.
Giorgio Chiellini has also shown adaptability by playing the odd game at left-back, but was soon moved back into the centre of defence for a simple reason: he is the best they have in that position. Marchisio, on the other hand, is not the best central midfielder at Vinovo – not by a long shot.
Yet still there remains a core of fans who will jump to Marchisio's defence – as anyone who was following Goal.com's Carlo Garganese on Twitter last night will attest. And it is largely misplaced. If Conte is to make his Juventus a durable outfit, then the Italian international is not long for the first XI.
In the centre they require force and durability, such as is offered by Vidal, and they need the creativity that Pirlo can give them but Marchisio can't. On the left, they have better options even without taking any new signing into account. Simone Pepe may not have the talent that the No.8 has, but he has the desire and the work ethic which Marchisio lacks.
This is Juventus Football Club we're talking about. The same Juventus Football Club which in the last 30 years has been decorated by great centre midfielders such as Zinedine Zidane, Edgar Davids, Didier Deschamps, Michel Platini, and of course 1982 World Cup winner Marco Tardelli, to whom Marchisio was once labelled the successor. To pretend that Marchisio is even close to being categorised alongside any of the stars that have preceded him would be to sully their names. And more than that, for him to continue being preferred to Vidal in the centre could seriously harm Conte's attempts to make a winning outfit of the Bianconeri once more.
The desire to see youth products do well in the first team is admirable, but the club needs a winning mentality, not sentimentality.
Follow Kris Voakes on