COMMENT
By Kris Voakes | Italian Football Editor
Italy in mid-August is not generally associated with too much frost. With temperatures topping out at around 100 degrees Fahrenheit and even the gelati failing to cool you down for too long, anything even remotely cold is normally welcomed greatly. But the icy relationship already developing between Luis Enrique and Francesco Totti at Roma has raised concern around the capital.
The Spaniard has arrived at the club with very specific plans for his troops, much like the other 11 coaches taking the reins with new outfits in Serie A in 2011-12, but finds himself in a very different kind of situation thanks to the presence of the talismanic No.10 at his disposal.
Actually, scratch that. Totti is not really 'at his disposal' at all. 'At his disposal' gives the impression that the tactician has the ability to select him or drop him at will if it suits his plan for any given game. While strictly speaking that is the case, there is little freedom involved in his choosing or otherwise of the club legend.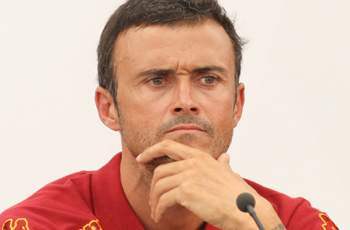 Revolutionary | Luis Enrique
With every decision to leave Totti out of the first XI will come greater scrutiny of the former Barcelona B coach's choices. His game plan will be deconstructed by every newspaper, every TV analyst, every fan, like never before. He may be approaching 35, but 'Il Capitano' remains at least as big as the club.
So when Totti picked up a muscle injury in the days building up to Thursday's Europa League play-off clash with Slovan Bratislava, Luis Enrique decided against having Totti play from the start. He has warned players that they must train – and train well – if they want to keep their places, and so the skipper sat on the bench with Marco Borriello until 18 minutes from time in the 1-0 defeat in Slovakia.
And immediately there came the expected reactions and over-reactions. The newspapers' match reports on Friday morning spoke almost exclusively of Totti's absence and mentioned little of the performances of those 11 players that actually did play the majority of the game. Was this a sign, they asked, that Luis Enrique wants to stamp his authority on the issue from the start.
On Saturday the talk has continued, with sporting director Walter Sabatini admitting he expects a reaction from those who didn't start on Thursday. "Totti and Borriello will be angry over the exclusions. It's normal," he told the press, and the thought of a disappointed skipper has got the press talking already about the difficult relationship between coach and player.
CAREER STATISTICS | Francesco Totti
(Roma & Italy)



Age: 34

Contract: 2015

Position: Striker

Clubs: Roma



Honours: Serie A, 2 Coppa Italia, 2 Supercoppe Italiane, World Cup

| | | | | |
| --- | --- | --- | --- | --- |
| Games | Goals | Goals per game | Caps | Goals |
| 610 | 262 | 0.43 | 58 | 9 |
So the time has arrived already, after a single competitive game, for Totti to come to a decision. Is he playing for Roma, or is he playing for Francesco Totti? Luis Enrique wouldn't be the first coach with whom he has had a run-in, and almost all of his previous periods of difficulty with tacticians have come after he has raised concerns over where or when he has been selected.
Ex-coach Claudio Ranieri recently labelled Totti "lazy" and called into question the desire that the player claims to have for the battle to get the club to the top. There is no doubting that Totti would be more delighted than anyone if the Giallorossi were to return to the summit of the Italian game, but it will take a lot of hard work on everyone's part. If he really wants to help Luis Enrique make Roma great then he needs to prove Ranieri wrong, and he needs to channel his anger in the right way.
The Spaniard has a real job on. He's attempting to get his side playing Barcelona football with non-Barcelona players. Marco Cassetti and Nicolas Burdisso are not Gerard Pique and Carles Puyol whether defending or passing, and never will be. The 4-3-3 formation he has adopted will take some adapting to for those not used to it, and players who have become used to having prominent roles in the squad may start to see their noses being bent out of joint for the sake of the greater good.
The last thing Luis Enrique needs in his bid to revolutionise the club is the one Giallorossi player with genuine god given skill and match-winning capabilities sitting sulking on the bench. It's time for Totti to use his anger in the right manner and prove that Roma really is in his heart.
Follow Kris Voakes on