COMMENT
By
Nick Price
The sun still comes up in the morning, the birds still chirp away, the government still taxes us, and cats and dogs still don't get along. In short, the world is exactly as it always was, which must come as something of a surprise to
Arsenal
fans who for the past two or three years have been wailing their arms in anger about the temerity of
Barcelona
wanting to buy
Cesc Fabregas
.
Of course, however, they had a right to be narked off at the sanctimoniously melodramatic ways in which Barcelona players, managers, officials, sympathisers and assorted reprobates have tried to entice the little midfielder back home.
Chief crower has been Xavi, who, when he isn't busy making his opponents dizzy by spinning the Barcelona passing carousel on the pitch, is flapping his face off about the unjustness of Arsenal keeping Fabregas, as though it was their fault that the Spanish side had not stumped up the necessary money to buy him time and time again.
In July, Xavi fought back the tears to tell Barcelona's official website – who, rather than telling him that he was acting like a humongous doofus, published his thought fart – that the Arsenal skipper was "suffering" by being kept in London, conjuring up an image of Fabregas being incarcerated in a cage by day only to be released to play for 90 minutes every once in a while, rather than of a multi-millionaire footballer who was presumably not forced at gun point to sign a lucrative long-term contract only a couple of years ago.
Xavi has since gone on to describe Fabregas as the last piece in the Barcelona puzzle, a sentiment echoed rather stupidly by winger Pedro, who said he would be thrilled to be in the same team as the 24-year-old. (Presumably he meant to say "I'd be dead happy to sit alongside him on the bench", because that's exactly where the two of them are likely to wind up next season given the Champions League winners have also splashed out big time on Alexis Sanchez this summer.)
A whole array of Catalan cretins have gotten all emotional about it, with the mayor of Fabregas's home town (sensibly Boris Johnson, the oafish toff who lauds it over London, has stayed quiet) saying the midfielder was "experiencing a kidnapping" because Arsenal weren't letting him leave. This feckless moron, like many other Camp Nou cronies, quite clearly doesn't seem to understand that a player under contract cannot just up sticks and leave as he wishes – there's the small matter of reaching a suitable financial agreement with the club that pays his significant wages and has turned him into a world-class player. If you want a Ferrari, you don't turn up at the dealership expecting to get a massive discount and then have a toddler-like strop when they rightly refuse not to give you one.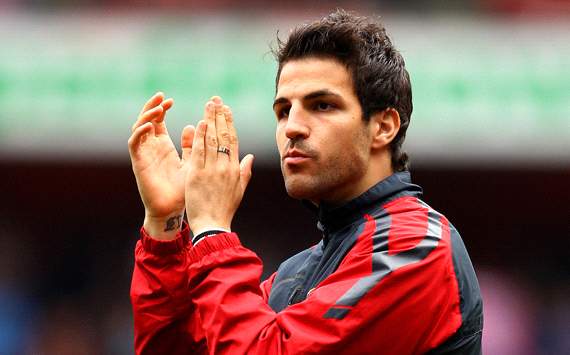 Farewell, finally | Fabregas has his wish and so do fans fed up with him
But it's not just our Iberian friends who have acted like indignant buffoons throughout this most tedious of transfer sagas. Take Arsene Wenger, for instance. The French boss has banged on incessantly about Barcelona tapping Fabregas up by talking gibberish about him for the past two years, but the man at the helm at the Emirates has long talked about other club's players.
While he's not quite reached Harry Redknapp levels of "I don't like talking about other managers' players, but…" hypocrisy, Wenger prattled on about Marouane Chamakh when he was still at Bordeaux (and what a fool he must feel now having seen the Moroccan snooze through the second half of last season).
Le Professor also took the moral high ground when Arsenal and Barcelona clashed in the Champions League over the past two seasons, painting himself as some sort of paragon of virtue in the transfer market rather than the bane of academies the world over.
But the real villain in this pathetic episode is not Wenger, nor the Barcelona bores who haves blurted out inane overtures for the last two years, it's the man himself: the fabulously fatuous Fabregas. The man at the centre of what had for a long time appeared to be a painfully never-ending pursuit has mostly kept schtum for the last two summers, except to cover himself like a dithering politician keen not to lose voters by hinting – often at the same time – that he would like to return to his boyhood club but that he is honoured to be at Arsenal.
The whole world knew that he wanted out of the Emirates to return to Barcelona, yet he failed to come out and say so openly, presumably to appear 'loyal' to Arsenal supporters.
But he's taken those same fans for a ride with his gutlessness by not handing in a transfer request. Steven Gerrard did it in 2005 yet still remains a club icon, while Wayne Rooney has won over the fans he had fuming with his disgusting act of greed in October last year; therefore, Fabregas can't claim that he didn't want to hand in a transfer request out of loyalty to Arsenal supporters, who have hero-worshipped him throughout this sordid saga.
| | |
| --- | --- |
| | "The whole world knew that he wanted out of the Emirates to return to Barcelona, yet he failed to so openly, presumably to appear loyal to Arsenal" |
Quite clearly the impish schemer was thinking as much with his bank balance as he was with his heart, not wanting to walk away from the small fortune he'd be entitled to receive by being sold – ostensibly – against his wishes having not handed in a transfer request. Finally he did realise that to make his dream move come true he would have to fork into his own pocket, but in coming to his senses so late he has risked ruining the summer of the club he professes to love.
Now though, finally, he's gone. Arsenal have a small fortune to spend (though knowing Wenger's spreadsheet ways, he might be happy to just add most of that to the profit margin) and should be strengthened, their fans can stop worrying about whether or not their skipper will be sold, and Xavi and Pedro and all the other morons will shut up once and for all.
The world might not have stopped turning the day Fabregas finally got his wish, but by golly it's a less tedious one now.
Oh, and Cesc, on the off chance that you read this: on behalf of all of those that have been bored stiff by you, please do not ever come back.
Follow Nick Price on