COMMENT
By Michael Yokhin
Ever heard of Shamil Lakhiyalov? In order to understand Anzhi Makhachkala you need to know the story of a fairly average 31-year-old striker. Until recently, the most famous member of the Lakhiyalov family was Shamil's brother Murad, a terrorist responsible for mass killings of policemen in Dagestan, himself shot by the special forces in 2005 after a long fight full of blood.
Shamil spent most of his career in the lower divisions, finally getting promotion to the Russian Premier League with Terek Grozny. He scored a few goals, but was better known for brawling, and even more so for a despicable foul-mouthed verbal attack on Rubin Kazan's Argentine defender Christian Ansaldi, clearly heard live on national TV. At the end of the 2010 season, Lakhiyalov's contract at Terek expired, and he moved to newly promoted Krasnodar on a free transfer.
Enter Suleyman Kerimov. One of Russia's richest oligarchs took over Anzhi Makhachkala in January, and made Lakhiyalov one of his first transfer targets. He made Krasnodar an absolutely stunning €5 million offer, before the striker could even play a single game for them. It all makes sense, though, as Kerimov is not an ordinary sugar daddy who bought himself an expensive football toy.
As opposed to Chelsea, Manchester City or Malaga, there is a clear positive philosophy at Anzhi. Born in Dagestan, Kerimov is a local guy who wants to share his wealth with his compatriots. Football is one of the ways to make their life better and to promote the republic around the world, but the owner wants his project to integrate local players with big international superstars. That's why Lakhiyalov was so important to him. Shamil was born in Makhachkala, spent a few years at Anzhi while they were playing in the second division, and now he was brought home like a prodigal son. He is a major piece in the puzzle.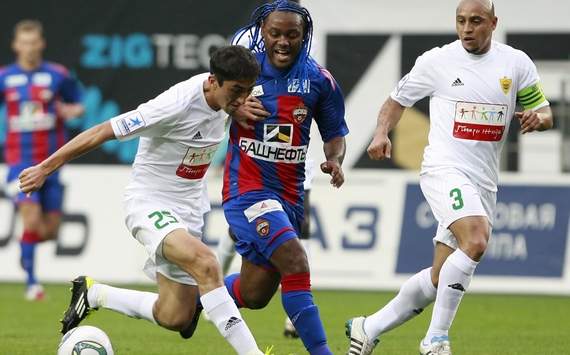 Anzhi Makhachkala | More than just money
Local people are at the heart of Anzhi. A different type of new boss could probably promptly sack the veteran coach Gadzhi Gadzhiev, a well-respected professional who took the club into his first shirt-lived adventure in the first division, when they finished fourth in 2000 and got to the cup final in 2001. The 65-year-old is experienced and wise, but he never worked for a top club and seemingly lacks the necessary charisma to lead the challenge. Kerimov never thought of getting rid of him because Gadzhiev is the best Dagestanian coach ever. That very fact makes him the perfect man for the job.
At the start of the season, the pair of central defenders was vice-captain Rasim Tagirbekov and youngster Ali Gadzhibekov, both born in Makhachkala and raised at Anzhi. Kamil Agalarov, another local boy full of fighting spirit, runs at left-back. Energetic winger Makhach Gadzhiev, yet another Dagestanian who mostly follows his namesake coach around Russia despite them not being relatives, arrived from Saturn Ramenkoye after they went bankrupt. In addition, the youth team is full of Dagestanian talent waiting for their chance.
ROBERTO CARLOS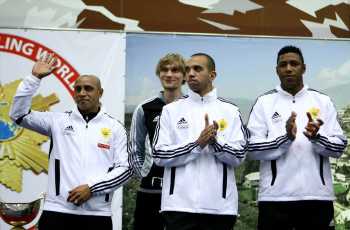 The biggest name to previously sign for Anzhi is loving life in Russia.
Then, of course, there are the big names. Roberto Carlos was the first to arrive, and his signing was brilliant from various aspects. The 38-year-old Brazilian legend no longer has the legs to cover the left flank, so he switched to a deep-lying, Andrea Pirlo-like, playmaking position and thrived in it. While not really impressing in the big games against Zenit and CSKA Moscow, all of which ended in defeats, Roberto Carlos shone against lesser opposition, and he just loves his life in Russia. Why shouldn't he? His annual salary stands at €4 million at the very least, and in addition he gets some nice presents from Kerimov, especially €1.8m Bugatti Veyron for his birthday. The whole republic is crazy about him, he speaks to the press willingly, learns local dances and tells everyone he is planning to stay on board at Anzhi after his retirement.
The Roberto Carlos impact has been huge. He personally convinced Jucilei, a highly promising Brazilian midfielder who played with him at Corinthians, to come to Dagestan. Then there came Diego Tardelli, top scorer in the Campeonato Brasileiro in 2009 with Atletico Mineiro. In addition, Roberto regularly phoned Neymar, explaining to one of the world's most exciting young players why he should come to Makhachkala and prefer Anzhi to Real Madrid and Chelsea. With the club seriously mentioned in the press in the same line with such giants, it was only a matter of short time before people stopped seeing Anzhi as some kind of a joke.
The Kerimov project is long-term and it is real. He wants to make Anzhi a top club, able to join the very elite of European football in a matter of a few years. The boss found the training facilities of the team that finished 11th last season, narrowly escaping relegation, absolutely unsuitable by his high standards. Therefore, he started building new ones, along with the new 40,000-capacity state-of-art stadium, with the total investment in infrastructure expected to reach more than €200 million. In the meantime, the players live and train at Saturn's facilities near Moscow, which means they are flying 1,600km to Makhachkala for home games at the old Dinamo stadium, full of passionate supporters.
In order to show the players the level they are expected to reach, Kerimov took the whole team to London on May 29 in his private plane, to see Barcelona outclassing Manchester United in the Champions League final. "I see no reason why Anzhi can't play in such a game pretty soon," said an optimistic Roberto Carlos after the game. Who knows, he might be right. The flow of high-profile stars to Makhachkala is apparently unstoppable.
Mbark Boussoufa, thrice Belgian Footballer of the Year with Anderlecht, was signed in April, and then came the real stunner. Balasz Dzsudzsak, Eredivisie player of the season in 2010 and 2011 with PSV Eindhoven, is just 24, and had Liverpool, Everton, Newcastle, Hamburg, Schalke, Villarreal, Juventus and Genoa linked to his name over the last few months. The Hungarian star chose Makhachakla, and while cynics would say he likes the sound of a €2.5 million annual salary, the truth is a player of such promise would never bury himself in Dagestan when his career is on the rise, unless he totally believes in the project.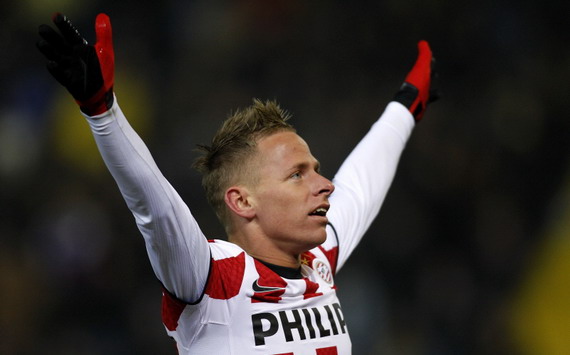 Balasz Dzsudzsak |
A stunner of a signing given the number of top admirers
Dreams of landing Gennaro Gattuso and Juan Roman Riquelme, as well as Neymar, are unfulfilled so far, but Yuri Zhirkov, one of the best Russian players of the last decade, did come after his unlucky injury-interrupted stint at Stamford Bridge. And now Makhachkala are celebrating the arrival of Samuel Eto'o, probably the world's best striker, at the age of just 30. If Roberto Carlos' prediction is correct, the Cameroonian might yet lift the Champions League trophy with his third team, after winning it in the jerseys of both Barcelona and Inter.
It would be unwise to take the last sentence without a hint of humour. After all, Anzhi are only fifth in the league so far, and must achieve significantly better results if they are to overcome Zenit and CSKA by May 2012, when the bizarrely long Russian season ends.
Then there are doubts about levels of fair play, with Anzhi suspected of buying a strange game at Volga in May, and Lokomotiv Moscow coach Yuri Krasnozhan sacked for "strange decisions" following a home defeat to the Dagestanians just a few weeks later. Anzhi issued an angry statement following the accusations in the press, inviting journalists to enter their camp without restrictions and even listen to all their phone conversations.
"Eto'o must be aware of racism problems, but African players are getting no worse treatment by Russian fans than by those of Zaragoza or Inter."
Eto'o also must be aware of racism problems in Russia, with Roberto Carlos shown a banana in two separate incidents at St Petersburg and Samara. The Cameroonian is rightfully sensitive to such issues, but one must admit the authorities in Russia take the matter pretty seriously, and it should be said that African players are not getting worse treatment by Russian fans than by those of Zaragoza or Inter (remember Marco Zoro of Messina?)
The outrageous €80m salary over the four years will make Eto'o the world's richest player, and Anzhi will take a huge step towards achieving their goal. The integration is going well. Dzsudzsak and Agalarov, Roberto Carlos and Tagirbekov, Zhirkov and Gadzhiev, Boussoufa and Lakhiyalov are all working for the same cause. Who is next in the line? The Cameroonian is definitely not the last name on Kerimov's list.