SPECIAL
By Kris Voakes
"It's mainly the owners that asked us to do something – Roman Abramovich, Silvio Berlusconi and Massimo Moratti," explained Uefa president Michel Platini when listing the reasons behind his organisation's decision to put a cap on the free-spending ways of Europe's richest clubs. This summer Financial Fair Play (FFP) starts to bite, and it appears that Moratti's Inter are the outfit at the greatest risk of falling away from the top of the continent's footballing landscape.
When Wesley Sneijder claimed at the weekend that "Inter need money and I'm for sale if the right offer comes in," he immediately raised the eyebrows of Nerazzurri followers, and grabbed the attention of courters to Samuel Eto'o, too. Anzhi Makhachkala are now on course to snap up the Cameroonian striker for around €35 million in a deal which could decimate the Italian side as a European force, especially if Sneijder's protracted move to Manchester United also goes through.
It is expected that some of the €75m that would be earned in the two major sales could be spent on Manchester City's Carlos Tevez, but that would seemingly create two problems. One is that there would be no replacement for Sneijder, the playmaker who inspired the club to the Champions League in 2010 after his €16m move from Real Madrid the previous summer. The other is that Inter may not be able to afford Tevez's probable €35m fee and hefty salary due to the restrictions put in place by FFP.
When the club failed to significantly strengthen their squad of European champions last summer, many saw it as a sign of either faith or complacency on the part of president Massimo Moratti, but his attempt to sell Diego Milito and Douglas Maicon to Real Madrid for a combined €50m was evidence that he was looking to make the most of his players' new-found status as continental kings in order to recoup some of the vast fortunes he has pumped into the club since taking the reins from Ernesto Pellegrini in 1995.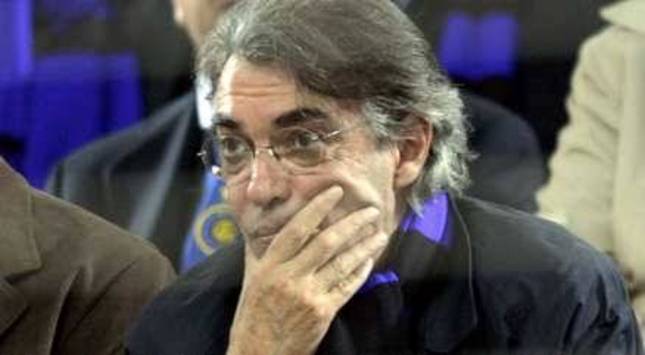 Massimo Moratti | Unable to stem the flow of money leaking out of the club
He twice broke the world transfer record – bringing Ronaldo and Christian Vieri to San Siro – and spent millions upon millions as a matter of course in his attempts to return Inter to the top of the game, as they had been in the 1960s when clinching back-to-back European titles under the guidance of Moratti's father, Angelo.
INTER'S SPENDING UNDER MORATTI

Season
1995-96
1996-97
1997-98
1998-99
1999-2000
2000-01
2001-02
2002-03
2003-04
2004-05
2005-06
2006-07
2007-08
2008-09
2009-10
2010-11*

Sales
€15.9m
€9.9m
€15.6m
€6.1m
€8.6m
€37.5m
€21.9m
€89.1m
€43.4m
€11.4m
€23.8m
€28.1m
€12.8m
€6.8m
€78.4m
€64.5m

Spend
€26.8m
€18.5m
€68.1m
€41.9m
€112.7m
€90.6m
€91.8m
€83.4m
€47.5m
€5.5m
€28.8m
€44.1m
€29.1m
€57.2m
€66.6m
€46.3m

Balance
-€10.9m
-€8.6m
-€52.6m
-€35.8m
-€104.1m
-€53.1m
-€69.9m
€5.7m
-€4.1m
€6.0m
-€5.0m
-€16.0m
-€16.3m
-€50.4m
€11.8m
€18.2m

TOTAL
€473.8m
€858.9m
-€385.1m
*Does not include outstanding installments on previous transfers

His dream was to become the second family member to lead the club to glory, to forge a second coming of
La Grande Inter
. But the fact that he attempted to do so by ploughing a huge pipeline of cash into the Nerazzurri has come back to haunt him. In paying out inflated transfer fees and making Inter's wage bill the biggest in Serie A, Moratti ensured that the club became anything but a self-sustaining concern.
In the three years from June 2006 to the summer of 2009 the club lost €509m. FIVE HUNDRED AND NINE MILLION EUROS. That's an average of €170m a year. In total, the club has made losses of well over €1 billion in Moratti's 16 years at the club, with the cost to the president himself in his role as chief financier topping out at over €750m.
With the billionaire's stake in hugely profitable oil refiner Saras providing the supply line of cash for his obsession to emulate his father by bringing a European crown to Appiano Gentile, he had little to stop him putting as much money into the club as he saw fit. Until, that is, Uefa decided to step in and put a stop to artificial spending.
And it's Inter who could be made to pay the most for the governing body's insistence on clubs aiming to break even between now and 2014, with a leeway of only €45m being offered.
See, while English clubs such as Chelsea and Manchester City have drawn criticism due to their becoming giants in the game off the back of their being purchased by mega-rich foreigners, Inter are another outfit whose recent upturn in success has been the result of funds pumped in by their owner. The only difference is that he is Italian. But the Coppa Italia winners, unlike the two Premier League sides, do not have the ability to offset much of their spending.
Why? Well there are a number of reasons. First, there has been the obvious cost … player purchases. Moratti's success in finally bringing the European Cup back to the blue and black side of Milan came at a huge price. During his reign they have tabled a combined net spend of over €385m. Much of this outlay arrived at the turn of the century, when their total spend after sales was €315.5m between 1997 and 2002.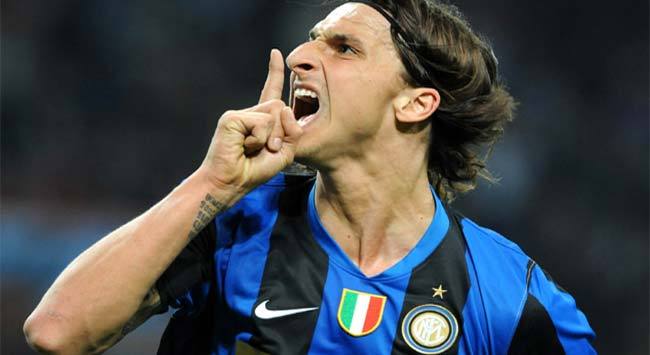 Zlatan Ibrahimovic | His €66m sale to Barcelona brought in vital revenue
The next six years saw losses in the market of less than €30m, and the sale of Zlatan Ibrahimovic to Barcelona for €46m plus Samuel Eto'o in 2009 helped to more than balance the books in a summer which saw Sneijder, Diego Milito and Thiago Motta enter at a heavy cost. Last season it was Mario Balotelli's move to Manchester City which offset their January incomings of Andrea Ranocchia and Giampaolo Pazzini after a relatively quiet pre-season transfer campaign.
But the issue here lies in the fact that these gains in the market are still not proving enough, and have significantly weakened them as a force on the field. Though their spending has been curbed since the days when Moratti would supply millions of euros every summer and the club continued to fail in their Scudetto bid, they are now having to make huge profits on players in order to stem the flow of money seeping out of the club.
DELOITTE'S TOP 10 OF 2009-10 | Where the money comes from

| | | | | |
| --- | --- | --- | --- | --- |
| Club | Total revenue | Matchday | Broadcast | Commercial |
| Real Madrid | €438.6m | 30% | 36% | 34% |
| Barcelona | €398.1m | 25% | 44% | 31% |
| Manchester Utd | €349.8m | 35% | 37% | 28% |
| Bayern Munich | €323.0m | 21% | 26% | 53% |
| Arsenal | €274.1m | 42% | 38% | 20% |
| Chelsea | €255.9m | 32% | 41% | 27% |
| AC Milan | €235.8m | 13% | 60% | 27% |
| Liverpool | €225.3m | 23% | 43% | 34% |
| Inter | €224.8m | 17% | 62% | 21% |
| Juventus | €205.0m | 8% | 65% | 27% |
Despite being European champions this time last year, Inter's matchday revenue totalled just €38.64m, a €14m rise on 2008-09 but still no comparison to Manchester United's €122.4m match receipts. The Nerazzurri were making €1.3m per matchday while others boasted takings in excess of €3m. Much of this is due to their status as tenants at San Siro, at a cost of €13m a year, and the lack of corporate packages available to more affluent local followers. There is, of course, also the worrying shortage of full houses each year.
One option would be to build a new stadium, and it is something which the club has explored in recent years. But that would take time, and more Moratti money, to achieve, meaning it would have no impact either way on the club's ability to meet the demands of FFP.
Inter brought in the least of the top 10 clubs in the 2011 Deloitte Money League when it came to commercial funds, with just €48.3m. Bayern Munich, on the other hand, recouped €172.9m. The Lombardy club wound up only ninth in Europe for total revenue with €224.8m, and still money is being lost.
TV TIMES | Italians' reliance on broadcast income

| | | | |
| --- | --- | --- | --- |
| Club | Broadcast revenue | Percentage of revenue | Deloitte ranking |
| Barcelona | €171.8m | 44% | 2nd |
| Real Madrid | €158.7m | 36% | 1st |
| AC Milan | €141.1m | 60% | 7th |
| Inter | €137.9m | 62% | 9th |
| Juventus | €132.5m | 65% | 10th |
The over-reliance on money garnered from broadcasting rights among the top Italian clubs is plain for all to see, with Inter sitting fourth in media income, sandwiched between AC Milan and Juventus, and behind the two Spanish giants Barcelona and Real Madrid. The threat of an evenly-split collective TV rights deal in Serie A has been warded off by the big three, and it is easy to see why they stood their ground given the impact it would have on their ability to compete.
Inter will lose out on prize money, TV revenue and gate receipts from the latter Champions League rounds when the accounts for 2010-11 are published, but that will be offset to some extent by their Club World Cup and Uefa Super Cup earnings.
WESLEY SNEIJDER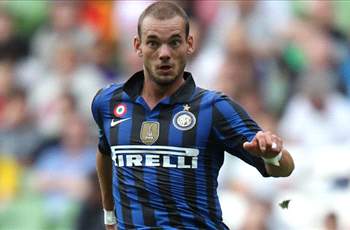 His sale will help to sustain the club, but will leave them short on the field.

But there is still the issue of year-on-year debt to contend with. Ibrahimovic and Balotelli have gone. High earners such as Patrick Vieira and Adriano have also been shipped out. Sneijder and Eto'o could follow. But then what happens? How do they service the annual shortfalls without the cash injections from Moratti?
The wage bill has been reduced, but then it had to be really when you consider that they paid out 104 per cent of revenue in salaries in 2009. The club is still a projected €220m in the red, despite the sales and the income generated by the treble-winning season. And they can't win a treble every year ... especially if they're selling their best players to break even.
Between 2008 and 2010, 29 per cent of Inter's total revenue (the joint-fourth highest percentage in Serie A) came from player sales, and yet they still recorded total losses of €223.4m in that time.
Moratti told the club's Annual General Meeting in 2010 that "the considerable losses are justified in keeping our team at the top level worldwide," but the time when he could absorb whatever shortfall there was has gone. In the past he has immediately delivered on the huge sums of cash it has taken to balance the books, but that will no longer be allowed under FFP, at least not beyond the €45m allowed over the first three years and the subsequent smaller allowances thereafter.
The business model which has revolved around the injection of one man is dying, and it's Inter who will be hit most. Whereas Chelsea, Manchester City et al have increasing matchday and TV revenue streams which will absorb some of the impact, and Milan and Juventus - who move into a new stadium next month - have the worldwide fan bases to attract greater commercial income, Inter's mode of spending needs to change.
The squad is fast running out of saleable assets, and needs an injection of youth and vibrancy. And whereas once upon a time, Moratti could dip into his oil millions to import such credentials, Uefa's new rules – the rules Platini says the club president himself asked for – mean that Inter will have to start operating more prudently in order to remain at the top of the European game. And until they can start making ends meet without the oil magnate's financial input each year, they will be running to stand still. A period of transition awaits.
| | |
| --- | --- |
| Q&A | To pose your questions over Inter's financial state, and what it means to their immediate future in the face of Financial Fair Play, join Goal.com Italian Football Editor Kris Voakes in Thursday's Q&A from 15:00 BST |