ANALYSIS
By Clark Whitney
In the summer of 2002, Germany exceeded all expectations as they advanced to the World Cup final. But there was only one team worthy of winning that tournament, and surely enough Brazil took the spoils following a 2-0 win in Yokohama.
Led by Ronaldo, Rivaldo, and Ronaldinho, the 2002 squad was the last Brazilian team to play "Joga Bonito" effectively. Four years later, Carlos Alberto Parreira's side attempted to emulate the irresistible style of the previous team, but faltered in the quarter-finals. Rivaldo was gone, Cafu and Roberto Carlos were ageing, Ronaldinho failed to find his form, and Ronaldo was over-weight. The Selecao had little trouble in the group stage, but when faced with their first serious opposition, France, their weaknesses were exposed.
Following the disappointment of 2006, Dunga was appointed to instill a sense of discipline into the South American giants. Brazil were initially successful, winning the Copa America in 2007 and looking very strong in friendlies and World Cup qualifiers. Their system was one that emphasised substance over style. But on the big stage in summer 2010, they again faltered, this time at the hands of the Netherlands.



THE THREE R's | Brazil's famous trio





Rivaldo

Ronaldinho

Ronaldo

In their first big test of the tournament, the South Americans lacked all the attributes that had seen them reclaim their place among the world elite. Miscommunication at the back led to a rather fortuitous equaliser for the Dutch, and Felipe Melo's senseless sending off proved that all Dunga had done for Brazil was in vain. The take-home message was clear: if Brazil are to succeed, it is to be done not by rebelling against their footballing culture, but by emphasising the traits that had made them great in years past. Dunga was sacked, and Mano Menezes called in as his replacement.
Many changes have been made under Menezes. Mainstays of Dunga's side - Kaka, Luis Fabiano, Gilberto Silva, Juan, and Michel Bastos - have been replaced. The new-look team is entirely different from that of a year ago, and emphasises the classic Brazilian flair. But, as was clearly evident at the Copa America, the Samba Stars still lack a working identity. They won just one of their four matches at the Copa, and went out on penalties after failing to convert any of their four spotkicks.
With his current team, Menezes has swung the pendulum from one vice to another, missing the balance that characterised the 2002 World Cup winners. Brazil played joga bonito nine years ago, but were properly selected based on tactics: Ronaldo and Rivaldo complemented one another in the centre of attack, and in Gilberto Silva, there was a solid core in defensive midfield. Defender Lucio played out of the back at times, and full-backs Cafu and Roberto Carlos balanced their play at both ends.



NEW GUARD | Menezes' additions were inconsistent at the Copa





Pato

Ganso

Neymar

By contrast, the recent Copa team was too much a hodge-podge of talented but inexperienced individuals who had limited leadership and even less chemistry. Menezes used incompatible forwards in the form of Pato, Robinho and Neymar, and the holding midfield duo of Lucas Leiva and Ramires had too many similarities and offered too little creativity from deep areas. Now, Brazil are back to where they were in 2006, deep in an identity crisis.
The face of Germany past...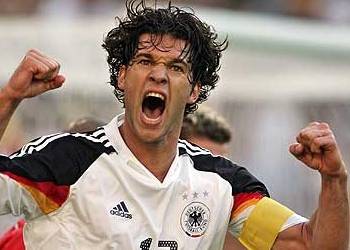 Nine years ago, Germany were in the midst of a similar problem: straddled by utter failure at the 2000 and 2004 European Championships, their 2002 World Cup performance was something of an anomaly. In the early 2000's, the DFB team had too many ageing stars and too few young talents to be serious international contenders: they could get the job done against lesser teams, but their game plan placed too much emphasis on self-belief and too little on quality of play. Titles were long shots. This would change in the years to come.
As part of an initiative to stimulate its youth base, the German Football League (DFL) mandated that all 1. and 2. Bundesliga teams have youth programs, with specific guidelines. Between clubs and country, more than half a billion Euros have been invested in developing young German players over the last decade. What's more, all of the DFB's youth teams play in the same 4-2-3-1 formation with similar tactics, emphasising a balance between quick, one-touch passing and athleticism.
Their youth initiative has given Germany a crop of prospects that has not only skill, but understanding of a system that allows for quick and universal adaptation of every player to the national team.
The one component Germany have lacked in recent years is success. Their Euro 2008 team was not on par with their current squad, but the DFB were tagged as the bookies' favourites ahead of the tournament. However, after struggling en route to the final, Joachim Low's men lost to Spain. And in both 2006 and 2010, Germany finished the World Cup in third place. Their recent results have been impressive, but history remembers winners, and Low's team still have a long way to go in order to achieve a level of consistent dominance.
Old rivals meet again on Wednesday, each with a new face to show. Brazil have reverted back to their roots, but Menezes has more than a few creases to iron out and will surely experiment. Germany have a more firm plan, but Low has taken the opportunity to bring in outsiders. Friendlies are often not very competitive, but in this case, both sides have plenty to prove. And with Brazil and Germany mutually intent on playing an attractive game, Wednesday's match is guaranteed to be quite a spectacle.
Follow Clark Whitney on