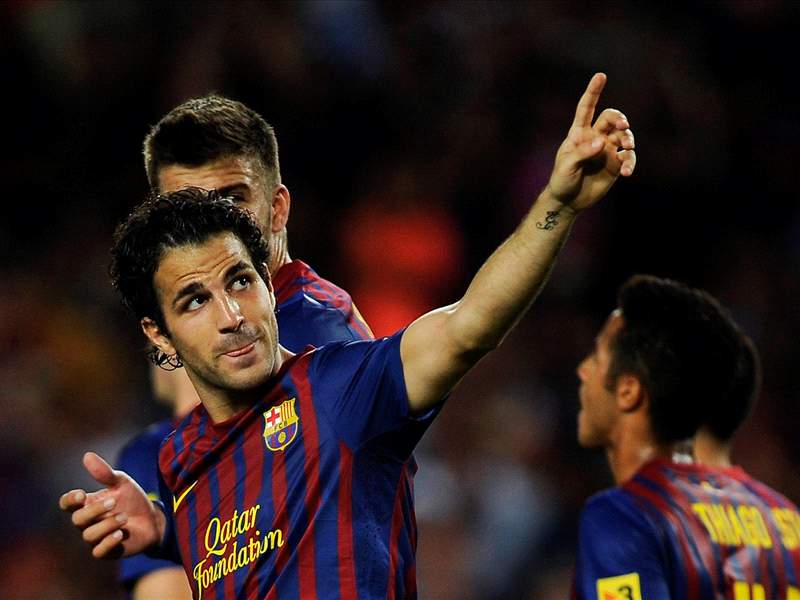 Each European transfer window,
Goal.com
decides on the best acquisitions, in order from one to 20, and we encourage you to let us know your thoughts.
We judge based on:
The player's overall ability (this being the most important factor)
How the player will fit into his new line-up
How the player will adapt to his new surroundings, and vice-versa
The transfer fee payable, if any, and any other financial details known. (Transfer fees unconfirmed by either club or otherwise unknown are given as approximations and are marked in italics.)
For the reason that players arriving on permanent deals tend to be more adaptable and often more important, there is preference given to full transfers over loans. That is not to say that loans, co-ownerships etc, cannot be included, but players must be extra special to justify a space on such a move.
With all of that explained, here is the sixth and final installment of this summer's list. Take a look to see where your favourite signing of the summer comes in our top 20.
1

Cesc FABREGAS





From: Arsenal
To: Barcelona
Fee:

€34m




It may have been the most tedious of transfer sagas but there can be little doubting the impact that Fabregas' move will have on both Barcelona and Arsenal. A tactical reshuffle seems likely at Camp Nou and the 24-year-old is the reason for it. With perfection having seemingly been reached by Pep Guardiola last season, it speaks volumes that he's willing to fix what isn't broken by adding the Spain international.
GROUP A
2

Sergio AGUERO



Read more on Aguero

From: Atletico Madrid
To: Manchester City
Fee:

€38m



The former Atletico Madrid man had been earmarked as the replacement for the unsettled Carlos Tevez but 'El Kun' has the ability to far surpass the achievements of his compatriot at Eastlands. Strong, fast and deadly in front of goal, the explosive star looks set to take the Premier League by storm in 2011-12 and beyond.

GROUP A
3

Samir NASRI



Read more on Nasri
From: Arsenal
To: Manchester City
Fee:

€25m



Having swiftly followed Cesc Fabregas out of the Emirates, Samir Nasri is a signifier of the power shift currently taking place in the Premier League by joining Roberto Mancini's men. Clearly believing that the Eastlands outfit have the ability to chase silverware, the Frenchman could prove pivotal to his new side's title aspirations.

GROUP A

4

Alexis SANCHEZ



Read more on Sanchez
From: Udinese
To: Barcelona
Fee:

€26m



Shortly after joining the European champions, the Chile international declared that he hopes to one day be as good as new team-mate Lionel Messi. Sanchez may have some way to go yet, but one thing is for certain, La Liga has itself yet another superstar in this explosive 22-year old.
5

Arturo VIDAL




Read more on Vidal

From: Bayer Leverkusen
To: Juventus
Fee:

€10.5m



The former Colo Colo man arrives in Turin on the back of four superb years in the Bundesliga. Having personified consistency in Germany, the 24-year-old will be looking to prove himself as one of, if not the leading, defensive midfielder in Europe on joining Juventus.


GROUP A
6 Radamel FALCAO



Read more on Falcao
From: Porto
To: Atletico Madrid
Fee:

€40

m


In the two full seasons that Radamel Falcao spent at Porto, he scored 73 goals in 88 games and was pivotal in the side that won the treble under Andre Villas-Boas last campaign. Alongside Hulk, the former River Plate man was near unstoppable in front of goal and now he will be expected to replace Sergio Aguero in the Spanish capital. His calibre commanded a huge transfer fee but the Colombian certainly has the ability to justify it.
GROU A
GROUP

7

Maarten STEKELENBURG



Read more on Stekelenburg
From: Ajax
To: Roma
Fee:

€6.3m



The Italian side have secured a quite astonishing bargain. A World Cup finalist and undoubtedly one of the most consistent goalkeepers on the planet, the 28-year-old keeper will be up there with Serie A's best in 2011-12. If the Dutchman's national team predecessor, Edwin Van der Sar is anything to go by, we could be seeing the new Roma man in between the sticks for at least another decade.

GROUP A
8

Ashley YOUNG



Read more on Young

From: Aston Villa
To: Manchester United
Fee:

€19m



With a handful of impressive fixtures now under his belt, the England international is already looking the archetypal Manchester United player. Not cheap by any means, the former Watford man is likely to move into the Premier League champions' first-team. The battle to maintain a place ahead of the likes of Nani will be an absorbing one.


GROUP
9

Juan MATA



Read more on Mata
From: Valencia
To: Chelsea
Fee:

€26m



With 34 goals less in the 2010-11 season compared to the double-winning campaign of 2009-10, a lack of creativity amongst the Chelsea ranks was plain for all to see as Manchester United strolled towards the title. Juan Mata has the ability to change all that and got off to the perfect start with a strike against Norwich on his debut.


10

Manuel NEUER



Read more on Neuer
From: Schalke
To: Bayern Munich
Fee:

€18m



Having solidified his position amongst the continent's finest goalkeepers at the Veltins Arena last season, Neuer moves to Bayern Munich in the form of his life. Dissenters may not have welcomed the 25-year-old with open arms but his ability alone could be enough to quieten the boo boys throughout the upcoming campaign.

GROUP A
11

Nuri SAHIN



Read more on Sahin

From: Borussia Dortmund
To: Real Madrid
Fee:

€10m



Having been pivotal in Dortmund's league success last season, the 22-year-old Turkish international is likely to have been briefed with the same goal at the Bernabeu for 2011-12. A potential Barcelona beater and cost only €10m; the capital outfit have secured an unbelievable bargain.

12

GERVINHO



Read more on Gervinho
From: Lille
To: Arsenal
Fee:

€13.5m



There are still improvements required if Arsenal are to challenge for the Premier League title in 2011-12 but the addition of the incisive Ivorian could prove absolutely vital. With only one Gunners player scoring over 10 in the league last term, Gervinho could be the man to make the difference.
13

Santi CAZORLA



Read more on Cazorla
From: Villarreal
To: Malaga
Fee:

€21m



Arguably the stand-out signing for a Malaga outfit who haven't been shy in displaying their opulence this summer, Cazorla is the man to take the Andalusians to the next level. Creative and deadly accurate with his passing, the ex-Villarreal creator is a fantastic coup, as he teams up once more with former Yellow Submarine, Manuel Pellegrini.

14

Samuel ETO'O



Read more on Eto'o

From: Inter
To: Anzhi
Fee:

€28m



Only one Inter player mantained or bettered their form from the treble winning 2009-10 season during 2010-11, and that was the unstoppable Eto'o. The Cameroonian was a one-man team at times, scoring five goals in three cup final wins to finish the campaign with an incredible 37 strikes. His big-money move to Anzhi came as a huge shock, but it will come as no surprise when he starts banging in the goals for the Russians.
15

Andre SCHURRLE



Read more on Schurrle
From: Mainz
To: Leverkusen
Fee:

€8m



If the 2010-11 Bundesliga season was the year for uncovering unknown gems, then few defined the term as well as the tricky Mainz left-winger. With 15 goals and five assists in the league, as well as collecting his first cap for Germany in November, the future looks extremely bright for the 20-year-old.
16

Phil JONES



Read more on Jones
From: Blackburn
To: Manchester United
Fee:

€25m




Despite having arrived at Old Trafford as somewhat of an unknown quantity, the former Blackburn man has already shown his enormous potential with superb showings against the likes of Manchester City, Tottenham and Arsenal since moving to the Theatre of Dreams. Touted as a future England captain at the age of 19, Jones' immense promise could yet see him become one of the game's finest defenders.
GROUP A

17

Theo JANSSEN



Read more on Janssen
From: Twente
To: Ajax
Fee:

€3.5m



With 13 goals from central midfield, Theo Janssen was by far and away the best player in last season's Eredivisie. The 30-year-old has left Twente to join title rivals Ajax in what could prove to be an incredibly decisive signing come the end of the 2011-12 season.


GROUP A
18

Diego FORLAN



Read more on Forlan

From: Atletico Madrid
To: Inter
Fee:

€5m



Replacing Samuel Eto'o at Inter would be a near-impossible task for most strikers, yet if one player can succeed it is the 2010 World Cup Golden Ball winner. At 32, he is reaching the last straight of his career, but after scoring twice in the Copa America final to lead Uruguay to glory, Inter will be confident of a successful stint at San Siro.

GROUP A
19 Javier PASTORE



Read more on Pastore
From: Palermo
To: Paris Saint-Germain
Fee:

€42m



After the capital outfit a huge amount of money, the pressure will be on 'El Flaco' to produce the goods at Parc des Princes and help European football's latest aristocrats to the Ligue 1 title. He certainly has the ability, and would be higher in the list if he had arrived in Paris for a less extortionate fee.

20

Gokhan INLER



Read more on Inler
From: Udinese
To: Napoli
Fee:

€12m



Despite being unveiled as a Napoli player whilst wearing a lion mask, it must be made clear that Inler is no joke. A pivotal cog in the Udinese machine last season, the Swiss star will enter the Champions League with his new side having aided his old outfit in reaching the very same destination in 2010-11.

GROUP