COMMENT

By Gary Niblock
Chelsea
have completed the signing of
Thibaut Courtois
, with the 19-year-old set to go on loan to
Atletico Madrid
to continue developing, both in terms of experience and upon his reputation as one of the most exciting young goalkeepers in Europe.
But who is this teenager that Chelsea have shelled out more than €8 million on as the long-term successor to Petr Cech?
Goal.com
reveals all...
1. His first-team debut came aged just 16
Courtois made his bow in Belgian football back in April 2009 at the tender age of 16 when amazingly he was called into action against KAA Gent, as the five goalkeepers before him in the pecking order had either left the club, picked up a suspension or had gone down injured.
While he had to pick the ball out of his net on two occasions in a 2-2 draw, he gave a hint of his considerable talent. Two saves spring to mind - a reflex stop at his near post from Zlatan Ljubijankic and a fingertip block towards the end from Tim Smolders.
It was not until last summer, though, that he received the chance to establish himself in the Genk first-team. First-choice goalkeeper Laszlo Koteles was unable to play in the Europa League qualifier against Finnish side TPS as his previous club in Hungary, Diosgyor, had not sent through the necessary paperwork in time for kick-off.
And how Courtois grasped the opportunity with both hands. Even when Koteles was cleared to play, there was no way back for the Hungarian. Courtois was an ever-present and a key player, keeping 14 clean sheets in 40 matches as Francky Vercauteren's men clinched Genk's first title since 2002.
2. He comes from good sporting stock
Looking at his genes, it is no surprise that Courtois has so far attained sporting excellence in his fledgling career.
His father, Thierry, who also represents him and has been rather outspoken in recent weeks over the future of his son, is a former volleyball player. Courtois Snr played for Belgian outfit Genk-Opglabbeek VC in the 1990s.
Thibaut's mother was also a professional volleyball player and his sister Valerie is a current Belgian volleyball international. She is also a key member of the VDK-Gent women's volleyball team, sporting the No.4 on her back.
3. He is sometimes a little too honest
SNAPSHOT | Thibaut Courtois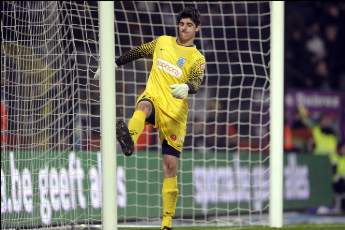 AGE: 19
POSITION: GOALKEEPER
VALUE: €8m+
2010-11 APPEARANCES: 40
2010-11 CLEAN SHEETS: 14

Although Genk did eventually lift the Belgian title, they were by no means the form side in the end-of-season play-offs – that accolade goes to runners-up Standard Liege. Courtois made a high-profile error in the play-off game at Sclessin, which helped spark a late comeback for Standard.
In the aftermath of the encounter, he fronted up to the media and openly acknowledged that he had made a sizeable mistake which had cost his team.
"We went 1-0 up and everything was going well. And then I made a stupid mistake and it was a penalty. I took the player out," he admitted.
When Club Brugge then delivered a blow to Genk's title hopes with a convincing 3-0 victory at the Jan Breydelstadion, Courtois gave a stinging assessment of his team-mates' shortcomings that day.
"It wasn't good from the opening minute. We left them too much room and they could play through us. We thought we were already champions. I could see it coming in the dressing room: we were too relaxed," he said.
This straight-talking approach landed him in hot water only last month during an interview with Belgian radio station
Brussels FM
. He blurted out the fact that Chelsea had told him that he had been identified as Petr Cech's long-term successor over the coming years, a comment that earned him a stinging rebuke from his father.
4. He is Belgium's goalkeeper of the year and Genk's player of the season
Courtois' contribution to Genk's championship did not go unnoticed within the Belgian footballing community, and he has picked up several awards and received international recognition.
He was chosen as Belgian Goalkeeper of the Year, beating off competition from former team-mate Sinan Bolat (now at Standard) and Anderlecht's Belgian international Silvio Proto. He became the youngest ever winner of an award claimed four times by the legendary Michel Preud'homme.
If recent comments on Facebook and the club's website are anything to go by, Courtois has incurred the wrath of many supporters due to the manner in which he forced through his departure. However, the more thoughtful follower will remember that it was the same group of fans who chose him as the club's Player of the Season. Handed the award during the title celebrations, it was no mean feat considering the exploits of striker Jelle Vossen, who scored 20 goals.
He has already been called up to the Belgian national team squad, although his first cap awaits as Georges Leekens puts his faith in Sunderland shot-stopper Simon Mignolet. However, the country's footballing punditocracy cannot speak highly enough of Courtois.
"If you are looking for all the necessary ingredients which make up a goalkeeper, you arrive at Courtois. An imposing figure but still agile and with quick reflexes. Calm, as if he were 35. Mentally strong and intelligent, he is the complete package. You know he will have a big career ahead of him," former goalkeeper Wim De Coninck opined.
5. The more pressure there is, the better he gets
While he pulled off some stunning individual performances in the play-offs, particularly against Club Brugge and Anderlecht, his finest hour came in the title showdown at home to Standard.
The match was tied at 1-1, with a point enough to make Genk champions. However, Standard were throwing everything but the kitchen sink in order to snatch a winner and the league.
Enter Courtois, who took centre stage and stood up to be counted when those in front of him began to wobble. When Pape Camara found striker Aloys Nong, it looked as if the golden chance had come. Nong fired off a fierce shot and Courtois had seemingly dived beyond the ball. Instinct took over and he flung an outstretched left hand to tip it over the bar, to the astonishment of players on both sides.
Courtois was not finished there, either. He produced another two vital reflex saves in the closing stages to ensure that his goal would not be breached. And every time he denied Standard, he punched the air, while cracking a cocky and arrogant smile across his youthful face. It was perhaps
the
image of Genk's memorable season.
Follow Gary Niblock on