COMMENT SPECIAL

By Carlo Garganese
As Alessandro Del Piero noted in a glowing tribute to his friend and former team-mate: "It was no coincidence that Fabio Cannavaro, the Azzurri skipper who lifted the World Cup to the sky in Berlin on July 9, 2006, five years later chose this date to say goodbye to football."
'Il Capitano' reached the pinnacle of his glittering career that famous night and as a result etched himself into all Italian hearts forever.
Cannavaro's performances during those four weeks in Germany were, without question, the greatest series of performances by a defender in an individual World Cup during the history of the competition. For seven games and 690 minutes, he was perfection personified, marshalling and leading a virtually impenetrable back line that conceded just twice the whole tournament – one of those a freak own-goal and the other a contentious penalty. This earned him the nickname 'Il muro di Berlino' (The Berlin Wall).
This writer was present in Dortmund when he produced the best display of his 136-record breaking Italy appearances during the dramatic semi-final against hosts Germany. While the image of Fabio Grosso curling home decisively in the 119th minute - before racing away in ecstasy - is the enduring image from this epic encounter, Cannavaro's Herculean efforts in defence along with Marco Materazzi and Gianluigi Buffon will stand the test of time just as much.
As will, of course, the moment five days later when - on the occasion of his 100th cap - he raised the Silvio Gazzaniga-designed World Cup trophy high into the air after Italy's penalty-shootout triumph over France at the Olympiastadion.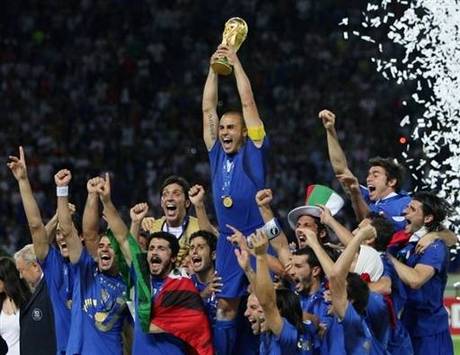 Campione del Mondo | Captain Cannavaro lifts the 2006 World Cup
Cannavaro's star had been born some nine years earlier, during a crucial 1998 World Cup qualifier against England at Wembley in February 1997. Injuries elsewhere had pushed the then-23-year-old into the starting XI for his competitive international debut.
It could not have been a potentially tougher baptism of fire. Paolo Maldini's father, Cesare, had only recently taken the reins as coach from Arrigo Sacchi, and a young Cannavaro was thrown into the deep end in one of the most intense pressure-cooker arenas.
The build-up to the match in the English press was all about how Alan Shearer, predictably proclaimed as the best striker in the world after his goalscoring exploits at Euro '96, was going to devour his marker as if he were a Neapolitan pizza.
Shearer didn't get a kick all game, Cannavaro was man-of-the-match, and Italy recorded an impressive 1-0 victory thanks to Gianfranco Zola's near-post strike.
FABIO CANNAVARO CAREER PROFILE


Read more on Cannavaro


Date of birth: 13/09/73

Clubs: Napoli, Parma, Inter, Juventus, Real Madrid, Al Ahli

Intl caps: 136 (2 goals)


Position: Defender

Major titles: 2 Scudetti*, 2 La Ligas, Uefa Cup, 2 Euro U-21s, World Cup

Under-21 caps: 21 (0)





Cannavaro was an indispensable player for Italy for the next 13 years, and captain after Maldini Jr's retirement in 2002. He forged one of football's best-ever centre-back partnerships with Alessandro Nesta - the pair had a telepathic understanding of one another and were seconds away from European Championship glory in 2000 until France's Sylvain Wiltord equalised four minutes into injury time - forcing extra-time where Les Bleus triumphed via David Trezeguet's Golden Goal.
The backs-to-the-wall semi-final win over Holland was this combination's finest hour as they somehow shut out the hosts for almost 90 minutes with 10 men, after Gianluca Zambrotta's early red card, paving the way for a Francesco Toldo-inspired penalty shootout triumph. The duo were still together in 2006, but a groin injury ended Nesta's World Cup in the third group game against the Czech Republic - with Cannavaro in such brilliant form he was hardly missed when Materazzi stepped in.
FABIO'S TOP FIVE GAMES
1) Germany 0-2 Italy - 2006 World Cup semi final (Berlin)

2) England 0-1 Italy - 1998 World Cup qualifier (London)

3) Italy 0-0 Netherlands (3-1 pens) - Euro 2000 semi final (Amsterdam)

4) Milan 0-1 Juventus - 2004-05 Serie A week 35 (Milan)

5) Italy 0-0 France (3-4 pens) - 1998 World Cup (Paris)
Cannavaro's club career didn't always match his dazzling international heights, but was still mightily impressive. Graduating through the youth ranks of his beloved hometown team Napoli, the lad with the contagious smile, bushy eyebrows, and typical Italian good-looks learned his trade first as a ball-boy and then by marking the one-and-only Diego Maradona in training.
The influence of Maradona's Napoli colleague Ciro Ferrara would later be seen in Cannavaro's own game, as he shared many of the Juventus legend's old-school skills such as anticipation, leadership, tactical expertise and professionalism. After making his debut in March 1993, ironically against Juve, Cannavaro soon started to turn heads in a declining side still coming to terms with the acrimonious departure of their God, Maradona. Despite his relatively small stature for a central defender at 5ft 9in, Cannavaro boasted Daniel Passarella-like leaping ability - he could hang in the air for what seemed an eternity and was very rarely beaten in an aerial challenge. His flying forward scissor-kicks when clearing the ball were another of his trademarks, as were his brilliant interceptions and reading of the game - qualities that have almost entirely disappeared in the modern defender.
In 1995 he moved to new Italian giants Parma, and would soon go on to form an irrepressible, world-class triangle with fellow defender Lilian Thuram and goalkeeper Gianluigi Buffon. The trio would later provide the backbone of Fabio Capello's 2004-06 Juventus side that won back-to-back Scudetti (later revoked).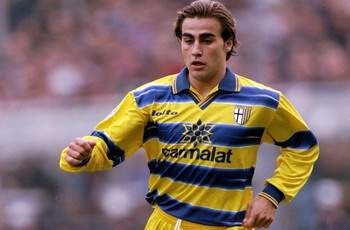 Seven years, two Coppa Italias, one Uefa Cup, and a second-consecutive European Under-21 Championship later (where he was named Player of the Tournament), Cannavaro was on the road again as he joined Inter for a whopping €23 million. As with many other big names during the first decade of president Massimo Moratti's reign, the defender had a miserable time as he struggled for form and fitness at an inadequately-run club.
This led to one of Calcio's biggest transfer mistakes as Moratti inexplicably sanctioned the sale of Cannavaro to rivals Juventus in a bizarre exchange for reserve goalkeeper Fabian Carini. With the Old Lady, Canna was soon back to his best again, accompanied by old friends Thuram and Buffon, but he was forced to leave after the Bianconeri were scandalously relegated due to the 2006 Calciopoli scandal.
His decision to jump ship was controversial and cost him the support of many Juventini during a second unsuccessful spell in 2009-10, but was completely understandable considering he was approaching 33 and was desperate to achieve his final dream of winning the Champions League. This didn't materialise during three years at Real Madrid, but despite some criticism the stopper still bagged two La Liga crowns. Since departing, the Blancos have not won a major title.
Some would say that Cannavaro's retirement should have arrived one or two years earlier. Having missed Euro 2008 through injury, the defender struggled along with all his team-mates during Italy's humiliating group stage exit at the 2010 World Cup when returning coach Marcello Lippi stubbornly and suicidally placed his trust in the ageing 2006 World Cup heroes. Cannavaro wound down his career in the United Arab Emirates with Al-Ahly, but at the age of 37 and beset by knee trouble his final days were not particularly happy.
"Fabio is a great player and great man. He had a great career, topped off by the World Cup victory."





- Marcello Lippi

Nevertheless, Cannavaro retires not only as an Italy legend but as a football legend. This alone can be demonstrated by the fact that, in a sport where forwards and
fantasistas
monopolise all personal glory, Cannavaro is the sole defender to have been crowned as Fifa World Player of the Year - which he achieved in 2006.
In the last 15 years, only the aforementioned Nesta and Thuram - as well as possibly a Paolo Maldini whose best days arrived a touch earlier - can challenge the Neapolitan as the greatest defender of his generation. Internationally, Cannavaro has no equals.
Grazie Fabio!
Follow Carlo Garganese on