COMMENT

By Livio Caferoglu
Last season was one to remember for all Neapolitans as they witnessed, at first hand, the true rebirth of one of Italy's most coveted and illustrious outfits. And it happened in magnificent style too.
Their superbly-balanced side won many followers in the past campaign, combining their functional, efficient defensive unit, which placed joint-second in Serie A's defensive stats, with an exciting brand of attacking football conjured up by their perilous trio in attack. Their front three contributed to almost three quarters of their 59 league goals, with 43 coming from the prolific services of Edinson Cavani, Ezequiel Lavezzi and Marek Hamsik, whose impressive haul of 11 league goals and six assists has garnered much interest, most notably from champions AC Milan.
The manner in which the spotlight has suddenly shifted onto the 23-year-old could be partly explained by the futures of team-mates Lavezzi and Cavani seemingly appearing far more certain. For starters, Uruguayan hitman Cavani has already signalled his desire to remain at San Paolo by signing a deal until 2016 in May, and Lavezzi, despite being constantly linked with various clubs in the Premier League of late, should stay put and focus his energies on ensuring Napoli make a significant impact in the upcoming Champions League. That said, his agent's admittance in the last 24 hours that he does not know the Argentine's future isn't entirely helpful.
Hamsik, whose style is seen as ideal for Massimilliano Allegri's side, was brought over to the peninsula back in 2004 by then-Serie A side Brescia from Slovak outfit Slovan Bratislava as a raw yet extremely promising midfield talent of just 17 years-old. However, his breakout season did not occur until two years later, where he proved to be a key component in one of Serie B's most cultured midfield tridents. With the teenage Slovak being deployed as a direct number eight, platformed by veteran Luigi Piangerelli and the combative Daniele Mannini, it allowed Hamsik to realise his potential as the goalscoring attacking midfielder he has now become, scoring 10 goals in 40 appearances, and he subsequently earned a multi-million Euro move to Napoli in 2007.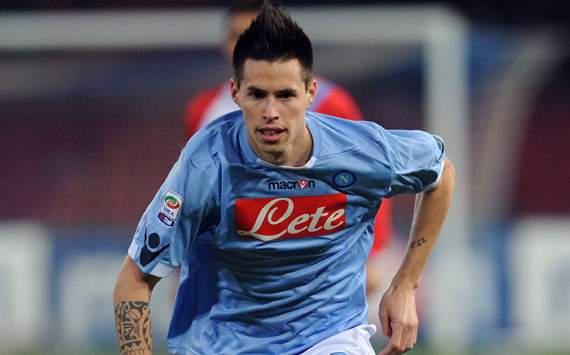 Will he or won't he? | Hamsik's future is up in the air
Since then, he has progressed in simultaneous fashion to his club side, adding more goals, more assists and overseeing a development in his own game, as his stint in Campania has seen him flourish into a trequartista rather than solely a central attacking midfielder. In the meantime, Napoli have transformed from a mid-table outfit to one that are now fully equipped to sustain themselves in the higher echelons of the Italian top flight. However, to accurately analyse the intensity of the impact Hamsik made last season in Naples, we must look at how his fellow Partenopei stars have performed in comparison to Hamsik this campaign, who missed only a single league match all term.
HAMSIK'S NAPOLI STATISTICS


Season
2007-08
2008-09
2009-10
2010-11

Games


37

32
37
37

Goals


9
9
12
11

Assists


3
6
5
6
Firstly, Cavani was undoubtedly Napoli's player of the season, netting an incredible 33 goals in all competitions and firing his side to a Champions League place. In the current market, goalscorers who provide value for money, versatility and guaranteed goal output are very difficult to come by, and in Cavani's case
his €17 million fee has proved to be extremely shrewd business.
In addition, Lavezzi, a firm fans favourite due to his Argentine heritage and explosive playing style of a second striker, may be considered more of a prized commodity than his Slovak counterpart due to the sheer importance of his presence in the team. Lavezzi continues to churn out assist after assist for his team-mates, notably accumulating the second highest number in 2010-11 with a hugely prolific 12 to his name.
Hamsik cannot claim to match either of his team-mates' achievements in regards to productivity, as his goal tally remains at a standstill, whilst his assisting for goals is still sorely lacking. However, this does not automatically make him a lesser player as such, but one that relies on his all-round game, most notably his intelligence, to help provide his team with the fantasista-like inspiration to win matches.
Another factor that Napoli will not miss if Hamsik does indeed depart is his lack of big-game character. In World Cup 2010, despite skippering Slovakia and featuring in all of their matches, his team-mates Robert Vittek and Marek Sapara proved to be far more effective and influential in their appearances, with Vittek especially impressing with a four-goal haul in the tournament.
Losing Cavani or Lavezzi would be catastrophic for the club, as the pairing must lead out the Vesuvani in the elite European club tournament as well as Serie A. However, the challenges that lie ahead promise great difficulty and excitement, and there is a burning desire to see the trio line up in their trident after August 31.
Hamsik's clever, innovative play combined with his physical power can potentially unlock the most stubborn of defences, but without an accomplished finisher and an explosive foil, his hard work would be futile, especially when faced with the significant improvement in defensive organisation.
Deeper defensive lines mean runs and passes are easier to read and harder to execute, and whilst the South American duo have had considerable experience internationally, Hamsik does not to an extent. The underlying truth is clear; there is life after Marek Hamsik for Napoli.