COMMENT
By Kris Voakes
It has been over a month since Massimiliano Allegri first spoke of a 'Mister X' he was looking for AC Milan to add to their Scudetto-winning midfield ahead of the new season, but it now seems they could finally be edging closer to the signing of Napoli's Marek Hamsik, and it all comes down to one man: superagent Mino Raiola.
The man responsible for the Slovakian's move to Italy in 2004 when he swapped Slovan Bratislava for Brescia has come back on the scene over the last couple of months. Hamsik's current agent Juraj Venglos' constant rebuttals of talk linking his client with the Rossoneri had forced many to look elsewhere in the great 'Mister X' guessing game, and Raiola also chimed in late last month to tell Radio Radio: "Marek Hamsik will not be the big transfer coup of Milan this summer. The player has an ongoing contract with Napoli and I expect him to stay put."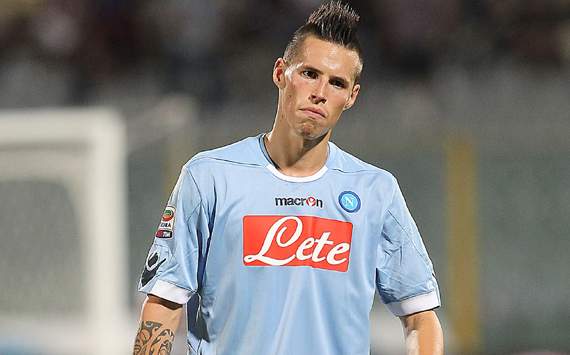 Hamsik | Ready to say his goodbyes in Naples
But the 23-year-old's admittance this week that he would consider a move to Milan to be a huge step forward in his career has thrown his future in Naples into doubt, and Azzurri president Aurelio De Laurentiis claims Raiola is the man making it all happen.
Working as an intermediary in the switch, the agent would simply be chalking up yet another deal with Milan after overseeing the transfers of the likes of Zlatan Ibrahimovic, Robinho and Mark van Bommel to San Siro last season.
RAIOLA'S ROSSONERI

Zlatan Ibrahimovic
Robinho
Mark van Bommel
Urby Emanuelson
Didac Vila

from Barcelona
from Manchester City
from Bayern Munich
from Ajax
from Espanyol

It is nothing new for an agent to have a good relationship with a particular club, and it is becoming more and more common for representatives of players to gain positions of great importance in the minds of presidents and sporting directors. Just this month we have seen a situation at Manchester United where the transfer of Atletico Madrid goalkeeper David De Gea was delayed until such a time as the player had signed on with the agency of Jorge Mendes, who has worked with the club in the past over deals involving the likes of Cristiano Ronaldo, Nani, Anderson, Carlos Queiroz and, infamously, Bebe.
The difference with Raiola, though, appears to be in his insistence that all players are available at all times. Though he has an 18-year association with Milan, he also has a reputation for unsettling clubs with his belief that he can always find his players a better deal than the one they already have. Though Inter ended up thanking him for the huge profit and the introduction of Samuel Eto'o that came from Ibrahimovic's switch to Barcelona, he had proven hugely disruptive to the Nerazzurri in the build-up to the move taking place.
He did the same again with Mario Balotelli before he ended up at Manchester City, and you can put good money on it that the Italian striker will end up at Milan sooner rather than later - and not just because the player is a huge Rossoneri supporter. Raiola seems to want to gain power at Via Turati by bringing in as many of his players as possible, and Balotelli will simply be another step up the ladder.
In the meantime, Hamsik will also be pushed towards Milan under Raiola's influence. Though CEO Adriano Galliani has again claimed today that Hamsik and Arsenal's Cesc Fabregas will not be arriving at Milanello, his words can be taken with a pinch of salt. Raiola has almost as much weight (no pun intended) in the corridors of power at the club as Galliani, meaning a switch for the Slovakian remains possible, nay, probable, for as long as the superagent is involved.
Follow Kris Voakes on