FEATURE
By Robin Bairner
Italy is a nation well known for scandal. President Silvio Berlusconi often finds himself in hot water over his flirtatious nature, while football has also tasted its share of controversy over the years, with Calciopoli and Scommessopoli simply two of the most recent examples.
Now, however, there is a new menace. A thief is on the loose. He or she pinched the lucky sunglasses of Fiorentina coach Sinisa Mihajlovic during a recent press conference, prompting the Tuscan club to make a public announcement calling for the spectacles to be returned.
The pilfering of football-related memorabilia is not a new phenomenon, and has taken place all over the world, as
Goal.com
will demonstrate as we run down 10 of the items that have been pinched over the years.
10. Cars
Several footballers have had their cars stolen in recent times, perhaps most famously Gennaro Gattuso, who had his Range Rover taken from him. Though the car was ultimately found in Albania and returned to the Italian international, it came back in a rather decrepit state.
Former Sheffield Wednesday goalkeeper Kevin Pressman, notorious as a portly figure, was prepared to take the law into his own hands when his vehicle was stolen from outside his family home. The story goes that he pursued the assailants in his wife's car, caught them and then sat on them until the police arrived.
9. Money

With worries over the security arrangements of the 2010 World Cup in South Africa, it was alarming when reports broke that the Egyptian national team had been the victims of theft during the 2009 Confederations Cup. News quickly broke that some Pharaohs players had been robbed of up to $2,400.
However, suspicions were quickly raised, and
Sunday World
quoted a police source as saying: "We have confirmed that some of the players brought prostitutes whom they picked up on Oxford Road to their hotel rooms and we have strong suspicions that they were cleaned by ladies of the night."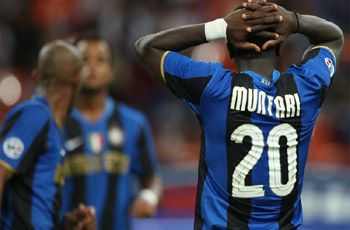 Sulley Muntari had a particularly unfortunate day in 2009, when he was robbed of his watch by Inter fans and was then the victim of an attempted car-jacking only a few hours later.
8. Jewellery

Small, easily transportable and very valuable, jewellery makes a perfect target for would-be thieves, and many a footballer has been a victim. Marek Hamsik, for example, had a Rolex watch stolen from him during a car-jacking. Rumours circulated that the mafia ordered for it to be returned, given his hero status in Naples, but earlier this week he confirmed he was still without his timepiece.
Sulley Muntari had a particularly unfortunate day in 2009, when he was robbed of his watch by Inter fans and was then the victim of an attempted car-jacking only a few hours later.
7. Perfume
Football may be a glamorous game at the top, but not every player makes thousands of pounds a week, as Israeli side Bnei Sakhnin demonstrated when they had six players arrested by plain clothes policemen after allegedly attempting to steal perfume from a duty free store on their outbound flight to an Intertoto Cup match against Deportivo La Courna.
"It was an embarrassing situation," one unnamed player frankly admitted.
6. A woman
Perhaps not a theft as such, but definitely not something to help harbour team spirit, to steal the wife of a fellow player is certainly a no-no. However, that was not the case for former Germany midfielder Stefan Effenberg, who had an extramarital affair with the other half of Thomas Strunz in the late 1990s.
The pair would ultimately marry and move to the USA.

5. A ball
On the pitch, it's perfectly acceptable to pinch the ball from a player's bootlaces, off the field it's distinctly frowned upon, particularly when the ball in question is bronze and part of a statue portraying a national hero.
This was the case in Sweden earlier this month when a statue of Gunnar Gren was toppled over, allowing the ball the legendary Gothenburg and AC Milan player was supposed to be kicking to be stolen. The Swedish club have appealed for the object to be returned.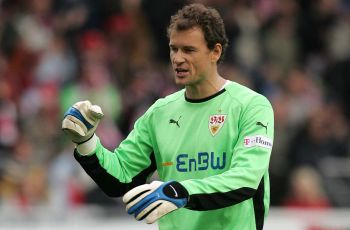 Lehmann | Famed for nabbing glasses and boots

4. Glasses
Make no mistake, footballers are not always the victims in these crimes, as one unfortunate fan found out when the former Schalke goalkeeper bizarrely marched away from a 1-1 draw with Mainz in the Bundesliga. The Germany international chose to leave the ground through the crowd, stealing the man's glasses before handing them to a third party, who returned them.
This incident came only a few days after the former Arsenal man relieved himself behind an advertising boarding during a Champions League match. Previously, Lehmann had stolen the boot of opponent Sejad Salihovic and had thrown it behind the goal.
3. A toilet seat
Glen Johnson may have been Roman Abramovich's first signing for Chelsea in 2003, but the right-back captured headlines for an altogether different reason four years later. During a stint on loan at Portsmouth, he was arrested and issued with an £80 fixed penalty notice for the theft of a toilet seat from a large DIY chain along with Millwall striker Ben May.
2. Changing rooms
It's relatively easy to pinch something small and relatively insignificant, like a watch, some money or even a car, but how about an object a good deal more permanent - take, for example, changing rooms. Impossible, surely?
Farnworth Town, an amateur side from Bolton, found in April 2011 that simply isn't the case as they turned up to a Sunday league encounter to be met with a bare patch where their 40ft steel unit should have stood.
Team manager Jason Tyldesley commented, according to the
BBC
: "I can't believe how the thieves managed to get away with it because they must have needed a lorry."
Heroically, they went on to beat Ormskirk 4-3.
1. The World Cup
Once a country has won the World Cup, you'd think the least they could do was to look after the thing properly. Incredibly, the Jules Rimet trophy was twice stolen.
England, on the eve of hosting the 1966 World Cup, had the prize pinched from Westminster Central Hall during an exhibition. Thieves managed to evade guards to claim the 35cm high award, aided by the fact there was a church service going on elsewhere in the building. Famously, a dog named Pickles would recover the trophy from under a bush, prompting the FA to manufacture a replica, which was used as England celebrated their 4-2 win over Germany in the final.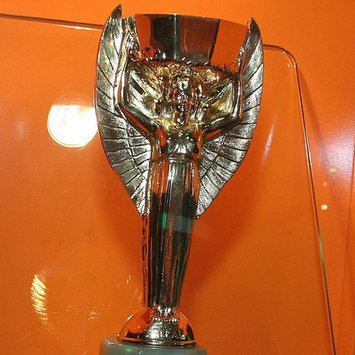 Pinched | The Jules Rimet trophy was twice stolen
The Brazilians were not so lucky. They were given the trophy to keep after claiming their third crown in 1970, but 13 years later it was stolen from the nation's Football Confederation headquarters and never recovered.
It's not only the World Cup that has been stolen, though. Dutch comedian Theo Maassen took the Uefa Cup from PSV's stadium, starting a case that would baffle police for years. Dramatically, he made his revelation live on TV, pulling out the trophy to astonish guests, though he would be slapped with community service for this lark.