EXCLUSIVE FEATURE
By Salvatore Landolina and Kris Voakes
Wesley Sneijder could be pushed out of Inter as new coach Gian Piero Gasperini prepares to introduce his favoured 3-4-3 system at San Siro, leaving the way clear for Premier League champions Manchester United to make a bid for the Dutch superstar.
Goal.com understands that Gasperini, in partnership with his trusted assistant Luca Tucchi, is ready to shake up the first team picture, sticking by a formation that has served him well in the past but which would result in the futures of Sneijder and Brazilian full-back Maicon being thrown into question.
Sneijder was the main on-field catalyst behind Inter's progression from continental wannabes to Italian and European champions in 2009-10, but over the past 12 months he has suffered from lethargy and injury – and even contracted anaemia – as the side's reliance upon him has taken its toll. The Nerazzurri have also shown signs of having reached the end of a cycle, leaving the first team in great need of a rejig.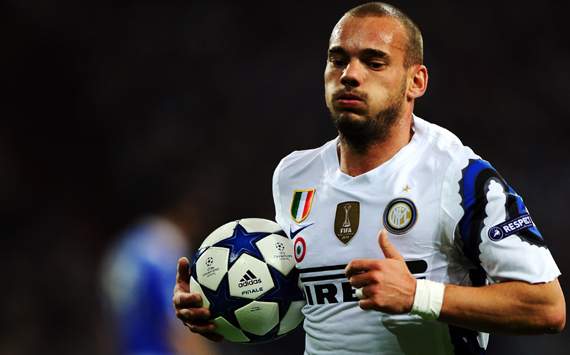 I'm leaving, and I'm taking my ball with me | Sneijder may decide to move on
Now the entrance of Gasperini is likely to have a knock-on effect for the attacker, as a 3-4-3 system would leave no space for Sneijder to work from his preferred trequartista position. He would instead be asked to start as either a wide forward or a winger, a spot which would demand a great deal of defensive discipline in the former Genoa coach's formation.
Though a slight deviation to a 3-4-1-2 would allow Sneijder to stay in his favoured role, Gasperini is said to be against the idea of changing his plan to play with a system including two wide forwards either side of his main target man, leaving the Dutchman at a loose end.
The bleak outlook for the No. 10 at Appiano Gentile, and the player's seemingly itchy feet – he recently said: "I love Inter, but God only knows if I'll stay" – means that any official approach by Manchester United, who lead the queue of suitors for Sneijder, will be met with relish by club president Massimo Moratti. In their desire to work within the new restrictions placed on clubs by Financial Fair Play, Inter are keen to cash in on big-name players who are less suited to Gasperini's preferred style of play.
GASPERINI'S INTER | How Sneijder would have to fit in

RIGHT-SIDED FORWARD
LEFT MIDFIELD
Julio Cesar
Ranocchia - Lucio - Samuel
Zanetti - Stankovic - Cambiasso - Nagatomo
Sneijder - Pazzini - Eto'o


Julio Cesar
Ranocchia - Lucio - Samuel
Zanetti - Stankovic - Cambiasso - Sneijder
Milito - Pandev - Eto'o


RIGHT MIDFIELD

NO. 10 - GASPERINI'S 'NO-NO'

Julio Cesar
Ranocchia - Lucio - Samuel
Sneijder - Zanetti - Cambiasso - Nagatomo
Palacio - Pazzini - Eto'o


Julio Cesar
Ranocchia - Lucio - Samuel
Zanetti - Stankovic - Cambiasso - Nagatomo
Sneijder
Pazzini - Eto'o
So while Sneijder will be cast aside, there is also likely to be an exit for Maicon, who was pursued long and hard by Real Madrid last summer. Inter held out for €30 million, which scared off the Spaniards and resulted in the Brazilian staying in Milan, but this time around they will be more willing to cut ties with the rampaging full-back due to his drop in form and his unsuitability to a 3-4-3.
But the good news for Inter fans is that Samuel Eto'o will be kept on under the new man's regime, with his ability to play off the left of a three-man front line having been a valuable commodity to the club under Jose Mourinho and Leonardo. This track record will be vital to Gasperini as he looks set to line up with Giampaolo Pazzini as his main target man and Diego Milito to the right. That is not to say Eto'o is unsellable, as an offer in the region of €30-35m from Manchester City could see the 30-year-old sold on, but Inter will resist any bid below that as they hope to be able to count on the Cameroon striker for some time yet.
The planned addition of Genoa's Rodrigo Palacio could see his Argentine compatriot reduced to a bit-part role, though, as Milito's poor 2010-11 return has alerted the club to a need to look for alternatives. And perhaps more importantly his signing would reinforce Gasperini's desire to revert to a 3-4-3 system, leaving Sneijder heading for a fresh start as Inter look to the future rather than force their most creative player to adapt to a more work-orientated setup.
Follow Goal.com on