COMMENT
By Ben Hayward
It was an investment and an ideology that changed football. In his first spell as president of Real Madrid, construction magnate Florentino Perez built a side of superstars at monumental cost, always keeping two strategies in mind. On the pitch, the idea was to create an exciting brand of winning football; off it, an aggressive marketing and merchandising plan to boost the brand of the club. In came many of the world's best players, with a new hero arriving each summer. One by one, Luis Figo, Zinedine Zidane, Ronaldo and David Beckham joined Raul and Roberto Carlos to form one of the most exciting sides ever confectioned.
A decade on, Florentino is in his second spell as president at the Santiago Bernabeu, and as he looks to create a similar team to the one that wowed the world by bringing in a host of elite stars, he is also calling on the help of some old friends. One by one, the Galacticos are returning.
The first to re-emerge was Zidane. The former France playmaker graced the Bernabeu for the last five years of his career, winning the Champions League, an Intercontinental Cup and a Primera Division title, as well as a European Supercup and two Supercopas. The World Cup winner served as an adviser for Perez in the president's first year back in the boardroom, but returned in a full capacity last season at the insistence of current coach Jose Mourinho.
Zidane now works as a special adviser at Madrid, having been brought in to impart his "experience and knowledge" in a consultancy capacity and, at the appeal of Mourinho, he also works closely with the first team, regularly travelling with the squad and taking part in pre-match gatherings, training sessions and meetings. Zidane helps with coaching and is also available to advise on signings; he was key to the club's signing of defender Raphael Varane from Lens, convincing the player himself to join Madrid, and led the negotiations with the French side.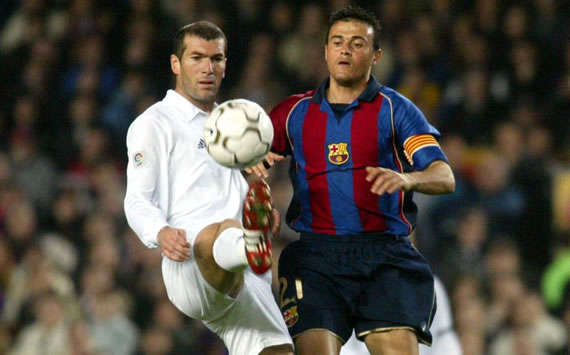 Plotting to bring down Barca | Zidane is back in a new role at Madrid
One of Zidane's former team-mates, Ronaldo, has also renewed his relationship with Florentino. The striker, who ended his glorious playing career earlier this year, is acting as a go-between in Madrid's move for his fellow countryman Neymar. Once the ink is dry on that deal, which looks to be nearing completion, Ronaldo will use his network of contacts in Brazil and the rest of South America to monitor the best young players in the country, giving Madrid an edge in one of the game's most attractive and prolific markets.
"My future will be linked

90 per cent to football and to Real Madrid."
- Raul

With Zidane and Ronaldo on board, another Galactico who could return is Luis Figo. The former Portuguese winger provoked outrage in Spanish football when he swapped Barcelona for Madrid in 2000. His arrival at the Santiago Bernabeu gave Perez his first big-name signing, fulfilling his presidential promise and marked the beginning of the Galactico era. Relations between the two men were strained at times, and the winger's exit in 2005 proved acrimonious. Nevertheless, Figo may yet reacquaint himself with the capital giants.
After leaving Madrid, the winger moved to Inter and extended his playing career under Mourinho, later working alongside his compatriot as an assistant, an advisor and an ambassador at the Italian club. Figo was on the bench as Inter overcame Barcelona in the 2010 Champions League semi-finals, and again in the final as Inter claimed European football's most coveted prize with a win over Bayern Munich at the Santiago Bernabeu.
Now, the 38 year-old could be in line for a similar role at Madrid and has even been tipped to succeed Jorge Valdano as the club's general manager. He already has the support of Cristiano Ronaldo, who said: "I would like Figo to take Valdano's role."
Relations would need to be improved with Florentino, but Mourinho enjoys working with Figo and the two Portuguese could be set to team up again - the coach usually gets his way, after all.
In the long-term, an alternative for that position could be Roberto Carlos. The former Brazil full-back, also 38, is still playing in Russia, but is keen to return to Europe once he hangs up his boots. "I have the intention of becoming a coach or a sporting director," he said recently, and his 11 years at Madrid leave him well-placed to feature in a coaching capacity with los Blancos.
The same applies for Raul. A Madrid legend and club icon, the former Spain striker is coming to the end of his playing days at German side Schalke, but has said he is keen to perform a coaching role later on in his career. "My future will be linked 90 per cent to football and to Real Madrid," he said in 2009. Meanwhile, at the player's Madrid farewell, Florentino said: "This Santiago Bernabeu stadium is and always will be your home."

"I think he [Florentino] is a great man. He is a man who
always does the best for the players, the club and the fans. He's a president who creates excitement with his passion for the game."
- David Beckham

The last Galactico still in active service is David Beckham, who left Madrid in 2007 to join MLS side LA Galaxy, where he remains now. Beckham's only major trophy in Spain came in his last season as Madrid won the league title. By then, Florentino had already departed, but the two men remain close and the president is keen to find a role for his former player, aware of the marketing possibilities and media exposure the Englishman could bring, just as he did in his playing spell at the club.
An ambassadorial role seems the most likely after Beckham has ended his career, and the former England captain would reportedly be keen to work alongside his previous president. He said of Perez: "I think he's a great man. He's a man who knows the club inside-out. He's a man who always does the best for the players, the club and the fans. He's a president who creates excitement with his passion for the game."
So watch this space - the Galacticos could be gathering once more in a new era at Madrid.
Follow Ben Hayward on

https://secure.static.goal.com/117500/117599hp2.jpg