COMMENT
By Kris Voakes
First they called Marcelo Bielsa. Then it was Andre Villas-Boas. Next up Fabio Capello, and then Sinisa Mihajlovic. Inter's search for a new coach was a long one, but yesterday they finally announced Gian Piero Gasperini as their replacement for Leonardo, over a year after he was picked out as one of European football's great tacticians by none other than Sir Alex Ferguson and Jose Mourinho.
In late 2009 it was Gasperini that Ferguson had earmarked as his next Manchester United assistant and potential successor but the move never really left the ground as the Grugliasco product was midway through trying to lift Genoa into the Champions League.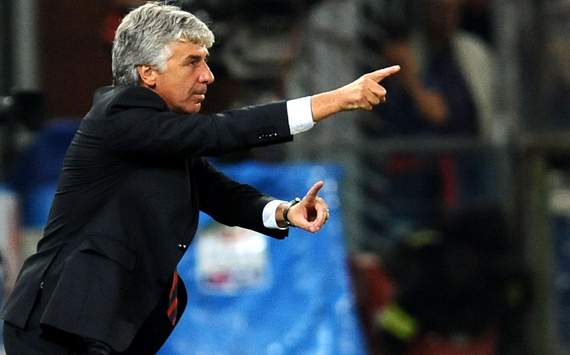 Gasperini | Tactician supreme according to Ferguson and Mourinho
The 53-year-old then received high praise from the 'Special One' after Inter had lost ground in their ultimately successful treble chase in March 2010. To the untrained eye a 0-0 home draw with Gasperini's men was a sign of weakness in the San Siro giants, particularly given their 5-0 win against the same side in Liguria earlier that term.
But after the match Mourinho, who had been banned from the touchline for the game but watched from the pitchside hospitality area, preferred to focus on the qualities of his opposite number. "Gasperini is the coach that makes it the most difficult for me," he claimed. "Every time I changed tactics, he adapted. That was one of the most spectacular 0-0 draws for anybody who loves football."
And it is that clever footballing brain which has helped to finally persuade Massimo Moratti and Marco Branca to give him a go at San Siro. His record may not be glittering for a 53-year-old who has been in the coaching business for 17 years, but it has few faults.
GASPERINI'S ROLL OF HONOUR

Crotone
2003-04
2004-05
2005-06

Genoa
2006-07
2007-08
2008-09
2009-10
2010-11

League
C
B
B


B
A
A
A
A

Finish
2nd - P
17th
9th


3rd - P
10th
5th - EL
9th
sacked

P = promoted, EL = Europa League
Nine years coaching youths at Juventus gave him an excellent grounding, and he followed it up by performing wonders with Crotone, taking them up to Serie B in his first term and making them a top-half team by the time Genoa came calling after three years in the job.
With the Serie A outfit, he developed a very fluid yet belligerent style of football which made his side difficult to beat. In his first term they stormed to promotion alongside Juventus and Napoli and in four full seasons in charge Genoa never finished in the bottom half of Serie A. It was probably the downright shock of a poor start to last season that resulted in president Enrico Preziosi sacking him with the side struggling in 15th place after a 1-0 defeat at Palermo in November which in all truth could have finished 6-0 but for the profligacy of the Sicilians' eventual match winner Mauricio Pinilla.
An indifferent final phase in the hot seat should not take away from the work Gasperini achieved in Marassi though. His side was renowned for being difficult to break down, lively on the ball, durable in both attack and defence, and not short of skill when necessary. His first team squad at the Luigi Ferraris regularly featured the quintet of Omar Milanetto, Marco Rossi, Giandomenico Mesto, Giuseppe Sculli and Domenico Criscito as he built his side around a trustworthy, hard-working base.
But they also needed that little bit extra to excel. In 2007-08 they had Marco Borriello up front to fire 19 goals as they exceeded expectations on their return to the top flight and the following year the magnificent showings of Thiago Motta and particularly Diego Milito helped them to qualify for Europe. However, big name signings such as Albert Zapater, Miguel Veloso and Rafinha failed to shine under Gasperini's leadership as the the team failed to make the extra step up from surprise package to superstars.
At Inter there will be a necessity to exercise his supreme tactical qualities, with the club having missed out on such direction since Mourinho left a year ago. But they will also need somebody who will be able to nurture the abilities of the bigger stars in their squad such as Wesley Sneijder and Samuel Eto'o, and it is in this that the new boss has no real track record.
So, as he wanders into the great unknown with Inter, Gasperini is being asked to fulfil his destiny in taking the reins at a top European side, while also facing pressure to deliver on a big stage like never before. The next two years will prove whether Ferguson and Mourinho were right about him, or whether Moratti and Branca should have kept on searching.
Follow Kris Voakes on