ANALYSIS
By Ben Hayward
When Espanyol signed striker Pablo Daniel Osvaldo from Bologna in the winter of 2010, eyebrows were raised. Few fans of the Barcelona-based side had heard of the forward, and when they sought more information on their club's new recruit, they were left underwhelmed. But coach Mauricio Pochettino spoke glowingly of his signing and just 18 months later, the player is attracting the attention of clubs across the continent, including Inter, Juventus, Manchester City, Tottenham and Atletico Madrid. Quite a revival; so how did it happen?
Osvaldo appeared to suffer something of an identity crisis early on in his career. Born in Argentina, but with Italian nationality and now living in Spain, the player took some time to find a home, to find his best position, even a name; in Italy, he was Pablo, in Argentina he is Daniel and in Catalunya he's simply Dani.
Osvaldo came through the famed youth academy at Argentine side Lanus, but never played in the country's top flight. A brief spell at Huracan in the Argentine Second Division showed promise, however, and a move to Italy followed. But after impressing in Serie B with Lecce, his parent club Atalanta sold him to Fiorentina in 2007, where he was expected to flourish. The ingredients appeared to be in place. Armed with a machine gun celebration reminiscent of Viola legend Gabriel Batistuta, some of Osvaldo's finishing was supreme, too. The highlight was a wonderful bicycle kick against Torino which sealed Champions League qualification for the Florence-based outfit. It was the club's most important goal in years, but such moments were rare and Osvaldo netted just five times in Serie A for the Tuscany side, and wasn't particularly successful at Bologna either as he bagged just three goals in 14 appearances.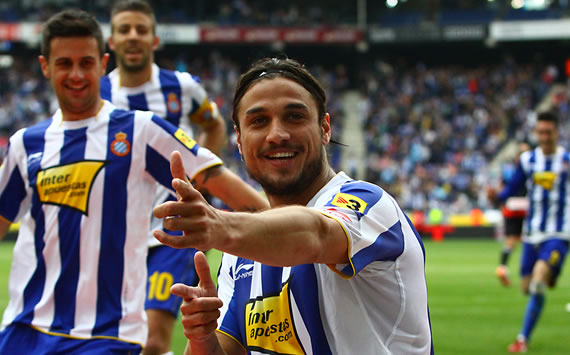 Aiming to impress | Osvaldo is proving his point in La Liga
Osvaldo's strong physique and fearless approach made him an able target man in Italy, but he lacked goals and would often go missing when his team needed direction in key moments. He looked both languid and lost. On the international stage, however, he continued to win admirers, featuring with some success in Italy's Under-21 side for coach Pierluigi Casiraghi, who should know a good striker when he sees one, and even scoring the winner in the 2008 Toulon tournament.
When Osvaldo was signed by Espanyol, coach Pochettino spoke of that Toulon tournament.
"Since then, everyone has been watching him," the former Argentina defender said. If that wasn't true then, it certainly is now. The striker netted 13 goals in 24 games in a campaign interrupted by injury last term, having bagged seven strikes in the second half of the previous season. Top clubs from Spain, Italy and – in particular – England have watched him on numerous occasions, with Manchester United's chief scout Martin Ferguson and Tottenham coach Harry Redknapp both spotted at Cornella. Former Fulham boss Mark Hughes also spoke highly of the Argentina-born star, while Manchester City have been linked, too. Osvaldo is set to move on once again.
DANI OSVALDO | First-team appearances at Espanyol




| | | | |
| --- | --- | --- | --- |
| Season | Appearances | Goals | Assists |
| 2009-2010 | 17 | 7 | 0 |
| 2010-2011 | 24 | 13 | 4 |
| Total | 41 games | 20 goals | 4 assists |
Espanyol fans will be disappointed, but financial security and preserving Primera status are the two principal objectives for the Barcelona-based side and if Osvaldo's €18m release clause is met, he will depart. Pochettino is ambitious, but he also understands the club after two successful spells as a player in Barcelona. Just last season, his side had been challenging for a place in the Champions League until January, when big offers came in from Serie A for young defenders Victor Ruiz and Didac Vila. The two were sold – and Espanyol plummeted.
Osvaldo had been injured, but came back at the end of the season and started scoring again, including a brace against Atletico Madrid and another strike in a 2-1 win over Athletic Bilbao. Under Pochettino, he's the point of reference in Espanyol's attack, a robust target man with excellent heading skills, impressive technical ability and a turn of pace to go with it. At 25, he's still only young and appears something of a late bloomer as well.
"At Espanyol I finally found a club that cares for me, that

values me and the affection shown by the people is impressive - I had never experienced that."
- Pablo Daniel Osvaldo

In Italy, things didn't work out. "I play better when I'm happy," he once said. "And in Italy I wasn't happy. There, unless you score 15 goals in three games you get dropped. Here I don't feel the pressure and I have fun. I need to feel important at a club." Pochettino has taken the striker under his wing and the results are there for all to see. Any prospective purchaser should look to do the same.
A return to Italy seems unlikely after his last experience, although the striker may be keen to impress in order to win a place in Italy's squad ahead of Euro 2012. With Sergio Aguero and Diego Forlan both set to leave Atletico, a move to the Vicente Calderon could also be an option, but Osvaldo's game appears ideally suited to the rapid and robust nature of the Premier League. Tottenham are the frontrunners, the player's agent admitted earlier this week, and a move to north London appears a reality.
He might have to watch what he says, though, having once claimed: "I love to score beautiful goals but if I tap one in from the goal-line against Barca I'll shout to exploding point as if it's the Maradona goal when he dribbled around the English in 1986." Maradona once donned a Spurs shirt to play in a testimonial for his friend and international team-mate Osvaldo Ardiles, whose move to Tottenham helped pioneer the transfers of South Americans to Europe in the early 1980s. Now, almost thirty years on, the Spurs fans could be ready to hail a new Osvaldo down at White Hart Lane.
Follow Ben Hayward on