Wednesday June 1, 2011
A national case explodes. During the night, there are 16 arrests made across the whole of Italy at the end of an investigation led by police in Cremona on betting in football. Among the names involved are former footballers, directors of clubs and people outside the football world. One stands out - Giuseppe Signori, the former Italy international.
Seven of those arrested have been remanded in custody: Antonio Bellavista (ex footballer), Giorgio Buffone (Ravenna director of sport), Massimo Erodiani, Francesco Giannone, Marco Paoloni (Benevento goalkeeper), Gianfranco Parlato (ex footballer) and Marco Pirani.
Others have been placed under house arrest: Mauro Bressan (ex footballer), Manlio Bruni, Francesca La Civita, Vittorio Micolucci (Ascoli), Ismet Mehmeti, Giuseppe Signori (ex footballer), Vincenzo Sommese (Ascoli), Gianluca Tuccella and Almir Gegic.
Another 28 people are also under investigation. Among this group is Atalanta captain Cristiano Doni, who was allegedly involved in phone calls relating to the scandal, but these have not been established as yet. Stefano Bettarini is also involved and in the past both have been under the microscope during previous betting investigations.
The majority of those under investigation are accused of being involved in an organisation that allegedly conditions results, mostly in Serie B and Lega Pro, but with some interest in Serie A. The Inter - Lecce game from the 2010-11 season is of concern, because consistent betting figures were said to have garnered considerable returns. For some there are allegations of criminal conspiracy, while for others it is in connection with fraud.
Repercussions for the competitions under probe are serious, as revealed by investigative judge Guido Salvini.
"The activities of the association are still ongoing and it is having an impact on the final phases of the various leagues, with big damages for clubs, loyal punters and on the fairness of these competitions," he said.
Here are the matches under scope during the police investigation entitled 'Last Bet':
| | | |
| --- | --- | --- |
| League | Date | Game |
| Serie A | 20/3/2011 | Inter - Lecce |
| Serie A | 2/4/2011 | Brescia - Bologna |
| Serie B | 25/2/2011 | Livorno - Ascoli |
| Serie B | 12/3/2011 | Ascoli - Atalanta |
| Serie B | 19/3/2011 | Atalanta - Piacenza |
| Serie B | 26/3/2011 | Padova - Atalanta |
| Serie B | 27/3/2011 | Siena - Sassuolo |
| Lega Pro A | 17/10/2010 | Cremonese - Spezia |
| Lega Pro A | 21/10/2010 | Monza - Cremonese |
| Lega Pro A | 14/11/2010 | Cremonese - Paganese |
| Lega Pro A | 16/1/2011 | Spal - Cremonese |
| Lega Pro A | 27/2/2011 | Verona - Ravenna |
| Lega Pro A | 10/3/2011 | Reggiana - Ravenna |
| Lega Pro A | 20/3/2011 | Alessandria - Ravenna |
| Lega Pro A | 27/3/2011 | Ravenna - Spezia |
| Lega Pro B | 13/2/2011 | Benevento - Viareggio |
| Lega Pro B | 28/2/2011 | Benevento - Cosenza |
| Lega Pro B | 13/3/2011 | Taranto - Benevento |
| Lega Pro B | 21/3/2011 | Benevento - Pisa |
The investigation begun after a series of strange events during the Cremonese - Paganese match in Lega Pro which took place on November 14, 2010, and ended in a 2-0 win for the home side. During and following the encounter, around five players and a member of the technical staff noted that there was a strange atmosphere on the pitch and added that some performances were below standard. One of these, Carlo Gervasoni, was involved in a car crash on the way home.
The enquiries, which began following the allegations from Cremonese in relation to the game and were based on a number of telephone wiretaps, have allowed investigators to conclude the strange atmosphere was because Marco Paoloni, at the time a goalkeeper for the Lombardy-based club, had provided drinks that allegedly contained a tranquiliser. Paoloni, who now plays for Benevento, was trying to assure his team-mates performed below par and thus help to condition the outcome of the game.
Those that have been involved in the scandal have reacted. Signori simply said "have pity", while Atalanta and Siena both defended their positions with a number of official statements. Institutions such as the Italian FA (FIGC) have opened their own enquiry, while Italy internaitonals Alessandro Matri and Andrea Pirlo say that the whole affair is a "disgrace".
Thursday, June 2
Italian football awakes and is stunned by the latest scandal as people analyse the possible effects of this page of history that so many want to be removed.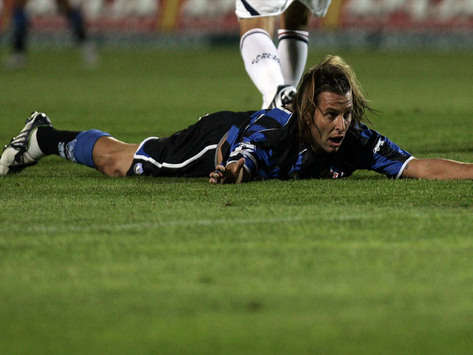 Doni implicated | The former Italy international, now playing for Atalanta
What risks for the clubs involved? How can it change the league's outcomes ahead of next season? It all depends on a case-by-case basis. Atalanta appear to be the club with most to lose, while Sampdoria moving back to Serie A is unlikely, though they are linked to a Serie A club being involved in the 'Last Bet' investigations.
From hour to hour, plenty is discussed about the whole affair. All the headlines surround Doni, allegedly the most involved in Scommessopoli. The midfielder has pleaded innocence.
Zdenek Zeman says he is "disgraced" when asked his opinion on the latest blow for Calcio, while Italy boss Cesare Prandelli invites everyone to stay calm. Luciano Moggi also reacts - but he is still fighting Calciopoli II at the Tribunal of Naples.
A number of reports linked to the case begin to emerge. Under the eye of investigators are Inter - Lecce (1-0), Atalanta - Piacenza (3-0), Livorno - Ascoli (1-1), and Alessandria - Ravenna (2-1).
Meanwhile, everything is ready for the investigators to ask questions in Cremona.
Friday, June 3


The day of interrogations begins with another big name entangled in proceedings. Daniele De Rossi is called to answer questions over the 4-3 result between Genoa and Roma last February. The discussions last a few hours, but it proves to be a false alarm and the public prosecutors in Cremona rubbish the allegations over the game, in which the capital giants led 3-0 only to lose 4-3.
In the meantime, new claims and counter-claims surface around the scandal. The organisation under investigation, based in Milan, are alleged to have close links with Paoloni and the criminal underworld outside of football. Stefano Pallazzi, the investigator at FIGC, prepares to open his own case into what is happening in Cremona.
Among the hoard of papers and legal documents, the names of Claudio Lotito, the Lazio president, and the Della Valles - Fiorentina's owners - pop up. The feeling is a wave will hit the scandal head-on from new angles with a number of high-profile individuals allegedly involved.
The protagonists line up in Cremona. The most significant information comes from Marco Pirani, who gives evidence for around four hours. The former footballer, now a dentist, says Serie A games were also fixed. Beppe Signori remains calm, but after the day's proceedings, his and Doni's position appears worse off.
Saturday, June 4

The lights shine on possible involvement from Serie A. "There are five teams involved, one of them is a big one," is the word from Cremona, where investigations continue.
Meanwhile, speculation increases over a game involving Catania and Chievo from January.
There are also rumours regarding Milan - Napoli, a game important to the destination of the Scudetto on February 28, although there is nothing to suggest anything incriminating from the evidence of phone calls which emerge.
Ravenna declare their position and they defend it staunchly by saying they are unaware of all the facts.
Meanwhile, investigators uncover a number of cheques totalling around €450,000 in the offices of Francesco Giannone, a Bologna-based businessman with close links to Signori, who was arrested on Wednesday.
Sunday, June 5
New details start to emerge regarding Atalanta's position over their defence of the club's involvement. From prison Paoloni starts his confession, he is among the central figures of the scandal. Fabio Galante denies any involvement.
Siena's position is worsened as an analysis of evidence shows they had an active role in the 4-0 win against Sassuolo. A phone call appears to show Paoloni speaking with Erodiani in which Sassuolo are alleged to have taken money to lose the game against Conte's men.
Monday, June 6
La Repubblica
reveals the names of the five Serie A clubs said to be caught up in the scandal following accusations from Pirani. The clubs are: Roma, Fiorentina, Genoa, Lecce and Cagliari. The first reaction in relation to the named clubs comes from Cagliari president Massimo Cellino. "Whoever spoke of Cagliari will be made to pay the consequences," he says.
Outgoing Roma president Rosella Sensi adds: "I am annoyed with noise of Roma's involvement." Doni, one of the main figures blasts: "I am being massacred." There are whispers Atalanta could be relegated to Lega Pro.
Fiorentina release a statement claiming they are estranged to the facts regarding their club.
In new enquiries, there are now 44 people being investigated, according to
Il Corriere della Sera
. Among them is former Chievo man Michele Cossato, former Salernitana player Ivan Tisci and a number of people associated with Ravenna.
From Napoli there is news of a new probe on the scandal from
La Repubblica
. It claims that, based on all that has emerged, the investigators are talking about sporting fraud.
The Italian FA makes comments: President Giancarlo Abete calls for calm and invites everyone to "stick to the facts which have emerged and not to the rumours regarding Serie A clubs being involved."
Coni president Gianni Petrucci points his finger towards organised crime.
The Austrian bookmaker Skysport365 claims there were 10 Serie A ad 10 Serie B matches in which irregular betting patterns emerged. The company is expected to send a list of the suspect games to the investigation team in Cremona.
Tuesday, June 7
Three Serie A games come under the microscope: Pirani's revelations push the investigators to look at Fiorentina 2-2 Roma, Lecce 3-3 Cagliari and Genoa 4-2 Lecce. Paoloni is said to have advised the dentist on how to play money for these games.
It is said €300,000 was paid to fix Serie A games, €120,000 for Serie B and €50,000 for a Lega Pro game.
Some evidence suggests there were suspicions over a Milan - Bari fixture after Bari players were scared they would be found out if the game went a certain way. The match in question ended 1-1.
Meanwhile, Genoa and Lecce deny all accusations levelled against them.
Signori lands in hot water. The former Italy striker is said to have been involved in a number of phone calls relating to the fixing of Serie B and Lega Pro games. He is alleged to have bet €60,000 on Atalanta beating Piacenza, a game which ended in a 3-0 win for the Bergamo side.
More questions - Pirani speaks to investigators and claims over 30 games were fixed in total as rumours continue to circulate over Serie A games.
Wedesday, June 8

Vieri and Totti - Pirani continues to speak with magistrates in Cremona and names names.
Vieri is alleged to have known about the Inter - Lecce game, while Totti is alleged to have said the 2-2 between Fiorentina and Roma would have ended in that way. Vieri denies any knowledge of what has been discussed. Roma release a statement claiming they will protect the image of the club and their captain. A magistrate then claims the words regarding Totti were misunderstood and says the Italian is not involved.
Napoli come under observation - A Naples tribunal asks for television images of the games between Napoli-Parma and Sampdoria-Napoli in the 2009-10 season, and Lecce-Napoli in 2010-11. According to the latest though, the club does not risk anything for now.
Signori under exam - A number of documents are taken from the former player's home relating to fixed games. Under questioning, Signori claims he did not have any involvement in fixing Inter - Lecce. The lead investigator says he has suspicions over one Serie A game and claims there will be further investigations.
Thursday, June 9
Signori's position is worsened as he is described by the ivestigators as one of the main players regarding the betting taking place in Bologna. Investigators find a paper with his writing on it relating to a number of games.
Meanwhile, Abete is at loggerheads with the chief investigator Di Martino. The FIGC chief does not like the accusations against football.
"Only damage can be done when people reveal their feelings. We have to be careful," he said in relation to assumptions from Cremona.
"Those who know things, but don't reveal them will be held responsible," he added, regarding players who commit sporting fraud.
A Sassuolo player gives evidence in court, but denies he was ever approached by the betting gangs trying to fix matches. "Nobody ever contacted me," he says.
The Napoli investigations have been thrown out. Based on what was found after sweeping through the three games under investigation from the 2009-10 season against Chievo, Parma and Cagliari, the investigators claim there was no disciplinary action needed. As well as these games, six other fixtures from the lower divisions were also thrown out.
Friday, June 10
Abete continues his speeches - The Italian chief hopes the justice system moves fast in getting to the bottom of the scandal as he hits out at Di Martino again: "Football damages itself...? No, I think it's better."
Bari-Chievo and Padova-Atalanta - For the Cremona investigation there are few doubts, both teams were committed. A new face appears, former player Luigi Sartor, a lawyer for one of the defendants asks that no phone call transcripts are used during the legal proceedings.
Paoloni continues his defence: Questioned for over six hours by the court's public prosecutor, the Benevento goalkeeper clarifies his position via his lawyers.
"Paoloni denies giving team-mates any dose of sleeping tablets," said the lawyer in court.
Paoloni then tells
Ansa
: "I have never tried to make my team lose and I never given any tranquilisers to my team-mates."
Guido Salvini, the chief investigator in Cremona drops the case against Mauro Bressan, while a number of others including Parlato, Buffone and Giannone are under house arrest.
Salvini appears pleased with how the whole process is going and says: "We have had confirmation regarding episodes of sporting fraud and new facts have emerged."
Saturday, June 11
A number of other names pointing towards Serie A emerge. Magistrates are focused on a number of games including Chievo-Parma, based of what is said in court by those being questioned.
Manlio Bruni is questioned and he claims someone by the name of Gigi Sartor is involved also as suspicions arise.
Meanwhile, Erodiani and Pirani are under house arrest. Paoloni and Bellavista remain in custody.
Monday, June 13
A referee is linked to the betting scandal: As investigations continue, the prosecutors take a closer look at a Lega Pro game between Cremonese and Spezia which ended 2-2. Paoloni was sent off by the referee, and it appears the ref in question worked for a bookmaker.
Paoloni's lawyer appears in court and asks for his client to be released from custody. "We asked for this action for him to be released and I expect a positive outcome. He said all he knew and was caught up in a difficult world."
Meanwhile, Di Martino meets Stefano Pallazzi in Rome. Palazzi is the chief prosecutor for the FIGC. "Things are going well and there will be maximum co-operation between the Cremona proceedings and the FIGC," Di Martino says.
Tuesday, June 14
Palazzi and Di Martino strengthen the co-operation as both cases, the sports investigation by the FIGC and the criminal investigation in court, run parallel. The objective is to reach a quick solution so the ongoing legal proceedings don't weigh upon the arrangement of the football fixture list for next season across the leagues.
After 13 days, Beppe Signori is no longer under house arrest.
Inter - Lecce: Erodiani claims in court that there were no activities relating to the game in question. He alleges the game was set to be fixed, but then players who knew about it had backtracked, and thus there was no real fix as the players feared they would be discovered if suspicions later arose.
Signori defends himself: "I will come out clean from all of this, and I would never betray my world." But the lead prosecutor Salvini responds: "Signori's defence is not credible as the crime of sporting fraud exists."
Skysport365 bookmakers have handed over the suspicious betting pattern evidence regarding the 31 or so games which drew attention for the irregularities.
Thursday, June 16
Salvini puts Bellavista under house arrest while Paoloni is still held in custody as judges wait to question him further.
One of those accused claims Cristiano Doni was aware of the fix regarding the Atalanta - Piacenza game which ended 3-0 to the home team. But the player's lawyers says the accustions are "unknown and sickening" in his defence.
Atalanta could lose out big time. According to those being questioned, the newly promoted side are alleged to have fixed numerous games. With that follows noise which could see them relegated after coming back to Serie A.
Friday, June 17
According to witness statements in court, Signori is alleged to have been in control of money that was placed on Asian markets regarding Italian games. Magistrates are eager to find out who Signori's link man in Asia is.
Paoloni is released from custody and placed under house arrest. He continues to plead his innocence. After being relased from prison, he tells reporters: "It has been hard for me, that's it."
Paoloni's lawyer Luigi Curatti announces his client wants to speak to the press with his version of events.
"I think Marco must say what he has to in his own version," says the lawyer.
Sunday, June 19
Reports suggest Paoloni was threatened at gun point regarding the games which did not end in wins - those being Inter - Lecce and Benevento - Pisa.
Signori speaks again: "Those who know me know how I behave. My 30-year career has been ruined because of this."
Tuesday, June 21
Two different stories emerge according to one of the lawyers involved with some of the accused following another day in court in Cremona. The lawyer for Francesco Giannone and Fausto Bruzzese hits out at Signori.
"From what my client says, and what Signori says, two different stories have emerged," the lawyer told the court.