Francis Clottey owns a make-shift football theatre in Accra, the capital of
Ghana
. He is a worried man. His main source of income has been cut because the cinema will remain closed until sometime in August when the major leagues in Europe resume.
He has been running this business for the past two years. Clottey is a polytechnic graduate, but like many of his generation, securing a good job is a struggle. After writing countless applications to companies to kick-off his career as a laboratory technician with not a single reply, the 27-year-old found business in helping people watch their football idols thousands of miles away from Accra.
Subscribing to a satellite channel in the west African nation is essentially a reserve of the well-off. However, the majority of football aficionados make up the lower class, who cannot afford DStv, the rights owners and broadcasters of the English Premier League (EPL) and other major top flight competitions in Europe.
"That is where we come in," Clottey told
Goal.com
. "We have made it easier and cheaper for the poor to follow their football superstars down here in Ghana."
EPL craze
His 25 to 30-seater theatre can sometimes accommodate 60 people depending heavily on the match of the day and on which particular league is showing. He observed that he makes more money any time the big four in the EPL are playing – Manchester United, Chelsea, Arsenal and Liverpool.
"The Red Devils and the Blues have more followers in this area," Clottey noted. "People also want to watch teams involving Ghanaian players so most often you see people coming here for Sunderland [Asamoah Gyan, John Mensah, Sulley Muntari], Fulham [John Paintsil], Blackpool [Richard Kingson] and Chelsea [Michael Essien] matches."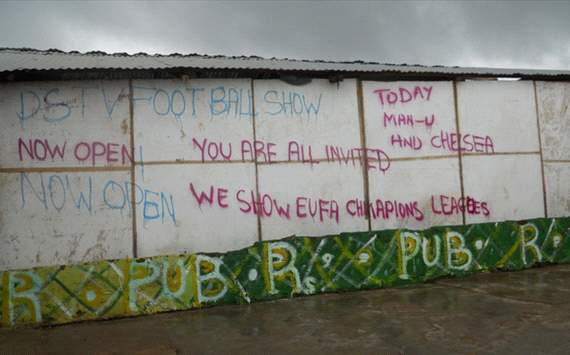 The 'local Wembley'| Don't mind the outside
However, that is not the case for Abu Abass, another football cinema operator in Nima, a suburb of Accra, where die-hard football supporters for both local and foreign teams can easily be found. Abass used to run a normal movie centre, but poor patronage forced him to convert it to a a football centre.
"The Premier League is popular, but [Lionel] Messi is our idol. You should be here any time Barcelona have a game.
"During the Champions League finale [Manchester United and Barcelona] my structure was overstretched and had to open the windows for those who couldn't get access to watch from outside," the mechanic, who runs the cinema to generate supplementary income, stated.
They charge GH¢1 per premium match, but GH¢.50p for normal games. Clottey mentioned that he makes more money during the midweek matches and Saturdays.
"Sundays are not good market days unless there is really a big match in the pipeline. Most of the Sunday matches clash with church service here and it is just some few who show up."
Luxury is illusive
Besides their benefits, most of these cinemas have something in common. A great deal of them are wooden structures. The benches made from boards makes sitting unbearable. The heat coupled with the body odour make it unattractive for other fans to frequently patronize. Moreover, it is common for irrational arguments to degenerate into a brawl at most of these centres, hence many people prefer to stay home and watch highlights on free-to-air television stations a day or two later.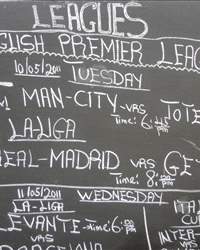 Nonetheless, the likes of Clottey have big ambitions to transform such places into a family recreation zone. The graduate wants to raise standards in the near future. His long term plan [2012] is to pull down the structure and put up a building block. He hopes to operate a mini-bar for a start and a game centre to keep the place busy even if the European season ends.
"My life depends on this business. I've got to improvise with the little at my disposal to make it more attractive as well as keep my customers. I'm even planning a table tennis championship in this area. The leagues will still be a backbone, but all these will be there to keep me going even if the top leagues go on recess," Clottey outlined.
True to his words, the renovation works are ongoing in phases. By the time the new season begins, his customers will see some appreciable changes – plastic chairs have replaced wooden benches, the concrete floor will be extended to cover the whole room while a new television set and a decoder have been acquired to show other league matches besides the EPL.
As has been the case every year, Clottey will be earnestly waiting to boost his income in about two months time as another season lurks around the corner with all its surprises, anxieties and disappointments.