COMMENT
By Paul Macdonald
There's something brewing in the south of Spain. Generally, come transfer time, there are two presidents who are in the business of handing over exorbitant cheques in exchange for international stars.
Barcelona
and
Real Madrid
are, of course, the perennial big spenders. But
Malaga
?
The popular holiday destination has, in the past 12 months, become a Mecca for footballers looking to experience a change of scenery, and a boost to their bank balances, thanks to the intriguing developments at La Rosaleda. Manchester City, and more recently Paris Saint-Germain, have entered eras of Arab ownership, and Malaga have issued a serious statement of intent under their affluent supremo Sheikh Abdullah Al Thani.
The club were purchased in a blaze of publicity in June 2010, and immediately speculation commenced as to who would be lured to the modest but fanatically supported corner of Spain. Successful regional neighbours Sevilla have enjoyed the finest decade in their history, and helped develop a multitude of players who eventually became world renowned talents; Dani Alves, Seydou Keita, and Julio Baptista, to name but a few.
Malaga, however, are cash-rich and capable of persuading established stars to join their ambitious project - Baptista being the case in point. The mercurial Brazilian has often flattered to deceive since his sensational spell with Sevilla, with Real Madrid, Arsenal and Roma failing to truly extract his maximum potential.
Down on the coast, though, he was one of the main reasons why Malaga retained their La Liga status, scoring eight goals in the final seven matches, and hence laid the foundations for what could be one of the most unlikely success stories in the history of the country.
| | | |
| --- | --- | --- |
| VAN NISTELROOY | TOULALAN | MATHIJSEN |
Sheikh Al Thani's first season in charge hardly went as planned; former Porto coach Jesualdo Ferreira arrived with a revered reputation, but the club failed to lure any significant signings before the campaign begun, and the first six months were a monumental disaster. Despite their financial clout, Malaga were heading for the Segunda Division.
However, the January transfer window witnessed the developing notion that Al Thani intended to throw his weight behind this team, and knew that remaining in the top flight was an absolute necessity. In came former Villarreal and Real Madrid coach Manuel Pellegrini, a figure of sterling reputation, to replace Ferreira. On the pitch, stars such as Martin Demichelis from Bayern Munich, Enzo Maresca and crucially Baptista gave the squad experience and quality.
Top-flight status was secured, and now, the magnitude of Al Thani's ambition is beginning to bear fruit. The businessman isn't just wealthy, his personal fortune is staggering, and he intends to invest as much of it as possible into the region of Andalusia. As well as the football team, whom he pledged would be provided with in excess of €100 million in order to formulate a world class squad, he has also secured a staggering €400m contract to redevelop the port of Marbella, in order to transform the coastal area into a futuristic, Dubai-esque marina. He has great faith in the region's ability to attract tourism, and part of this includes, notably, a blueprint for the football team.
Al Thani has also spoken out against the distribution of TV revenue among La Liga clubs, a situation that has infuriated many owners, as Barca and Madrid continue to collect the majority of the earnings.
"The situation now honestly is not good, regarding the TV rights," he recently said, adding: "It's not good for the clubs, because only the two big teams are leading the whole issue. We wish to have the same system as they have in England, because it's much more fair."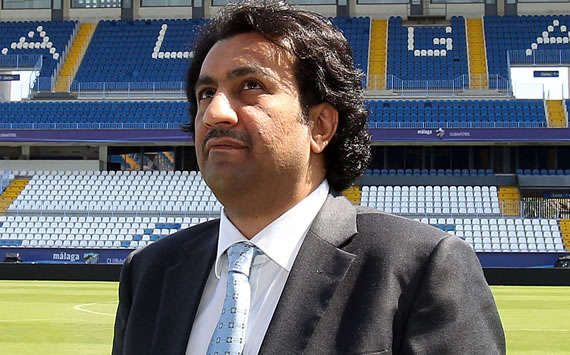 Andalusian revolution | Al Thani is spending big to bring success to La Rosaleda
His words were chosen carefully, and when dissected, represent a statement of intent. Al Thani is in Malaga not just to facilitate minor alterations - this is a full-blown revolution, and his master plan includes a wedge driven into the convention of the duopoly that rules Spanish football. Al Thani and his dollars aim to defy the status quo, and represent a genuine threat to Barcelona and Real Madrid's inherent dominance of proceedings.
Following a somewhat scattered first year in charge, the time to implement the secondary phase of the mission is now. Ruud van Nistelrooy's firework-firing arrival on a free transfer set the tone, and more have followed; World Cup final-featuring defender Joris Mathijsen is on board, while a record transfer fee, upwards of €10m, has been splurged on Lyon's Jeremy Toulalan. Spain full-back Nacho Monreal has been purchased, and the talented Diego Buonanotte will finally team up with his colleagues after sealing a transfer in January. No-one else in Spain, given the current predicament of many clubs, can spend so nonchalantly, but also with such ambition. Al Thani is a pioneer, in respect of foreign ownership; the majority of teams remain distinctly regionally-controlled, so he and the club have broken the mould.
What is the end game? Malaga have never finished above seventh in the Primera Division in their history, and have an average attendance in the region of 17,000, yet Al Thani plans to develop a 65,000 'Qatar Stadium' to house his extravagant new additions. If the vision is to take the Boquerones to the top, then there is no doubt that Al Thani has the capital, and the ambition, to give Barca and Madrid something to consider in years to come.
Follow Paul Macdonald on