COMMENT
By Ben Hayward
For many fans of
Real Madrid
and
Barcelona
, there is one thing even greater than winning: seeing the other team get beaten.
Watch Madrid lose an important match in a Barcelona bar and you would be forgiven for believing the Catalans had just won the Champions League. Likewise in Madrid when Barca are defeated. This is a rivalry that encompasses so much more than football: it's about history, geography, politics, and nationalism. Now it's about Jose Mourinho, too.
When Barcelona president Sandro Rosell addressed reporters in a press conference on Thursday to complain about Madrid's behaviour, Mourinho was at the forefront of his mind. "The news conference that the Real Madrid coach gave after the Champions League semi-final first-leg at the Bernabeu shamed anyone who considers themselves an athlete," he said.
Rosell was referring, of course, to Mourinho's rant after the sides' Champions League semi-final first leg at the Santiago Bernabeu in late April. In it, the Portuguese questioned Barca's relationship with Unicef and claimed the Catalans were receiving preferential treatment from Uefa, claiming his club's fierce rivals hadn't won a clean Champions League under Pep Guardiola.
Barcelona fans have made a funny song out of Mourinho's famous questioning: "¿
por qué, por qué, por qué, por qué, por quéeeeeee, por quéeeeeee
?" they sing with a smile. But for Barca, it's no joking matter.
Guardiola also attacked Mourinho and the Madrid press in a rant of his of his own before that game, while events on the pitch were largely lamentable. The Clasico clashes were marred by cynical fouls, play-acting, attempts to influence the officials and even an alleged racist remark made by Sergio Busquets to Marcelo. It wasn't nice.
The two clubs reported each other to Uefa and Mourinho received a five-game European ban. In protest, the Portuguese has refused to talk to the press and tensions have calmed as a result. Rosell, however, is unwilling to let sleeping dogs lie and says he will break relations if Madrid "cross the limits of sportsmanship" again.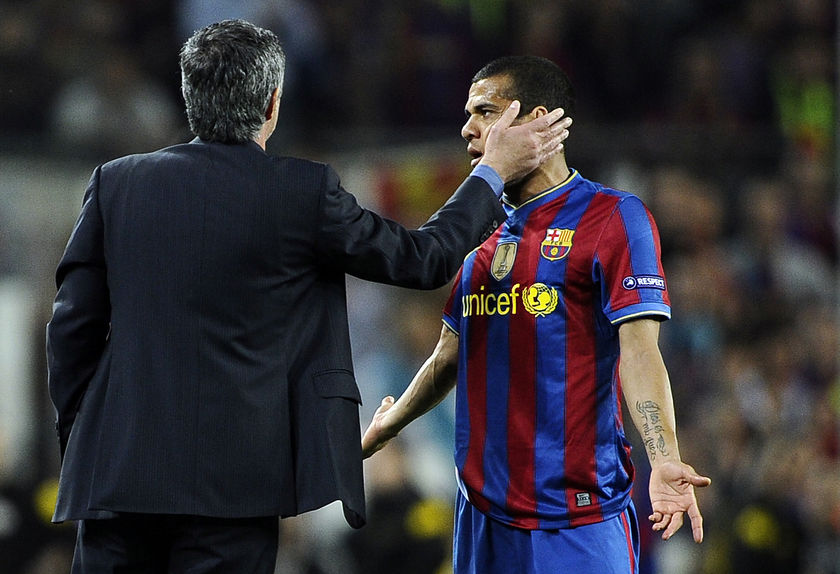 Winding up Barca | Mourinho has got under the skin of a number of Camp Nou stars
It wasn't all Mourinho. Barca were also accused of doping earlier this season by radio station
La Cope
, who claimed their original source had been a senior Madrid director. That came after Mourinho had accused Sporting Gijon of deliberately fielding a weakened team against Barca, barely a few weeks into the season. Serious accusations.
So has it always been this bad? Well yes – and no. History is littered with examples of controversies and disputes between Spain's two biggest clubs. Madrid used questionable tactics to beat Barca to the signing of Alfredo Di Stefano in 1953, after the Argentinian had agreed to join the Catalan club. Then there was the repression suffered by Barca – and Catalunya – during the era of dictator Francisco Franco, which served to exacerbate the ill-feeling between the two sides.
In modern times, the relationship between the two teams has often depended on the respective presidents. Under Josep Lluis Nunez, Barcelona restored protocol with Real and the rivalry was largely restricted to on-field battles. A look back at Madrid-Barca games in the 1980s and 1990s will, however, highlight a catalogue of ill-discipline. Barca's Hristo Stoichkov went unpunished for a vicious stamp on Quique Sanchez Flores, while Hugo Sanchez incited the Camp Nou crowd by greeting the Barca following with the grabbing of his genitals. Tensions were high. Raul told the Barca supporters to be quiet after equalising at Camp Nou, Luis Enrique infuriated the Madrid contingent with his wild celebrations after scoring against his former club and Giovanni provoked fury with his
corte de manga
gestures to the Madrid fans. Which means, quite literally, 'up yours'.
And everyone at Barca had something similar on their minds when Luis Figo did the unthinkable and left the Catalan club, of which he had been captain and was a huge idol, to join Madrid. That deal saw hatred reach new levels, although then-Barca president Joan Gaspart would constantly incite Madrid as he told the press on numerous occasions how he hoped his side's fierce rivals would be beaten – even thrashed – by other teams.
More recent presidents have been more diplomatic, although Joan Laporta provoked fury when he was asked in an interview if he had seen a 6-2 Madrid win on television, responding that he hadn't, but that he remembered a 6-2 at the Bernabeu (referring to Barca's famous win there in the first season under Guardiola).
With the return of Florentino Perez at Madrid, relations between the two clubs improved again. There was no aggressive pursuit of Barca players this time around, but Mourinho's arrival has changed this rivalry – possibly forever.
Florentino appears uncomfortable with the Portuguese's provocations and has distanced himself from the Special One's slurs. But the construction magnate is aware that Mourinho knows a thing or two about building a team and as Barca remain dominant, the Portuguese represents his last chance of rescuing a sporting project which has already cost hundreds of millions of euros. With Mourinho in place, however, the bad blood is likely to remain - especially if Barca continue to dominate - and for both Real's reputation and that of Spanish football in general, the cost could be a far greater one.
Follow Ben Hayward on