COMMENT
By Ben Hayward
The name of the perfume wasn't Obsession, but it would have been appropriate. Cesc Fabregas was in Madrid on Wednesday to take part in the presentation of a new fragrance and, for the second summer running, the Spanish press reeled off the usual questions about the midfielder's hopes and dreams of moving to Barcelona. Fabregas answered them respectfully, but also obligingly. And the conclusion: Cesc is still obsessed with Barca. The Arsenal captain spoke of his frustration at failing to win titles at the north London club; he said Barca are guaranteed winners. His favourite scent? "The Mediterranean" – and the sweet smell of success.
Barca share this obsession. The Catalan club saw two big-money offers rejected last summer for their former youth player, but are back in for the 24-year-old midfielder and he won't come cheaply. A purported price of €40 million is being quoted and is likely to smell less sweet for Barca, who originally thought they had slightly more cash to spend than that before sales. Sniff in a different direction, however, and they may find the solution is right under their noses: Thiago Alcantara.
While Cesc is a pure Catalan product, born and bred in the region and raised in Barca's youth system, Thiago is a blend of Brazilian flair and Spanish smooth. Born in Italy to a Brazilian father, World Cup winner Mazinho no less, Thiago is now starring for Spain at the European Under-21 Championship in Denmark. He's an international, bright young thing – and he's already at Barca.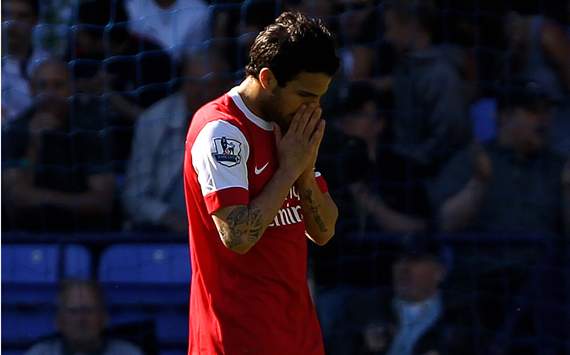 Obsessed with Cesc | But wouldn't Thiago be a better option anyway?
Thiago has been impressive in Denmark, turning in fine showings against England and Czech Republic so far. He was used sparingly for Barca last season, but scored three times in 17 appearances - playing mostly as a substitute - and appeared more than capable of performing for Guardiola's side. Peerless in possession, Thiago has Xavi's knack of receiving the ball and recycling play, nearly always creating more positive positions for his team-mates. He is constantly available, searching for space and triangles, and he can drive forward with the ball, too; he has completed 10 successful dribbles already in just two games at the Euros – more than any other player. And he plays the Barca way.
So does Cesc, of course. The Arsenal midfielder has Barcelona in his blood since idolising coach Pep Guardiola as a youngster, he played in the club's youth sides and is friends with half of the first team squad at Camp Nou. He may be ideally suited to Barca's way of playing. So too, however, is Thiago.
CESC & THIAGO | Their numbers from last season

| | | | |
| --- | --- | --- | --- |
| Cesc Fabregas | 35 games | 9 goals | 17 assists |
| Thiago Alcantara | 17 games | 3 goals | 3 assists |
Fabregas has also been away for eight years playing in a different league - and he signed an eight-year contract with Arsenal in 2006. Financial security is one thing, but as the midfielder has always maintained he dreams of a return to Camp Nou, an eight-year commitment seems excessive now. Back then of course, he could smell success in London; Arsenal were competing for titles every year and played Barca in the Champions League final in 2006. Since then, though, the Gunners have had merely a whiff of the major trophies.
In the meantime, Barca have gone from strength to strength, winning almost everything in sight. But the Catalan club still has debts to pay and central midfield appears well covered, especially in terms of starters. Even if Cesc were to sign, he would be unlikely to dislodge either Xavi or Andres Iniesta, while Sergio Busquets plays a more defensive role. The Arsenal captain is also prone to injuries and was disappointing for the Gunners at times last season, too.
So Barca would do well to back Thiago and spend their money on more pressing needs, such as a central defender to cover Carles Puyol and a left-sided forward. Cesc will come anyway – sooner or later. In the meantime, Guardiola already has a bright young star in Thiago. The player's father has claimed the midfielder will not be moving, so surely the time has come for Barca to forget their Cesc obsession, save their money, remove Thiago from his packaging and let his spirit shine. He'll be like a free gift – with a classy aroma. It all makes sense.
Follow Ben Hayward on