FEATURE
By Ben Hayward
In Spanish, it is common for a football fan or pundit to refer to a special player as a 'monster'. It means he has potent powers, superhuman strengths, astounding attributes. Lionel Messi, for example, is often called a monster.
Un monstruo
. Real Madrid target Neymar has also been described in this way, but when he was called a monster by Rene Simoes, the much-travelled Brazilian coach was talking in a much more literal sense.
Behind the scenes, far worse words are likely to have been muttered by the player's former tactician. Dorival Junior, then his boss at Santos, had been furious with his star player for an on-pitch tantrum late last year. Neymar had won a penalty with some skillful shimmies in the box, but Dorival wanted a more experienced star to take the spot-kick. Neymar shrugged, dropped the ball to the floor, walked away – and sulked. The penalty was duly converted, but Neymar hadn't even bothered to look. He launched a water bottle into the air and with it, a tirade of abuse towards his coach. He then refused to pass to his team-mates for the rest of the afternoon. All of them tried to talk him around; none succeeded.
"We have created a monster in Brazilian football," Simoes said. "Someone has to educate him for the good of sports." Dorival had tried, suspending the brilliant forward from the club's next game. But when he decided the youngster had still to learn his lesson and needed to sit out another match, things turned sour. Santos' sponsors were keen for Neymar to be in the team and the club had even sold part of his playing rights to a large supermarket chain. Bad feeling meant bad business; Neymar had to play. So not only did the coach lose his authority, he also lost his job.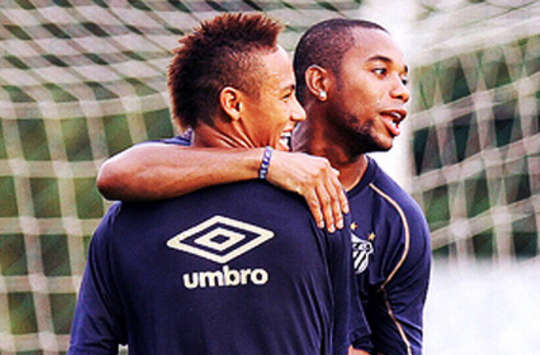 All Santos, but not all saints | Neymar with Robinho
Allowances are made for special players, of course. Romario was regularly spotted partying at the Rio Carnival during his playing days, but his clubs often chose to turn a blind eye, while Garrincha was frequently drunk hours before kick-off in his heyday at Rio de Janeiro side Botafogo. And even now, Deco and Fred are said to be receiving special treatment at Fluminense. Brazil it seems, has different rules, and Neymar, while hardly a party animal and certainly not a drunk, is clearly controversial.
Romario, it turns out, had lobbied for the player's inclusion in last summer's World Cup in South Africa. So had Pele, but the two Brazilian legends saw their pleas fall on deaf ears, as did the 14,000 people who signed a petition demanding the Santos striker's selection. Coach Dunga was a disciplinarian, and discipline has never been Neymar's best feature.
The teenager escaped punishment for a Twitter rant against a referee – who he had called a thief – after claiming his account had been hacked. Luckily for him, a tribunal decided there had been insufficient evidence. Plenty had seen his training ground bust-up with Marcel, however, when Neymar had tried to intervene in a dispute with birthday boy Ze Eduardo, only to make things worse and subsequently storm out of the session after things had turned violent.
Then there was Brazil. A fantastic goalscoring debut against the United States showcased Neymar at his very best, but the player was then left out of the Selecao's next match for indiscipline. Coach Mano Menezes, who took over from Dunga, had been unhappy about the Dorival incident and decided to shun the Santos star. "I think it's essential to make our line quite clear in how we think of conducting our work [with the national team]," the coach said. "We always say what a player brings to the national team is what he produces on the pitch."
ADVISING NEYMAR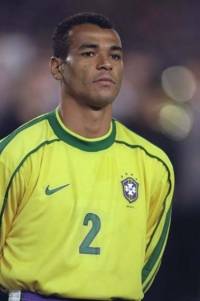 "Neymar needs discipline. He must realise that if he is unpleasant, he will receive the same unpleasantness from others"


- Former Brazil captain Cafu

But even on the pitch, Neymar has courted controversy. Another penalty, this time against Sao Paulo and this time taken by the player himself, provoked polemic, was said to anger veteran goalkeeper Rogerio Ceni and even brought criticism from the mild-mannered Kaka. Neymar had run up to the ball, shaped to shoot, paused until Ceni had committed himself and then slid the ball into the empty net. It pleased the Santos fans, but humiliated Ceni and upset everybody else, even Fifa, who decided to outlaw the
paradinha
practice at the World Cup last year.
Such skills may seem harmless, but Neymar is currently winning as many enemies with his arrogance and petulance as he is admirers with his undoubtedly brilliant ball skills. "Neymar needs discipline," says former Brazil captain Cafu. "He must realise that if he is unpleasant, he will receive the same unpleasantness from others."
Some others have been glowing in their praise of the 19-year-old, however. Ronaldo, a Madrid legend and one of the greatest players to ever emerge from Brazil, is a big fan. The now-retired striker is thought to be acting as mediator in the deal to take Neymar to Madrid – and he would be happy to see the youngster succeed at the Santiago Bernabeu. "Neymar is my successor; he has immense talent," Ronaldo said, just last week.
It may be wise, though, to treat those words with caution. After all, Pele had said the same thing of Robinho. And there are similarities here: Neymar, like the current Milan forward, has emerged at Pele's club Santos. Saints, however, they are not. Perhaps
O Rei's
advice can set the youngster on the path to perfection and allow the player to channel his brilliance for the benefit of the team, avoiding along the way the conflicts which ruined Robinho's time at Real Madrid – and which have seriously blighted his career.
Robinho and Neymar share the same agent, Wagner Ribeiro, and the latter travelled to Madrid as a 13-year-old when Robinho signed for Real. The former head of Madrid's youth system, Ramon Martinez, was instantly impressed. "He was the best player we had seen on trial at his age. He was an extra-terrestrial." A monster. Now, six years on, Neymar looks set to return, but will it be as a monster like Ronaldo or a monster like Robinho?
Follow Ben Hayward on