COMMENT
By Paul Macdonald
In the region of Catalunya, the majority of voices continue to sing the praises of Barcelona's class of 2010-11. A third consecutive La Liga title nestles safely at Camp Nou, while the Champions League trophy – their third since 2006 – glistens in the cabinet.
However, there is one individual who felt emasculated rather than invigorated at the end of such a successful season. Bojan Krkic, once regarded as the seminal star of a youth set-up bristling with unbridled talent, never quite seemed part of the Catalan club's huge achievements, frustrated at his cameo role and embarrassed by his lack of appearances. This week, in tears, and despite a buy-back option that could be triggered in future, his Barcelona dream finally died as he was transferred to Roma.
Barca had previously attempted to use Bojan as a makeweight in proposed deals to bring in Villarreal striker Giuseppe Rossi and later Udinese winger Alexis Sanchez. "I feel angry at the situation I am in," Bojan said of speculation regarding his future. "Nobody told me that I would be just a player to be exchanged. Nobody likes to be a part of that situation, especially not me." It was then that he realised, he said, that it was time to move on.
An individual once deemed to be representative of a bright future – the next generation of La Masia youth – had been reduced to recompense to possibly facilitate the arrival of another.
So how had it come to this?
To assess the impact of Bojan's unhappy ending in Catalunya, we must return to the beginning, and ascertain why his form represented an unfortunate lull in an otherwise momentous year.
The story goes of a small but immensely gifted attacker who shattered records when emerging from the ranks, scoring in the region of 800 goals for Barca's various youth teams.
BOJAN | Season-by-season at Barcelona



| | | | |
| --- | --- | --- | --- |
| Season | Games | Goals | Assists |
| 2007-2008 | 48 | 12 | 4 |
| 2008-2009 | 41 | 10 | 4 |
| 2009-2010 | 33 | 11 | 3 |
| 2010-2011 | 35 | 7 | 2 |
| Total | 157 | 40 | 15 |
Much was expected of him, so much in fact so that former Barca tactician Frank Rijkaard chose to blood him in the first team in 2007 aged just 17, and with the world seemingly at his feet. His Catalan roots also endeared him to the public, as noted on a famous occasion when Mexican winger Giovani Dos Santos was introduced in a match before him, to a chorus of boos from the terraces.
Impactful substitute appearances for the Catalan giants led to him becoming, at the time, the club's youngest-ever goalscorer in the Champions League and also in La Liga. National recognition at under-21 level followed, eventually culminating in a debut for the full side in a fixture against Armenia in September 2008.
It was expected to be the first of many international outings; and yet in many ways the 10-minute cameo signifies a plateau in Bojan's agreeably short career. The immediate expectation, the formation of a Cules icon, has never come to fruition since that date. Earlier this summer, the forward cut a dejected figure as he watched on from the bench once more as Spain won the European Championships in Denmark. This was the Under-21 side, and yet there was still no place in the starting XI for the striker touted as a talent similar to Real Madrid great Raul when he emerged in 2007.
There are various symptoms that have combined to bring about his Barca departure, but a lack of definition in his position on the park has never been of assistance. Too lightweight to lead the line, but lacking in the physical attributes to play anywhere else – it has been the conundrum for coach Pep Guardiola through his tenure: how to incorporate an undoubtedly talented, but positionless, player.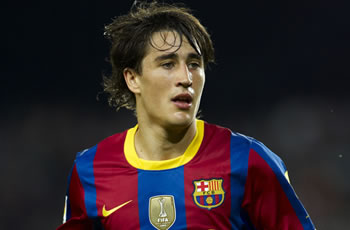 "Guardiola notoriously said that he would 'not stop until he made Bojan a better player'; his efforts, it seems, have been in vain."
Indeed, at the commencement of the 2010-11 campaign, following the deletion of the Zlatan Ibrahimovic experiment, Bojan was handed the fabled No. 9 jersey, and a fresh five-year contract arrived soon after. The number on his back was Guardiola's definitive answer to the Bojan question – he was decreed a central forward, the replacement for Lionel Messi whenever the Argentine was unavailable.
Unfortunately for club and player, however, the development into an understudy for the irrepressible genius failed to transpire. Of course, the man playing second fiddle to the greatest player in the world will have some difficulty adjusting to his role, but despite being given numerous opportunities (15 starts in all competitions this campaign), Bojan failed to convince anyone that he could be the impact player from the sidelines that Barca truly needed him to be.
Indeed, the January arrival of Ibrahim Afellay, and his appearance in the Champions League final ahead of the diminutive attacker, spoke volumes as to Guardiola's change of emphasis, and clarified Bojan's position at the club – a fringe player, and one that could be bartered for the betterment of the squad as a whole.
On reflection, Bojan's failure to become a forward befitting of the Barca standard is an anomaly amidst the success that undoubtedly grates with Guardiola; he notoriously stated after a poor outing against Betis in the Copa del Rey that he would "not stop until I make him a better player."
His efforts, it seems, have been in vain.
However, the purported interest from the likes of Arsenal, Liverpool, Juventus and Udinese (as part of a deal for Sanchez) and the subsequent move to Serie A giants Roma highlights the respect he has accrued during his time at the Spanish side. Arriving from the substitutes bench has failed to be his forte, but he is, after all, competing with one of the greatest front threes in world football. If given the regular minutes, of which he is deserving, then he has ample time to develop into the player La Masia's hierarchy were adamant he could be from the moment he arrived.
It seems that Barca and Bojan were not meant to be. But a move to pastures new, an arm around his shoulder from Roma coach Luis Enrique and a regular place in the side at Stadio Olimpico could create the kind of regular exposure the player was never be able to accumulate at Camp Nou. Barca haven't quite given up on their player, either, with the Catalan club having included a buy-back clause in the deal with the Serie A outfit. A fairytale finale at Camp Nou therefore remains a possibility, but first for Bojan comes the chance to rewrite his story in Rome. Following an unhappy ending in Catalunya, a new beginning in the Italian capital. And perhaps we'll even see a new player, too.
Follow Paul Macdonald on