COMMENT
By Paul Macdonald
Spain eased to a 4-0 victory over an under-strength United States side as they strolled through the Foxborough sunshine - and as friendly internationals go, coach Vicente Del Bosque couldn't have asked for a more positive evening's work from his illustrious squad.
The world champions left crocked Carles Puyol to complete his rehabilitation, while Xavi was granted a well-earned rest, and regulars Iker Casillas, Andres Iniesta and Joan Capdevila were benched. However, the enviable depth in this selection became apparent once more, as the replacements slotted into the jigsaw seamlessly, and offered a humbling outcome to their dizzy hosts.
USA were themselves short on first team players, with a nod to the commencement of their Gold Cup campaign, which kicks off in midweek. The likes of Landon Donovan would have been watching on in relief, in any case, as La Furia Roja sprayed the ball around in an effortless style, and flustered the hosts who were barely offered a sniff of possession.
There was a freedom to Spain's play that has arguably been lacking since their World Cup victory in South Africa in 2010; yes, the occasion was almost exhibition-like in nature, aided by some less than inspiring defending from the opposition, but the team has appeared stifled, and lacking in imagination at times of late, and this display seemed like a release of tension after a year of relentless expectation and public scrutiny.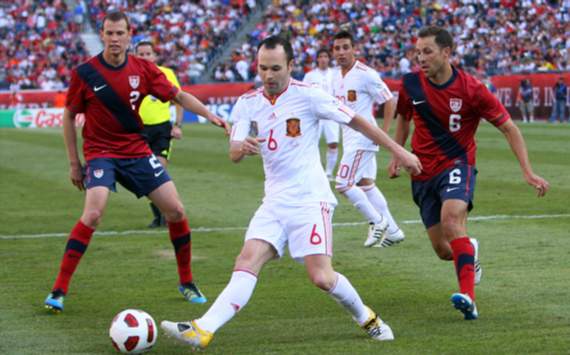 Slick in the states | Spain's win proved to be an excellent exercise for Vicente Del Bosque
The slickness of their passing won't have been the only aspect of the match to leave Del Bosque immensely satisfied. Xabi Alonso was given the freedom of the stadium to display his innate long-ball accuracy, while Santi Cazorla, Villarreal's creative mastermind, struck home two marvellous goals with sublime aplomb, the first finding the top corner, the second curled sweetly past a bemused Tim Howard.
Creating both of those efforts was the guile and vision of David Silva, who, along with second-half substitute Borja Valero, once again highlighted the embarrassment of riches available to Del Bosque in the midfield area. The latter, enjoying his debut as just reward for a stupendous season alongside Cazorla at Villarreal, rolled a sliderule pass for Fernando Torres to complete the win in the second half.
Yes, Torres - the man with the most high-profile goalscoring record in world football since his monumental move to Chelsea - toe-poked his shot past Howard and watched in prayer as the ball clipped the inside of the post, but meandered over the line. El Nino's face was one of relief but also of tangible joy - the net had bulged for only the second time in six months in all competitions, and should prove to be a vital shot in the arm for a player who has been entrenched in a dire run of form.
Del Bosque appeared satisfied too, and will hope that he has the Torres of old blistering past defenders once again before too long - what a shame for him that the season is drawing to a close.
Alongside Torres' regeneration, another striking option emerged to enhance Spain's threat in the final third. Alvaro Negredo struck the second goal of the evening with a composed finish, vindicating the decision to give him a start alongside David Villa, and he is a player who is making strides towards becoming a regular contender for a place in the squad. Cristiano Ronaldo's Pichichi-grabbing exploits for Real Madrid in the closing weeks overshadowed the fact that the 25-year-old - himself a former Blanco - struck seven times in the last four league matches of the season, and managed 27 goals in total in all competitions for a Sevilla side in the midst of transition.
In short, Spain's recent friendly internationals - such as those against Portugal and Argentina - have proven more damaging than rewarding, both in terms of reputation after heavy defeats, but also as additional strain to a squad who have touched every corner of the globe in a relentless three years of football. Despite the relative weakness of the opposition, this win represented the perfect winding-down fixture that provided nothing but satisfaction for Del Bosque and his charges. A triumph of a similar standard against Venezuela in midweek would ensure their brief American tour has been more than worthwhile.
Follow Paul Macdonald on