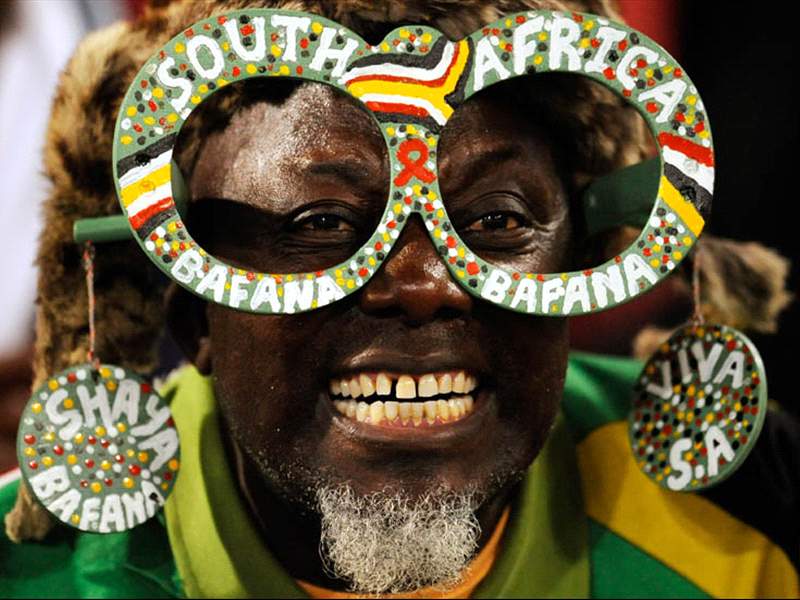 The stadium is packed. Tension grips the air. The atmosphere tingles with excitement. The camera turns to one side of the arena and there is a huge man with a protruding belly fully dressed in African regalia. Both hands are aloft with live fowls. He looks to be in a trance as he paces back and forth, left and right and keeps chanting silently, words no one can understand.
He is there to cast a spell on the opposing team. At the other end of the stadium is another man daubed in his team colours and holding a pot full of a concoction made of leaves, water and dead frog. It is sacrilegious to the gods for him to sit. He goes around the pitch to exorcise the field of evils against his team. A spectacle synonymous at many domestic league centres of African countries. For the Christians who frown on such beliefs, they have already held 'cleansing services' in their churches.
Believe it or not superstition and other forms of religious rituals form part of African football, especially in Sub-Saharan Africa. Africans are notoriously religious and believe it takes a deity – Allah for the Muslims, God for the Christians and in the case of the traditionalists the smaller gods living in mountains, trees, under water and among other obscure places – to achieve success on the pitch. It is a common practice for clubs to resort to the underworld to determine the outcomes of league games. It is an open secret no player or club official will be happy to accept.
Juju exists
However, African football legend Abedi Ayew Pele has admitted it does exists. "As for juju, I have been in it many times because in the Black Stars they were bringing us things to wash, things to drink and bathe with," the former Ghana captain revealed to
GMS Press
. "In your own local clubs you were introduced to so many of them."
Traits of juju, popularly known as "ways and means" almost always show before and during games at league centres. A team will either delay in bringing on its 11th player on the field or will refuse to use an entrance of the hosts' dressing room. At times both teams end up consorting the same oracle, witchdoctor or mallam and will be given the instructions to follow for success.
Cameroon juju man | What does he know about this game?
Malawi
Three years ago in the southern African country of Malawi, superstition heralded a league game between Dwanga United and Moyale Barracks.
"It all reportedly started in the first half when visiting Moyale realised that Dwangwa's 11th player, Winter Mpota, was outside the field of play and only entered the pitch when the full squad for the visitors hand marched onto the pitch," the
Daily News
reported in January 2008.
"Suspicious of the hosts' behaviour, Moyale also followed suit at the start of the second half when they instructed their midfielder Charles Kamanga to stay outside the field of play, waiting for Dwangwa's Mpota to enter first.
"To the surprise of the sizable crowd, Mpota never entered the pitch and Moyale's Kamanga also stayed put, forcing referee A. Maseko to proceed with game with both teams featuring 10 men each.
"And so it stayed, all because of fears of juju.
"One of our players alerted us that Dwangwa have a funny habit of delaying in fielding their 11th player ... so we agreed that we should also delay ours in the second half, to dilute the juju," Moyale's manager Lieutenant Precious Gausi said.
"Dwangwa coach Lloyd Nkhwazi admitted that he featured only 10 players after the break, but he insisted that it was Moyale who started the practice.
"We just followed suit after Moyale had held back their player due to the juju beliefs, which visiting teams have that we use juju at Chitowe, but there is no grain of truth in this," said Nkhwazi.
"Teams have refused to use the entrance to the dressing rooms at soccer venues in fear of juju, while other clubs have climbed fences instead of the usual gates to the pitch, fearing juju," the paper concluded.
Ghana
On Sunday, March 20 2011, a fierce derby between Ghana giants Hearts of Oak and Asante Kotoko witnessed a controversial issue that was clearly linked to juju. A cat invaded the pitch and was severely lynched by Hearts fans because they believed it had superstitious connotation. No one knew where the cat came from.
Also, a carbon copy of the Malawian incident above happened between these two clubs in the west African nation back in 1998. According to the grapevine, the oracles had told both teams to reserve one player to be the last to enter the pitch. Both teams played with 10 men and the referee had to stop proceedings to force the remaining two to be on the field. Their 11th players had to enter the inner parameter simultaneously, and the match ended 1-1.
In another incident, a female referee confided in a priest she was haunted by an object in the shape of a lion as she was officiating a game while she could see the face of someone among the fans with the head of a python in the mouth. Also, a goalkeeper had revealed he saw three footballs coming in his direction and when he went for one of them all he heard was "goal" from the stands. He missed the actual ball.
In 2009, when the Black Satellites became the first African side to win the U20 World Cup in Egypt, a popular Nigerian pastor T.B Joshua came out publicly to claim glory for that victory, as he had been on phone praying with the team before, during and after matches. He even claimed God had revealed to him who should take the deciding penalty for the team. Interestingly, the coach of Ghana, Sellas Tetteh wore the same shirt throughout the tournament.



"I don't think any such thing like juju works in football, because it has been proved worldwide that we Africans have more juju than any other people, but we cannot win the World Cup

"






- Abedi Pele

Tanzania
The rains have something to do with a win for the two biggest clubs in Tanzania. For Simba and their arch-rivals Yanga, when the heavens cry, it is believed that victory must come. Superstition has eaten deep into domestic football and it has been accepted as the norm. "It's just a tradition, sometimes, such kind of superstitious practices spice up the match," Simba fan Godfrey Allen told
The Citizen
newspaper after a league game.
According to the newspaper, there was a time in yesteryear when both Yanga and Simba players resorted to magic rituals before their national championship match in Dar es Salaam. Simba players went around sprinkling a strange powder in their goal area. The goalkeeper also broke two eggs and spread the yolks and albumen around both goalposts.
Two Yanga players then counteracted this ritual by carrying out one of their own - urinating on the field. As if this was not enough to negate each other's strange rituals, most players from both teams have entered the stadium with their backs to the pitch; apparently as a way of negating the other team's witchcraft.
In another incident that took place a decade ago, former Yanga captain Paul John Masanja had allegedly refused to shake hands with Simba captain, Seleman Matola, on the instructions of the team's witchdoctor. However, for some, the result was a clear indication that magic worked. Since the teams had cancelled out each other's witchcraft, and the result, appropriately, was a draw.
These stories might sound like a fairy tale or some strange way to approach matches, but there are other even more unbelievable incidents across the continent, such as the burial of a live bull by a team behind a stadium before a game took place, as well as club officials forcing players to bath or wash their hands in stinking concoctions ahead of a crucial encounter.
While others believe it works, for some it is just a psychological ploy to mess with the opposing team. Abedi, who captained the Black Stars for six years [1992-1998], believes superstition exists in African football, but doubts its efficacy.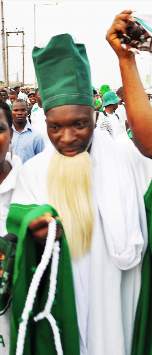 "I don't think any such thing like juju works in football, because it has been proved worldwide that we Africans have more juju than any other people, but we cannot win the World Cup.
"I think we must acknowledge that juju is part of the African tradition, and we shouldn't forget our tradition... When I was playing and the ball was going into the net, I never saw a juju man who could prevent the ball from entering the net. It has never happened.
"Yes, juju exists but it doesn't work in football. In Europe, I didn't hear or see anything of that sort. We just worked so hard and achieved results, so it's interesting," he added.
Africans are notoriously religious
However, the national circles chaplain of Ghana's Asante Kotoko, Reverend Bro. Emmanuel-Kenneth Goode, told
Goal.com
superstition is not an allegory. "It is something really happening," the man of God said. "Teams are spending huge sums of money to go into 'ways and means'."
"The African is notoriously religious. Almost everything the African does he wants to believe in something. So they want to believe that some deity or power can assist them to win matches."
Although he does not believe in it, Goode feels superstition enhances the fortunes of clubs.
"Personally, I think it increases the luck of the team. Many are into it. I believe that juju doesn't really score goals or play football, but only enhances luck," he added.
The Porcupine Warriors aficionado was certain juju or superstition will cease to exist in African football when structures are improved, players are motivated to play with their hearts and clubs believe in winning from the pitch.
God of football
However, he insisted there is a "god of football" who helps those who help themselves. "In Christian circles yes. I have asked people to pray for Kotoko and it has brought good results. God will only support the best side. Even if you say all the prayers of Hearts and Kotoko and you go to face Barcelona, I believe you can't stand the might of Barcelona," he argued.
"If you prepare very well," Goode noted. "The God of football will give you a win. He only favours the side that has prepared very well."
But there have been many occasions teams have prepared well, prayed before, during and after games and still lose a game.
So as both teams take to each side of the pitch well prepared with their top stars and crouch together while the captain or the 'chief priest' among them kneels in the middle to pray thus: "
Oh God, hear our prayers as we bow before you at this crucial moment, please bless our team, victory against our opponent should be ours, and let us know no injury. Amen
," who will the supernatural being of football support?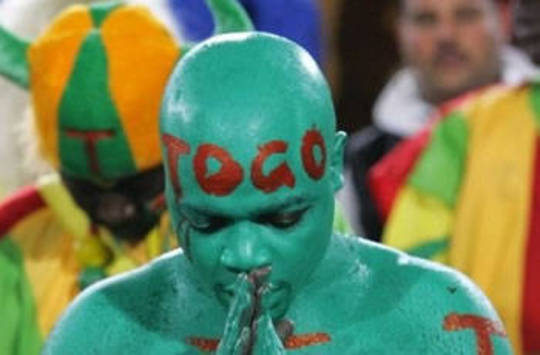 A Togo fan | God please hear our prayers
According to the August 2 1994
Awake
magazine, in an article entitled "Save Your Prayers, Please," a sports columnist wrote: "Just because you rant and rave about how tight you are with God, doesn't necessarily mean it's true. . . . In World War II, German soldiers had a phrase inscribed on their belt buckle: Gott mit uns. The translation: 'God is with us.'" Another sportswriter observed: "God does not take sides in football games. Temporal matters like these are decided by men and women, not the Almighty."
The belief in deities will continue to dominate African football and beyond. Whether juju from the smaller gods or prayers to the Almighty God works in football depends on the individual in question. However, perhaps the question is, if juju or prayers to God really work in African football, why have no teams from the continent won the World Cup at the senior level since its inception?
Follow Goal.com on

. Get the latest football news direct... Check out Goal.com's

page; be part of the best football fan community in the world!