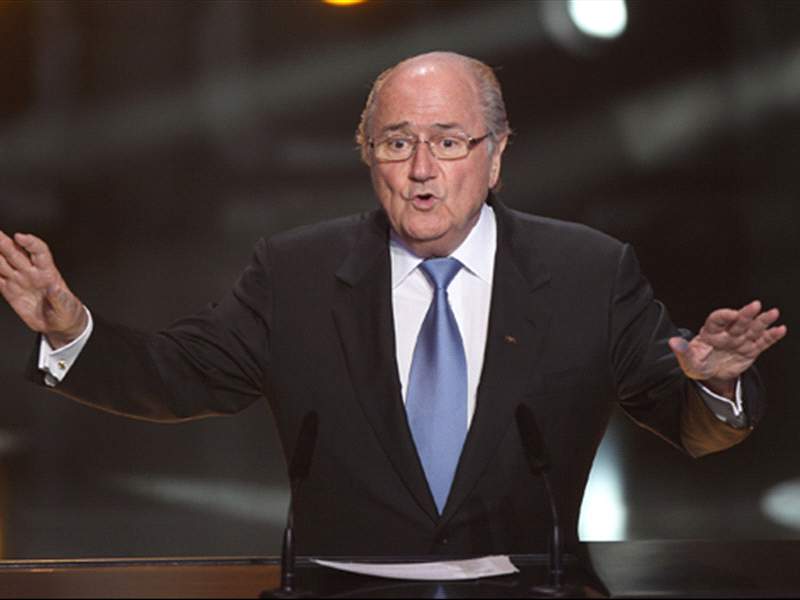 With Fifa in the centre of a storm following accusations of corruption against some of the organisation's key figures, and the embattled body's presidential election set to go ahead with just one candidate in the running - Sepp Blatter - the world's media have responded with various levels of outrage.
Whilst some outlets have hardly given the issue major prominence despite Blatter's indignant press conference on Monday, other newspapers and writers have spoken out in disgust.
Brazil
Juca Kfouri of
Espn Brasil
and
Radio CBN
:
Sepp Blatter denied everything, absolved his supporters, said there wasn't a crisis and argued that the fine spectacle at Wembley on Saturday is proof of that - forgetting to mention that he wasn't there, exactly because of the magnitude of the crisis. He ended the conference asking for respect, something that is only asked by people who already lost it.

Fifa is hurt by the worst scandal since Joao Havelange took the presidency in 1974 and transformed the entity into what it is today.
England
Matthew Syed writes in
the Times
:
Blatter is the man who has sat at the top of world football as it has descended into the moral abyss. He is the person who condemned the BBC for its Panorama investigation of Fifa and expressed sympathy for those who had been exposed.

This, of course, goes to the heart of the cancer. When those at the top of an organisation owe their position to those lining their pockets at its expense, corruption becomes indispensable to the power structure.
France
Richard Pooret writes in
l'Equipe
:
Defendant of corruption, Sepp Blatter has denied the idea of a crisis. But near the beginning of the Fifa presidential election, Fifa is under the biggest storm of its history. This is not the first time that Blatter is targeted by corruption allegations and there are a lot of doubts about the 2018 and 2022 World Cup choice. With this case, there will be doubts for many years and the promises of the ethic code in Blatter's program will never remove the suspicions of corruption around Fifa, an institution that many judge too strong to be really fair.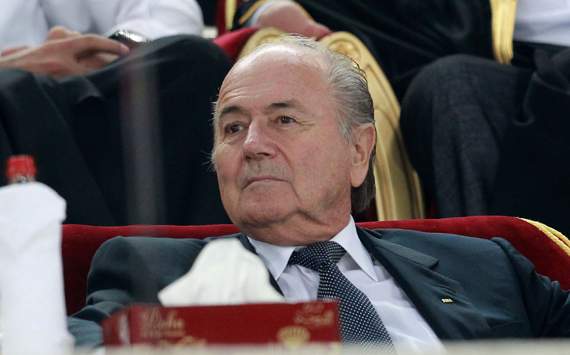 Under pressure |
Blatter is set to be re-elected as Fifa president under a cloud of controversy
Germany
Peter Ahrens writes in
Spiegel:The house of Fifa is rotten. President Blatter and his vice followers accuse each other of corruption. The World Football Association urgently needs new leadership, but won't get one. The interest on a democratic Fifa is little as long as the gains are right.

For years Fifa kept all allegations of corruption and conspiracy theories quiet...a few weeks of internal election battle between Blatter and Bin Hammam were enough to tear down that facade."

If Fifa was be a building, you would see that its beams were so rotten that a single shake from inside was enough for a collapse. Blatter says he is 'shocked' by the happenings of the last weeks, but the 75-year old is one of the main protagonists of this dramatic situation. To grant him a fourth period would be a clean signal, that the high ranking football officials have no interest in reforming Fifa.
Italy
Fabio Licari,
Gazzetta dello Sport:
The Fifa Congress starts here in Zurich - with the show involving the singer Grace Jones, just to waste some more money - and then continues with discussions on June 1, the approval of the budget and the vote. Someone will object? Fifa has never collapsed on itself like this.
Qatar
Gulf TimesHad Fifa been a country, the UN could have made a strong case for regime change. There would soon be boots on the ground, fighter planes imposing no-fly zones and laser-guided missiles targeting reinforced bunkers where Sepp Blatter would be no doubt cowering in fear along with some of his trusted cronies. The others, of course, would have defected.
South Africa
Times Live
says:
News of the strife within the football body will be received with some glee by those who have had dealings with the Fifa hierarchy. But any schadenfreude would be misplaced. Fifa has some good qualities. It is run efficiently, albeit corruptly, if much of the allegations are proved. It's just that there is too much power at the top. What Fifa needs is a catharsis that will shake it out of a system in which a few men take huge decisions on world football without being accountable to anyone but themselves. The organisation is in great need of transparency, which can come only from massive transformation. The current scandal might lead to such transformation, but only if there is some honest leadership. The current leadership shows little sign of this. Indeed, the old saying about when thieves fall out comes to mind. And to think we were happy to do business with them not so long ago.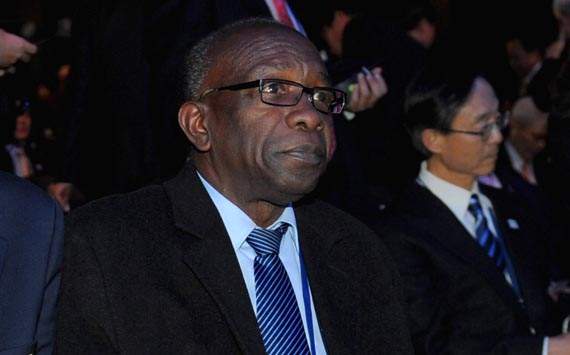 Eye of the storm |
Jack Warner promised to unleash a 'football tsunami'
Spain
Marca
says:
The election of the Word Cup venue is, in itself a state matter, a political decision of international repercusions and it should not be the least bit open to suspicion about its proceedings. If the complaints by England about the WC handed to Russia are now joined by an alleged corruption in the designation of Qatar, Fifa would then face its worst crisis ever. Blatter must now convince millions of football fans.
Javier Hoyos writes in
AS
:
Blatter will be re-elected because there is no alternative. Or better said, because Bin Hamman retired his candidacy before the Ethics Committee would disqualify him for alleged bribery... I don't trust Blatter either because he forced the WC 2022 to be organized in Qatar, in which it will turn out to be the "air-conditioning World Cup". One thing is to send the WC to the country of your choice; something entirely different is to force a quasi life-lasting presidency of an organisation with so much power and money.
USA
Rob Hughes writes in the New York Times
Blatter will, no doubt, speak on his re-election Wednesday of his mission to cleanse Fifa, to lead it to a purer and better place. He should be asked, if there are any credible challengers left within the organisation, how it came to this. How, after 13 years of Blatter rule, and after 36 years of his involvement in the executive body, has it reached so diseased a state
?
USA (Latino)
ESPN Deportes and La Opinion's Rafael Ramos
:
Fifa shakes and collapses from within. There's a nervous calm about it. The tsunami that Jack Warner threatens to haul towards Zurich can come whenever it wants. Sepp Blatter's ship is ready to withstand the blow. The world of football will shimmy and shiver, but Blatter and his loyal subjects will still be safe, floating and rising above the awfulness.

And the world awaits. Fifa is safe. It is untouchable. The message being doled out is simply that you must remain calm while you hypocritically rip each other apart. The ball may get dirty, and so might the sport itself - but, the mother of all sins in the world of the game will remain with a clean face and a dirty soul. And the world awaits. Joseph Blatter called in his family council. These desperate cockroaches scurried towards him as if they were escaping danger towards safety, and yet they're asked to remain calm.
Follow Goal.com on

. Get the latest football news direct... Check out Goal.com's

page; be part of the best football fan community in the world!