COMMENT
By Kris Voakes
It's not yet three months since Gennaro Gattuso's run-in with Tottenham coach Joe Jordan and already the AC Milan midfielder is making enemies once more. Again, it's a former Rossoneri player who has been wronged by the tigerish Calabrian, but this time it all feels a lot closer to home, after his post-match chant against Inter coach Leonardo at the Olimpico on Saturday caused another stir in the Italian media.
As Gattuso and Ignazio Abate thanked the travelling Milan ultras for their support this season by joining them in the stands after the club's 18th Scudetto was confirmed, the fans reeled out a number of their favoured chants and the players joined in. But when they started to sing 'Leonardo: uomo di merda' (Leonardo: man of shit) Abate was fairly quick to realise the consequences and curtailed his involvement, while 'Rino', nine years his senior, failed to absorb quite what the fall-out would be and continued. Or perhaps he did realise but carried on regardless. Either way, the Brazilian coach is not entirely happy.
UPSETTING THE ENEMY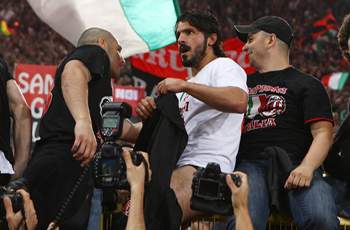 GRAEME SOUNESS
After Galatasaray clinched a cup final success on hostile Fenerbahce territory, Souness ran on the pitch and planted a Gala flag on the centre spot.



SAMUEL ETO'O
After winning the title with Barcelona, Eto'o sang along to a song belittling his former club Real Madrid, chanting: "Madrid. Damn it! Salute the champions."

MASSIMO AMBROSINI
As Milan celebrated winning the 2007 Champions League, the midfielder held a banner aloft on the open-top bus telling champions Inter to "stick the Scudetto up your arse".

ROBBIE FOWLER
After Everton fans claimed he was a "smackhead" the Liverpool striker celebrated a derby penalty by sniffing along the goal-line in front of Toffees supporters.

GENNARO GATTUSO
Caught chanting profanities with ultras about former coach Leonardo after Milan's title win in the season the Brazilian joined rivals Inter.

Leonardo has asked for an explanation from Milan and stated that he had left things with Gattuso on amicable terms when he quit the Rossoneri job last summer, and so can't understand the problem that the former Rangers man seems to have with him. But while Gattuso's disappointment in Leo could be accounted for by the decision of his former trainer to move to the club's deadly rivals in December, there is every reason for an apology to be made.
Yes, Gattuso was getting swept up in the moment. The club had just ended five years of Inter dominance with their first title in seven years. A long season, with its frustrations and its difficulties just as much as its moments to savour, is coming to an end. But footballers should know as well as anyone that 'Big Brother' is always watching. Of the Milan fans in the pen in front of where Gattuso sat there was always going to be at least one who would want to record the moment of bonding for posterity and share it with the world on the internet. And that is where this intimate moment between celebrating comrades became a diplomatic incident. The midfielder, fresh off the back of the Jordan debacle, needs anything but another controversy and should have known better.
While it may not have been as violent as going head-to-head with a 59-year-old man, many believe that this time Gattuso picked on an innocent. But in the eyes of Milanisti, Leonardo is no longer that. In switching to the other side of the city – albeit not in a direct move – he made such criticism 'fair game'. Did he really expect to be given carte blanche by his former fans? Milan vice-president Adriano Galliani responded by reminding his cugini of a similar prank by Marco Materazzi: "Last year, an Inter player donned the mask of president Silvio Berlusconi," he pointed out. While Leo had a falling-out with Berlusconi as his Rossoneri stint came to an end Galliani remains a friend, but whether he accepts this comparison is down to the coach himself.
What the incident has done is cast a shadow – however slight – on Milan's title celebrations. It's something they could have done without. It has also called into question once more Gattuso's maturity. While his performance levels were raised this season after a couple of years of struggle, the midfielder is no longer indispensable to the club, and such episodes cannot help him in his quest for another contract. The likes of Paolo Maldini and Alessandro Nesta have shown in recent years that by serving with distinction both on and off the field you will get your reward. But with the latest chapter in Gattuso's book of gaffes, he may have persuaded the powers-that-be that this particular problem child should be allowed to leave home.
Follow Kris Voakes on