ANALYSIS
By Ben Hayward
"Barca, in my heart – today, tomorrow, and forever." It may be hard to believe now, but those words were uttered by Jose Mourinho in 1997. The Portuguese stood alongside Bobby Robson on the balcony of the Generalitat [Catalunya's government building] in the centre of the city and swore eternal love to the club, in front of thousands of Barcelona fans, through a loud microphone.
The Portuguese was starting out alongside Bobby Robson and would work for three more years at the Catalan club as assistant to coach Louis van Gaal. The Dutchman even let Mourinho take charge of some first-team games in the Copa del Rey as Mourinho cut his teeth on one of football's most privileged benches.
Mourinho eventually left in 2000 to take up a full-time coaching role in Portugal, and in those early days at Uniao Leiria, when he began to impress with positive performances and results, he would joke to reporters that although things were going well, he wasn't ready to coach Barca just yet. A return to Camp Nou was clearly in his plans, but surely even he could not have imagined the kind of return he will experience when he returns to the spiritual home of his former club tomorrow with Real Madrid.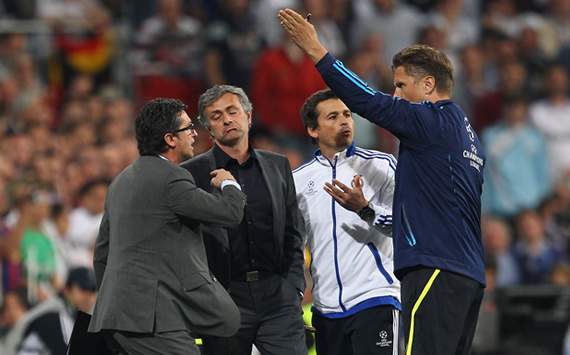 Barca bashing | Mourinho has made a habit of criticising the club he once loved
So how did it come to this? The footballing world began to sit up and take notice of Mourinho in 2003, when the Portuguese led Porto to success in the UEFA Cup. A year later, he had achieved the unthinkable - a Champions League win with the unfancied Dragons. A move to Chelsea followed and the Londoners met Barca in a mouthwatering last-16 tie in the Champions League.
That's where the relationship began to sour. After Barca's 2-1 first-leg win, Mourinho claimed then-coach Frank Rijkaard had spoken to referee Anders Frisk in the changing room at half-time. Frisk received death threats and decided to quit the game, while Mourinho incurred the wrath of Barca fans. Chelsea advanced to the quarter-finals at the expense of the Catalans, winning 4-2 in the second-leg, but for Mourinho it was the beginning of the end of a love story which had looked destined to enjoy a successful conclusion.
A year later, Barca and Chelsea met again in the last 16. This time, Barca won the first-leg at Stamford Bridge after Asier del Horno had been sent off for hauling down Lionel Messi close to the corner flag. Mourinho reacted angrily as he slammed Barca's bright young star. "How do you say cheating in Catalan?" he said. "Barcelona is a cultural city with many great theatres and this boy has learned very well. He's learned play-acting."
After a 1-1 draw saw Barca seal their passage to the last eight, Mourinho moaned: "We have not seen two games where we had 11 players versus 11, so we have not seen Barcelona win against 11 - that's all I can say." His words sound familiar.
Barca went on to win the competition, but the two teams met again in the group stages the following season. Mourinho felt no reason to complain after a 1-0 win at Stamford Bridge, but continued his feud with the Catalans following an entertaining 2-2 draw at Camp Nou two weeks later.
"I think it is not easy for a referee to be a referee when the players are diving minute after minute," he said. "Frank Rijkaard is a lucky manager because his Barcelona stars are protected match after match." Rijkaard's time at Barca came to an end in 2008 following two trophyless seasons and then-club president Joan Laporta decided a change was necessary.
REAL MADRID VS BARCELONA:
ALL YOU NEED ON GOAL.COM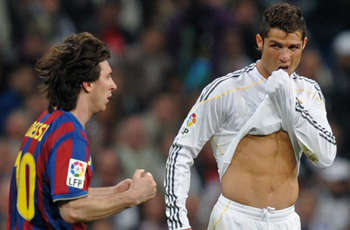 Four Clasicos in 18 days - and you can follow them all with Goal.com:

Apr 16: La Liga
Real Madrid 1-1 Barcelona

Apr 20: Copa Del Rey final
Barcelona 0-1 Real Madrid

Apr 27: Champions League semi, 1st leg
Real Madrid 0-2 Barcelona

May 3: Champions League semi 2nd leg
7.45 BST - Nou Camp


Mourinho was heavily tipped to take over and one newspaper even published his preferred starting XI. The Portuguese was considered, but Laporta took advice from Barca legend Johan Cruyff and decided against employing the Portuguese. The former boss admitted Mourinho had been the "safe option", but opted for current coach Pep Guardiola for football reasons.
"Barca have their own style that should be respected whenever a new coach is chosen. The team likes to control the game and to have the ball at our feet as our gameplay leads us to victory. Those that are suggesting other coaches for this team who have a very different style are completely wrong. No coach will ever come here that has a different belief to that." That ruled out Mourinho.
The Portuguese moved to Inter instead, but found himself up against Barca four times in his second season at the Italian club. In the side's semi-final second-leg at Camp Nou, Mourinho was greeted with banners ridiculing him as 'the translator', alluding to his role under Robson, with whom he had begun working in Portugal as an interpreter in the early 1990s. Before the match, which Inter lost 1-0 but advanced to the final courtesy of a 3-2 aggregate win, Mourinho upset Barca again as he claimed the Catalans were obsessed with winning the Champions League at the home of their biggest rivals, Real Madrid - the venue of the 2010 final.
"It's an obsession you can see and feel. I was here in 1997 and I lived a Copa del Rey final at the Bernabeu between Real Betis and Barca. It seemed like we had won the World Cup. To have a Catalan flag in the Bernabeu is an obsession. It's anti-Madridismo."
Now, Mourinho has been reported to UEFA by Barcelona following his hugely controversial comments after last week's 2-0 defeat to the Catalans in the first leg of the teams' Champions League semi-final, when he claimed Guardiola's side receive favourable refereeing decisions from European football's governing body and questioned the club's agreement with Unicef. But standing on the balcony of the Generalitat in 1997, with the Copa del Rey in his hands, he declared his undying affection for Barca. There's a fine line between love and hate.
Follow Ben Hayward on