The first of four Clasicos in a three-week span was played out on Saturday evening with two of football's brightest stars shining through in a tight, tactical battle at the Bernabeu.
Barcelona dynamo Lionel Messi made no mistake from the penalty spot early in the second half after Raul Albiol received his marching orders for foolishly tugging back David Villa in the area.
Not to be outdone, Cristiano Ronaldo sent Victor Valdes the wrong way from 12 yards out following Dani Alves' foul on Marcelo in the 81st minute.
The last nine frenetic minutes of the match failed to produce a winner and both teams had to settle for a draw that they were most likely content with for different reasons.
Goal.com
had their finger on the pulse of the masses before, during and after the Clasico as fans from around the globe shared their opinions via Facebook, Twitter and the
Goal.com
community forum.
Pre-match
Four clasicos in 17 days might be a sure recipe for sensory overload for some but not
Arazis
who opined: "
Surely it's never too much, these players and teams will be talked about for years to come and you'll be proud to say you were sitting on the sofa, soaking up every last juicy minute
."
Not everyone was drinking the Clasico kool-aid though as
Rubbernecks
commented:
Boring! Boo! Except Lionel Messi all of them are a bunch of average players who wouldn't cut it in Serie A. I'd rather watch Bologna - Chievo reruns four times."
We then asked for some predictions over Twitter just prior to kick-off and we had the normal run of the mill type guesses, the usual standard fare like 1-0, 2-0 but also had some of the unconventional variety like this from
Tolani Ajayi Gids
who after peering into the crystal ball came up with this:
"Gerard Pique will reveal how much he loves Shakira on his shirt after scoring Barca's third."
During
Madridistas around the world were not impressed with Albiol's foul on Villa in the penalty area which also gave Barca a numerical advantage and
Cronaldomanutd
didn't hesitant to make his true feelings known, saying:
Raul Albiol is dead to me, we have to suffer with ten men
."
REAL MADRID VS BARCELONA:
ALL YOU NEED ON GOAL.COM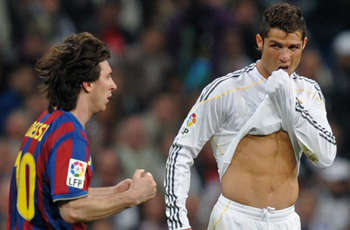 Four Clasicos in 18 days - and you can follow them all with Goal.com:

Apr 16: La Liga
Real Madrid 1-1 Barcelona

Apr 20: Copa Del Rey final
9pm BST - Mestalla, Valencia

Apr 27: Champions League semi, 1st leg
7.45 BST - Bernabeu

May 3: Champions League semi 2nd leg
7.45 BST - Nou Camp


Meanwhile Barca supporters were none too pleased with Madrid's physical style of play as
Royston Shek
pointed out: "
Real Madrid players playing so dirty, stop hacking and elbowing players
."
That opinion was not shared with others who believed the Blaugrana players were going down a little to easily as
Oceanpenguin
stated: "
Should Biscuits stop diving? Surely the best DM in the world (after ex-Barca player Yaya Toure) doesn't need to dive if he plays in the best Barca side of all time!"
Post-Match
After the game certain Barca fans were delighted that they tightened their grip on the Liga crown without exerting too much energy in the process as
Billionmillion
summed up:
"Is it just me or Barca players didn't run as much as in the first Clasico? So I take it as a training match. When Barca need a win they play much better."
What would a controversial Clasico be without a statement from
Goal.com
forum resident conspiracy theorist
SuperFloren
who said:
"I'm already done talking about the refs, we all know (even Mou) before the games, Fakecelona will have extra help in form of cards, etc. But can you imagine if CR7 makes what Messi did tonight at the Bernabeu? He would probably be killed by the media. Why nobody talks about angry Frodo tonight? Even Pepe asked him if he was crazy....haha."


One down, three to go...
Follow Goal.com on

. Get the latest football news direct... Check out Goal.com's

: page; be part of the best football fan community in the world!