"No-one likes us, we don't care" used to be the chant that rang around the Old Den in the '80s and '90s. Millwall had a reputation as a fierce club with even fiercer fans and it was very much them versus the world.
Millwall's recent history is littered with the sort of problems that led to a tag of notoriety. In 1982 then chairman Alan Thorne threatened to close the club after fan violence against Slough Town, while in 2002 the Metropolitan Police considered suing Millwall after 47 officers and 24 horses were injured in a riot by hooligans attaching themselves to the club.
Fast forward to 2011 and Millwall are keen to portray a very different image.
"We are a family club," says Jason Henley, Education & Training Department Team Leader at the Millwall Community Scheme. "That family feel flows right throughout the club. Nobody is unreachable, everybody is accommodating and happy to help out and that goes from the football club right through to the Community Scheme."
The Community Scheme is a quarter of a century old, and talk of 'family' down at the New Den seems a world away from the club 25 years ago, with its snarling lion on the badge, and an image of fan violence in the stands. But Jason believes the club have come a long way since then and perhaps it's no coincidence that it has been mirrored by the scheme's work.
"I think it would be safe to say that [the club's image] is one of the main reasons [the scheme] was started," he confirms. "To give something back to the community, and combat that side of things a little bit. It's definitely important for Millwall, probably a bit more important than at most other clubs in the fact that we need to be out there promoting a positive message of the football club and the positive side of the club which is not well advertised in the football community.
"I don't think there is any hiding from things. The club is probably one of the best at dealing with those situations in the country, there is always going to be a little element and that is all it is; our supporters are genuine supporters, real football people and they have a passion for Millwall; a passion for the club and that should never be discouraged."
With 70 staff at his disposal - many of them part-timers who work a few hours a week coaching and some of them volunteers - the Community Scheme is able to go into local schools and offer a variety of programmes, teaching life lessons wrapped in football. Millwall's coaches work with kids to deliver lessons on anti-knife crime, anti-gun crime and sexual health as well as the Kickz programme, which aims to get kids who have lost their way interested in sport and school.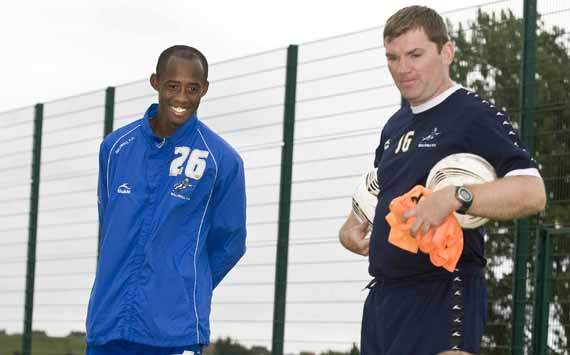 Do as I do | First-teamer Nadjim "Jimmy" Abdou visits the Community Scheme
"We're using football as a carrot to engage people in life education," says Jason, whose team also deliver soccer schools, multi-sports camps, health related lessons and 10-week class activity based projects on how footballers look after themselves, from warming up to rehydration and healthy eating.
"There's been a partnership between ourselves and the Metropolitan Police; they identify the areas for us to work in and we go in there. It's been proven that programes like that do dramatically reduce anti-social behaviour among young people because it gives them something positive to do."
But the club isn't just battling its own demons; the wealth and power of the Premier League has overflowed into local coaching schemes, but Jason is confident his club are doing things the right way.
"There is an agreement between Football League clubs that we don't tread on each other's toes," he says. "For instance if a school in Croydon contacted me saying 'can you come and do some stuff' I'd say 'no we can't because that's Crystal Palace's area' and give the contact details for the right person at Palace.
"But London is a bit of a free for all when it comes to the Premier League," he adds. "They have larger resources than we do and we have had incidents where Chelsea have been working in Southwark but we say to our community that we've been here 25 years, we're not going anywhere, we're going to be here for another 25 years.
"These clubs can come in and do a little bit of work but we'll always be here. That message seems to be getting through."
And with the Community Scheme-run Lions Centre - an indoor sports facility with astro-turf pitches, gyms and sports halls right next to the club - as well as first-team players visiting schools, Jason says he has never felt so supported.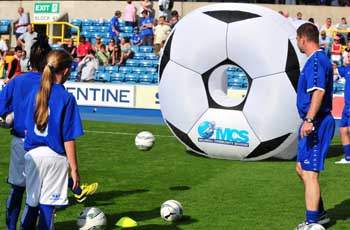 "
We're using football as a carrot to engage people in life education
"
"Our players are very supportive of what we do - if we work with a school for six weeks, they will have a player appearance. When there's a pro there, the message hits home a bit more."
The local schools are certainly pleased. Veronica Maher, head teacher at St Winifred's Junior School in Lewisham, says: "We have been working with Millwall Community Scheme for some three years now, using their coaches for lunchtime and after school clubs.
"The benefits to our children have been an increased motivation and participation in teams sports, our clubs are always over-subscribed and the younger children aspire to be in one of our three football teams.
"We have been approached by numerous sports coaches and providers and have never been tempted to change."
And Millwall chairman John Berylson is just as pleased with the work the Community Scheme does. "The Millwall Community Scheme provides an absolutely vital link between the football club and local people," he says. "Whether they come to The Den to support the team or not, for the majority of these people, the name of Millwall is one with which they associate and are proud of."
With just a month of the season left and Millwall three points outside the play-offs, there is a real chance the Lions will be competing with Premier League clubs on and off the pitch next season, but Jason isn't getting carried away.
"The play-offs are great, and a trip to Wembley would be absolutely fantastic but that's not really going to have much of an effect on [the Community Scheme], apart from the increased interest that will come with [being promoted]," Jason says.
"We're dealing with real people with real problems, and honest solutions to those, that's what we try and do. This is a real, family based football club with a family based Community Scheme that has core values that run through it from top to bottom. That's what we will try and stick to and make people feel really welcome down here."