Expectations were sky-high ahead of Netherlands Euro 2012 qualifier at home against Hungary following their master class in Budapest four days ago, but Oranje failed to impress in the Amsterdam ArenA. Nevertheless, despite their disappointing display, Holland still recorded a hard fought 5-3 home win to maintain their 100 per cent score in group E.
The win over the Hungarians didn't give national team coach Bert van Marwijk many reasons to celebrate, but the former Feyenoord and Borussia Dortmund boss will be pleased to add yet another victory to his impressive record in charge of Oranje.
Van Marwijk took over as Holland coach after the quarter-final elimination by Russia at Euro 2008 and the 58-year-old has since become one of the - if not THE - most successful Netherlands coaches in history.
The one-time capped Netherlands international made a difficult start to life as Oranje coach as the Dutch were held to a 1-1 friendly draw by Russia in their first match before losing the next match 2-1 against Australia. Nevertheless, he then guided Oranje to victory over Macedonia in his first competitive match and has never looked back since.
Netherlands coaches with highest winning percentages
Coach
Games
W

D

L

W%
Bert van Marwijk
37
28
7
2
75.68
Max Merkel
10
7
1
2
70.00
Marco van Basten
52
35
11
6
67.31
Ernst Happel
12
8
2
2
66.68
Frantisek Fadrhonc
20
13
4
3
65.00
Van Marwijk has lost only twice during his Oranje reign and has recorded an amazing 28 wins in 37 games, making him the Netherlands coach with the highest winning percentage, ahead of illustrious coaches such as Ernst Happel, Frantisek Fadrhonc, Rinus Michels, Guud Hiddink and Louis van Gaal.
What's even more impressive is that Holland have yet to lose their first competitive match in regular time since Van Marwijk took over from Van Basten. Obviously, Oranje were beaten 1-0 by Spain in the 2010 World Cup final, but la Furia Roja needed extra time to get the Dutch on their knees. Netherlands won all their eight World Cup qualifiers, won six out of seven games at the World Cup and have now won all their six Euro 2012 qualifiers so far.
Bert van Marwijk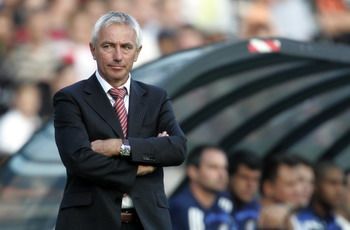 Record in charge of Oranje

| | | | | | | |
| --- | --- | --- | --- | --- | --- | --- |
| Competition | P | W | D | L | Goals | Against |
| WC Qualifiers | 8 | 8 | 0 | 0 | 17 | 2 |
| World Cup | 7 | 6 | 0 | 1 | 12 | 6 |
| Euro Qualifiers | 6 | 6 | 0 | 0 | 21 | 5 |
| Friendlies | 16 | 8 | 7 | 1 | 30 | 13 |
| Total | 37 | 28 | 7 | 2 | 80 | 26 |
Despite Van Marwijk's good results as Holland coach, the 58-year-old has also received his fair share of criticism in the past three years, though.
Many have questioned the far from adventurous tactics of Van Marwijk and Oranje were blasted for their physical approach in the 2010 World Cup final against Spain.
Nevertheless, Van Marwijk seems to be open to criticism and has fielded a more attacking team in the past couple of games and Oranje impressed with attacking football against Sweden, Austria and Hungary.
Van Marwijk's biggest achievement doesn't have anything to do with Holland's performances on the pitch though.
Throughout history, Netherlands have always been famous for their antics off the pitch. From the famous swimming pool incident in 1974, to Edgar Davids' public feud with Guus Hiddink in 1996, to the sex scandal with Kira Eggers in 2001, there was always something going on in the Dutch camp.
Ever since Van Marwijk has been the man in charge of the Dutch national side, it's been all quiet though in the Dutch camp. The Holland coach even managed to keep things quiet after his controversial decision to drop Nigel de Jong from the squad back in 2010 and the players all respect Van Marwijk for the way he deals with everything that's throw at him.
The excellent atmosphere in the Dutch team will only help them to further extend their impressive record under Van Marwijk. Oranje are all but qualified for Euro 2012 after Tuesday's win over Hungary and the Dutch will slowly start thinking about getting their revenge over Spain at Euro 2012.
Winning a big title would be the cherry on the cake for Van Marwijk and would undoubtedly make him the most successful coach Oranje have ever had. And what better way to leave the job as Holland coach is there than to lift the trophy in Kiev in 15 months time?