World Cup finalists Netherlands were dealt a huge blow on the injury front on Monday when prolific striker Klaas-Jan Huntelaar was forced to withdraw from the squad due to a knee injury. Many will argue that the absence of Huntelaar isn't too much of a loss for Oranje as they have plenty of alternatives. However, the Schalke striker is not only Holland's first choice striker at the moment, but he's also the leading goalscorer in the Euro 2012 qualifiers with eight goals in four games.
One of the few players who probably won't be too disappointed with the absence of Huntelaar is Arsenal attacker Robin van Persie. The former Feyenoord star will obviously be sad to see a team-mate struggle with injury, but Huntelaar's knee problems also mean that Van Persie will get the chance to prove his worth again as Oranje's frontman.
The 27-year-old was Netherlands' No. 9 at the 2010 World Cup in South Africa, but Van Persie never really managed to convince last summer. He found the net only once in seven appearances and many started to doubt the attacker's ability to deliver the goods for the national side like he does at club level.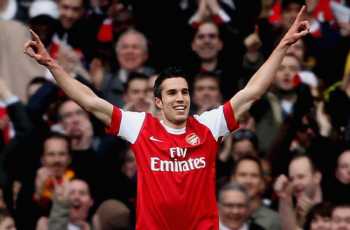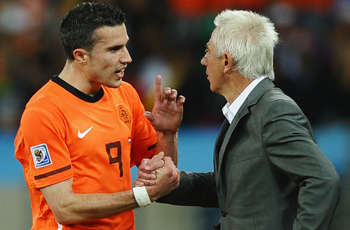 Van Persie | a different player when he wears the Oranje jersey
After a disappointing World Cup campaign, Van Persie's 2010-11 season started in miserable fashion as well. The attacker sustained a serious injury in Arsenal's 2-1 win over Blackburn Rovers in August and he didn't return to full match fitness until late November. Van Persie has since been in superb form though and has been one of the key reasons behind the Gunners' relatively good performances. The forward is his side's leading goalscorer in the Premier League and has also scored in the Champions League, FA Cup and Carling Cup.
Van Persie's good form at club level this term is certainly no accident as the Dutch attacker has developed into one of the star players of Arsenal in the past couple of years. Nevertheless, despite being one of the top players at a big European club, Van Persie has yet to become a key player for Oranje.
The Rotterdam-born attacker made his debut for Holland in June 2005 and has since played at two World Cups and one European Championship. Van Persie is still no undisputed starter for the Dutch though, despite his 19 goals in 52 appearances.
One of the reasons for this is that the Arsenal forward has yet to find his perfect position in the Holland set-up. He's played on both wings, as an attacking midfielder and as lone forward, but never really looked comfortable in any of those positions. Van Persie revealed ahead of the World Cup that he wants to play as a striker for Oranje, but he has yet to show that he's the right man for the job.
Robin van Persie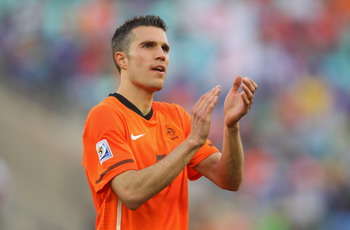 Factfile

Position: Attacker
Date of Birth: 06 Aug 1983 (27)
Place of Birth: Rotterdam, Netherlands
Height: 188cm
Nationality: Dutch
Van Persie's goals in Oranje

| | | |
| --- | --- | --- |
| Competition | Appearances | Goals |
| World Cup Qualifiers | 12 | 2 |
| World Cup | 11 | 2 |
| Euro Qualifiers | 7 | 4 |
| European Championship | 4 | 2 |
| International Friendlies | 18 | 9 |
| Total | 52 | 19 |
Another reason why Van Persie has often been the target of Dutch critics is that the gifted attacker has failed to reproduce his Arsenal form on a consistent basis when he represents Netherlands.
Van Persie has scored 49 goals in 97 Premier League appearances for Arsenal in the past five seasons, boosting a goal to game ratio of 0.505. Nevertheless, the attacker has to settle for a goal to game ratio of 0.365 for the national side during that same period.
The fact that he scored nine out of his 19 goals for Oranje in international friendlies makes the attacker's stats for Holland even less impressive.
What's even more worrying is that most of his important goals go back to his earlier years in the national side. Van Persie has scored only two goals in competitive games since Euro 2008; one in the 2010 World Cup qualifier against Scotland and one in the World Cup group game against Cameroon.
His failure to find the net in the Euro 2010 qualifying campaign can easily be explained though as he has yet to feature for Netherlands this campaign. On Friday, Van Persie will again be Holland's No. 9 for the first time since the 2010 World Cup and the Arsenal star can't afford to put in a disappointing performance in Budapest.
It's not just that players such as Ruud van Nistelrooy and Dirk Kuyt are eager to replace Van Persie up front until Huntelaar returns to match fitness, but national team coach Bert van Marwijk will follow Van Persie's performance with a critical eye as well.
The Dutch coach expects Van Persie to shine for Oranje like he does for Arsenal and should the attacker again disappoint in Hungary, Van Marwijk could very well come to the conclusion that the Arsenal attacker is not the striker Holland need, despite his reputation of being one of the Premier League's best forwards.
Follow Stefan Coerts on

.