The words of Paulo Henrique Ganso must have sounded like music to the ears of Europe's big guns, as the Santos number 10 affirmed that he will not sign a new contract in Brazil and instead wants to seek his fortune across the Atlantic Ocean. The 21-year-old is one of the most sought-after prospects in world football, and although he still has four years on his current deal the forces pulling him towards the world's biggest clubs could now be too much for the Peixe to resist.
So that these titans of world football know what to expect from the immensely talented yet temperamental young Brazilian,
Goal.com
has prepared an exclusive look at the player on the lips of all scouts and reporters at the moment, and reveals if the player will become the natural heir to Ronaldinho and Kaka or be just another South American flash in the pan…
-
Paulo Henrique Chagas de Lima
was born in the northern Brazilian state of Para on October 12, 1989, and arrived at Santos at the tender age of 15, having been discovered by Peixe idol and former Barcelona star Giovanni; the now-retired number 10 hails from the same part of Brazil as the prospect and now works as a scout for the club.
- Habitually known by his nickname Ganso - which means goose in Portuguese and refers to his long neck and comparatively small head - the youngster first came to attention in the 2008 Copa Sao Paulo, and enjoyed an excellent campaign in the proceeding state youth competition.
Santos Record

| | | |
| --- | --- | --- |
| Year | Games | Goals |
| 2011 | 2 | 1 |
| 2010 | 33 | 11 |
| 2009 | 42 | 10 |
| 2008 | 7 | 0 |
- His break-out season came in the 2009 Brasileirao, which he finished with eight goals and four assists, narrowly missing out on the CBF's revelation of the season award. It was in 2010 when the player really came to the fore however, leading Santos to the Paulista Championship in conjunction with a certain 17-year-old striking prodigy by the name of Neymar.
- Ganso is well-known for his friendship with Neymar, who he refers to as his 'Irmaozinho' (little brother). The pair along with Robinho, Andre and Wesley formed a stellar 'famous five' partnership that was taking the Brazilian leagues by storm, but after the Copa do Brasil triumph the latter three moved to Europe and Ganso ruptured his cruciate ligaments, and Santos eventually finished in mid-table of the national league.
- The injury was a massive setback for the then 20-year-old, robbing him of seven months of playing time when he had just made his debut for the Selecao against the United States. The lay-off proved to be no barrier to continuing interest from Europe; Italian giants Milan and Inter both followed the player closely, as did Spanish clubs Real Madrid and Barcelona. While Santos strived to tie him down to a lucrative contract, Ganso continually stalled, all the while stating his desire to move across the Atlantic.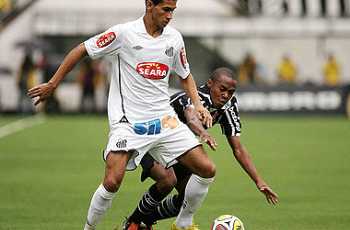 According to
Goal.com Brazil
editor Andre Baibich, the hype around the kid is well-merited. "I'm normally very careful about new talents, just because it's very hard to predict the level that they will reach. But with Ganso, it's different. He is ready for European football. He is already one of the best players in the world. Ganso impresses because he is one of the few classical number 10 players we have left," our Brazilian guru states in words that will surely be very well-received by Paulo Henrique's many suitors.
Baibich continues to explain just what makes the youngster such a talent.
"He simplifies everything with just one touch, he has great control and vision and he is always leaving team-mates in a position to score. In addition to that, he shoots well himself from long distance. I know it's a stretch, but I would say that he reminds me of Zidane sometimes, as when you see him play it seems that playing football is the easiest thing in the world.
According to our man in Brazil, the Achilles heel for the player could prove to be his fitness.
"The only question mark that I see in his future is his health. His knees have already given him trouble and we don't know if he'll be able to show everything he's capable of if he keeps being haunted by injuries."
We now know that Ganso's future is likely to lie outside of Brazil; the question is, where. The player himself has affirmed in the past that he would love a move to Inter, and chats on regular occasions to Nerazzurri coach and compatriot Leonardo. City rivals Milan however have also emerged as serious competition for his signature, while the chance to team up with players of the calibre of Xavi, Iniesta, Messi and Selecao team-mate Dani Alves could make Barcelona an option.
Wherever his future lies though, you can be certain that this is a player with the ability to do great things for club and country in the coming years.
Follow Daniel Edwards on twitter: https://twitter.com/DanEdwardsGoal
Follow Goal.com International on twitter: twitter.com/goal_intl