Milan may well have crashed out of the Champions League against Tottenham on Wednesday night, but for once there were some positives to be taken in defeat. Chief among them was the performance of Ignazio Abate, as the right back added another mature display to what has become an ever-improving portfolio this season.
With most commentators, including yours truly, pointing to the battle between Spurs' explosive width and the Rossoneri's defensive deficiencies as a potential game-breaker, it turned out to be one of Milan's key successes as they dominated the second leg. With Aaron Lennon and Steven Pienaar – and later Gareth Bale – stymied, the Diavolo were able to forge goalscoring opportunities and, though the chances were not taken, credit must go to Abate and Marek Jankulovski for laying the groundwork.
While in the Czech's case this was a display which came somewhat out of the blue, for the Italian it was further proof that, with the right coaching, a struggling talent can become a player of real worth at the top European level.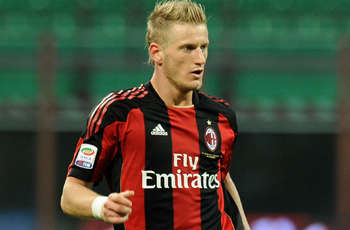 When he was first given a run in the senior side by Leonardo last season, Abate showed pace and promise but little else. A converted right winger, he continued to be possessive of a neat touch on the ball, but had a tendency to run with his head down, showed no real crossing ability, and would be all too easily beaten defensively. The most telegraphed of touches or the simplest of runs would often be enough to leave the No. 20 for dead.
Come the summer of 2010, it appeared as though Abate's progress had reached a ceiling. Like many of his team-mates, his skill set had not been developed under the Brazilian coach. Though the Rossoneri had qualified for the Champions League, no one player had progressed significantly enough for Leonardo to be considered a trainer with that magic touch. But since the arrival of Massimiliano Allegri at Milanello, the former Torino man has gradually become a different prospect entirely.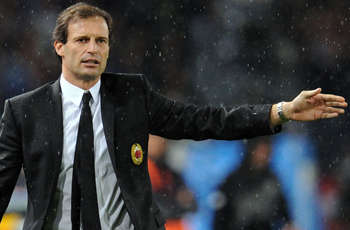 His much improved awareness and reading of the game comes partly as a result of the in-game coaching Allegri can be seen giving to his full-backs in back play. Whilst Luca Antonini has continued to frustrate his boss, the 24-year-old has flourished, allying the new skills of judgement in defensive situations to his searing pace, whilst also beginning to show a coolness in key moments – both on and off the ball – which was rarely in evidence 12 months ago.
Though still not a full-back of the very highest quality – his defensive positioning is still not that of a natural – Abate has developed enough under the former Cagliari boss for his berth to become less of a headache. Whereas Urby Emanuelson and Didac Vila were acquired as extra left back options in January, it was not deemed necessary for a right back to be sought by the powers that be in Via Turati. And his display at White Hart Lane was just the latest in a string of performances which suggest that if wholesale changes are on the cards in the summer, Abate will not be one of the sacrificial lambs. Between Allegri's guidance and the right-back's eagerness to learn, Milan might just have solved one of their bigger problems.