As a not entirely convincing Inter side has closed in on them of late, many people have scrambled around looking for explanations as to the relative ills of Milan. One of the recent theories has been that Zlatan Ibrahimovic and Alexandre Pato don't get on and can't play together. At around 22:20 at San Siro last night, they proved that the very opposite may be true.
In all honesty, Napoli's fate was never in doubt from the moment referee Gianluca Rocchi made the latest in a string of highly questionable decisions by awarding Milan a very soft penalty at the start of the second half. But while a 1-0 win from a dodgy penalty would have been enough to secure a five-point lead, what the Diavoli really needed was a statement.
Enter the dynamic duo.
With the home crowd shuffling ever closer to the edge of their seats, Ibrahimovic and Pato took advantage of an increasingly stretched Partenopei to shove the words back down the throats of those who had doubted their ability to work as a pair. First, Zlatan's superb no-look pass with the outside of his foot set Pato loose on the left, from where he cut in and bade his time before using the big Swede as a decoy, instead teeing up the onrushing Kevin-Prince Boateng.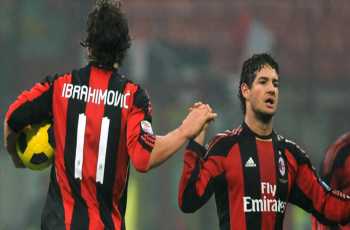 Ibra and the Duck | Milan's winning double act
At 2-0, the game was definitely over, but the front two were yet to ram home their point. Within 120 seconds they had affirmed that this Milan team can be clinical with the two of them at the helm. As Pato broke towards the Napoli goal, Ibrahimovic went on a mission, bursting to the Brazilian's right in a bid to occupy at least one of the two defenders seeking to cut out the danger. Pato took the opportunity to look up, and, as Ibra switched his path to his team-mate's left, the No. 7 pounced on the doubt which had been planted in the defenders' minds, curling the ball superbly over the dive of Morgan De Sanctis and high into the net. It was glorious football made to look easy, and it sent out a message. To the doubters, and to the chasers.
Yes, Milan have defensive issues, which a slightly better timed Edinson Cavani run here and a more convincing Marek Hamsik touch there may have punished, but so do Inter, and the same was proven of Napoli last night. Truth be told, there are very few convincing defences to be found around the Italian game at the moment, and consequently it may be one of the least Italian of Italian leagues we've ever witnessed.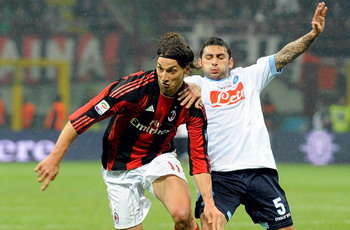 Ibrahimovic | Dummy run opened the door for Pato strike
Instead, this is a title which is likely to be won by the differences in attack. For Inter, Diego Milito has had a season to forget and Goran Pandev has been found out as a top level forward, leaving Samuel Eto'o and Giampaolo Pazzini to shoulder the burden for the remainder of the season, almost unaided. All the while, Milan's options seem to have increased in number with last night's two-man show.
It may seem a bit over the top to be practically calling a title race dead on the back of two minutes, but that was all the time it took Ibrahimovic and Pato to prove that Milan have this title in the bag if they really want it. Yes, they still have difficult games to come, but Juventus away, Roma away, Palermo away, Udinese away and Inter at home will all be games of a very similar ilk to last night's. They all could be decided by a single moment of true quality, and with Milan's front pair at their peak, nobody would bet against them making the difference when it counts.
Yesterday proved two very notable things about Italian football. One was that refereeing continues to be an area of weakness in the crucial moments. The other is that Milan are in a position of strength. Five points up and with their star forward line ready to lead from the front, their message has been sent. The Rossoneri are 11 games from their first Scudetto in seven years, and they've never looked more ready to break their duck.
Milan's Scudetto run-in
| | |
| --- | --- |
| HOME | AWAY |
| Bari | Juventus |
| Inter | Palermo |
| Sampdoria | Fiorentina |
| Bologna | Brescia |
| Cagliari | Roma |
| | Udinese |
Follow Kris Voakes on Twitter
.
Follow Goal.com International on Twitter
.