Javier Zanetti v Cristiano Ronaldo

Javier Zanetti is back in the frame for Argentina and will likely slot in at right back. The 37-year-old is a veteran of the game but is as good as any player in his position on his day, an evergreen footballer who refuses to surrender to age. The Inter legend already boasts stopping Lionel Messi last season in club football and tonight he will aim to pull all the stops on Cristiano Ronaldo.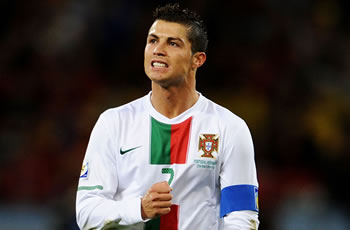 Cristiano Ronaldo has established himself as one of the best players in the world and will float from one flank to the other. The 26-year-old is likely to start at left-midfield for Portugal, meaning that he will go head-to-head with Zanetti. Ronaldo has been ripping apart defences in La Liga but has often failed to gel for his national team. Tonight with Zanetti against him, it could be a tough 90 minutes for the former Manchester United winger, although he does have the option to drift to right-midfield and take on Argentina left-back Marcos Rojo instead.
Javier Mascherano v Carlos Martins
Javier Mascherano will start in central defensive midfield for Argentina and will play the role of destroyer of Portugal's attacking moves. The Barcelona medio is regarded as one of the best in his position in the world, and although the 26-year-old hasn't looked at his best for the Spanish champions in club football this season, he will be keen to give his all for Argentina tonight.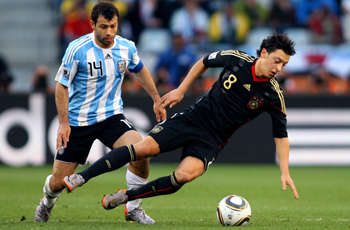 Carlos Martins is very much likely to start in midfield for Portugal. The Benfica attacking player has been impressive under coach Paulo Bento and is a dynamic player who would be looking to get past the challenge of Mascherano. The 28-year-old hasn't been in supremely massive form of late but remains an important player for Portugal and will be looking to push his team forward tonight.
Lionel Messi v Bruno Alves
Lionel Messi has developed massively as a withdrawn centre-forward for Barcelona and tonight he will start in the middle of a front-three for Argentina. There is no doubt that he needs special attention but with the 23-year-old's ability to drift inside from the wide, track back, pick up loose balls in the midfield, venture on darting runs from the middle of the pitch, it is almost impossible for any one player to man-mark the little wizard. However, tonight Bruno Alves will have to be physical and bully the FIFA Ballon d'Or winner.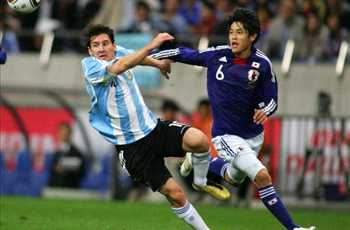 Under normal conditions it would have been Ricardo Carvalho who would have been entrusted with the task of keeping Messi under control but with the Real Madrid centre-back missing, it will be Bruno Alves. Alves is rated as one of the better defenders in Europe and he will have to stand strong and firm against Messi, who will play the role of the number 9 and will be deployed through the middle of a three-pronged attack line.
Angel Di Maria v Fabio Coentrao
Angel Di Maria knows about Fabio Coentrao from his days at Benfica and the Argentine will know how to get the better of the Portuguese. Di Maria has been one of the best and all-round players for Real Madrid this campaign and he will be crucial in not only pushing Coentrao deep inside the Portugal half but in also in stopping him from pushing forward and contributing to his side's attacks.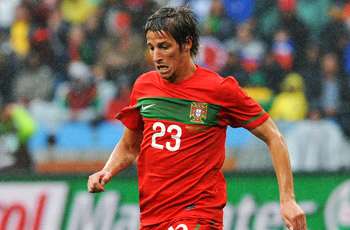 Fabio Coentrao is one of the best young wingbacks in Europe as he has demonstrated time and again that he has the quality and calibre to make it big. Tonight the 22-year-old will start at left back and will confront Angel Di Maria (and intermittently Ezequiel Lavezzi). Coentrao has proved himself to be supportive while going forward and is also steady at the back, and will hope to get the better of his old Benfica team-mate Di Maria tonight.