What They Say...
"Fernando Torres tonight submitted a written transfer request, which has been rejected by Liverpool. Fernando is under long-term contract and the Club expect him to honour the commitment he made to Liverpool FC and its supporters when he signed the agreement."
Liverpool reveal that
they have rejected
Fernando Torres'
transfer request, something that here at
Goal.com
we had broken earlier (
read story here
)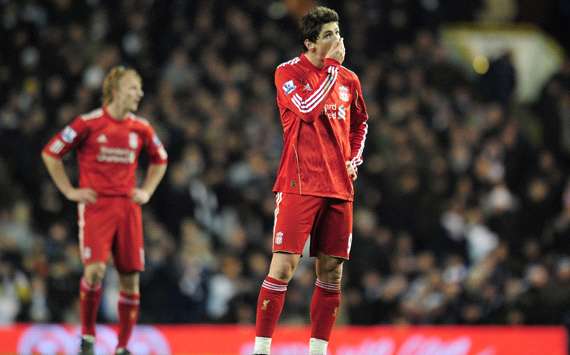 However, earlier in January Torres had pledged his future to the Reds and explained, "More than ever, we need to stick together. We must live in the present, from match to match. We need to add more points, win matches and improve our standing in the table. That is our challenge and I demand the total help of our supporters in doing that.
"My head is in Liverpool and on helping save our season. I am professional and I always fulfil my deals. I haven't considered leaving, although in football that depends on the club.Liverpool had a lot of success under Rafa Benitez and that is difficult for anyone to follow. Even if the ball hasn't always dropped our way this season, we have missed out in a lot of matches." Loyalty in football, eh?
"Everybody is going to accuse us today as corrupted people because maybe people see Mr Blatter has stayed a long time at FIFA. Thirty-five years in one organisation is quite a long time. No matter how clean you are, honest or how correct you are, still people will attack you. You are going to be defenceless. That is why I believe change is the best thing for the organisation."
Asian Football Confederation president Mohamed Bin Hammam believes that Sepp Blatter's long reign as FIFA president should come to an end.

"I would like to say something about Park Ji-Sung and Lee Young-Pyo. From today they are going to be retired from their national football careers. I want to say they did a remarkable job for Korean football and I want to say I have loved working with them. It would be better if I could keep both of them in the national team but they have done an excellent job in international football and I'm sure the Korean fans would like to congratulate them for all their hard work." South Korea coach
Cho Kwang-Rae
confirms
Manchester United's Park Ji-Sung's retirement from international football
.
"I cannot really identify a time when that happened [made my decision to retire]. Let's just say that it was playing [on my mind] from the moment Anne [Van der Sar's wife] had her stroke last year. She has fought back from it pretty well, we decided on another year in England and thus to stay at Manchester United. But once engaged in the season, I began thinking of saying goodbye to game a bit more emphatically." Manchester United goalkeeper
Edwin van der Sar
concedes that
he intends to hang up his gloves
at the end of the season.
"With Didac Vila our transfer market is now closed. [Coach Massimiliano] Allegri now has the bicycle, it is up to him use the pedals." Milan CEO
Adriano Galliani
passes the buck to coach Massimiliano Allegri
.
"I am still convinced that Juve are the best team in the League." Juventus coach
Luigi Del Neri
doesn't seem to consider the Bianconeri's poor run of results in his equation.
"I am here to help. I had the chance of playing with Benzema in the past and he is a great player who is doing great things right now. I have a lot of respect for him. I am here to play football and I wish him all the best. I will play wherever the coach asks me to. I have the chance to play with football greats, so I will adapt to any position. I did it with Morientes at Monaco and I will do it here because everyone here is very talented. I know the competition will be tough because this is the best club in the world, but I went through the same thing at Arsenal. I arrived when I was very young, but I managed to score a lot of goals. My only thoughts are on the team and winning titles."
Emmanuel Adebayor
believes that he can succeed with Real Madrid.
"I have a good relationship with the president just like with all the others. This is because I am usually married to the causes of the clubs in which I have worked for. It's not always been easy because the trouble with presidents is that they often think that they also understand football, but generally I have always be able to manage them." Palermo coach Delio Rossi seems to take a slight dig at club presidents who tend to think that they know it all.
Richard Keys
and
Andy Gray's
sexist remarks (which we do not condone here at
Goal.com
)...
here
and
here
.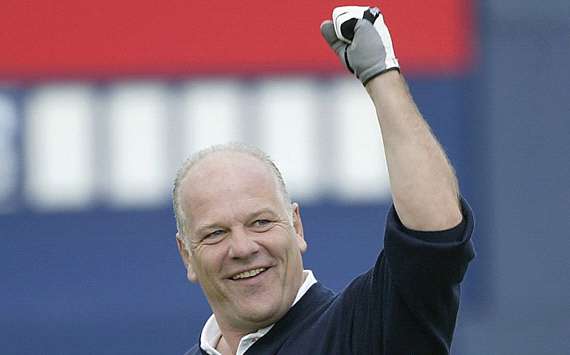 What We Say...
"To add insult to injury Garrone then rounded off a month of transfer suicide by selling Pazzini to Inter in a deal reported to be worth €12m plus striker Jonathan Biabiany and youth team player Luca Caldirola. Boasting one of the most potent strike partnerships in the peninsula twelve months ago, the president has done his best to reduce a side full of promise into a rather ordinary mid-table outfit. As new arrivals Macheda and Massimo Maccarone now look to fill the boots left by the Cassano-Pazzini partnership it seems the Blucerchiati will have to readdress their objectives and even glance over their shoulders to avoid relegation. With the drop zone and Europe both eight points away in either direction from the Blucerchiati who currently sit in ninth, the Doriani are in for some testing time largely thanks to the foolish decision making of their 75 year old president." Stefano Federici believes that Sampdoria president Riccardo Garrone has destroyed his club by selling Antonio Cassano & Giampaolo Pazzini.


"The man affectionately known as 'Uncle Fester', due to his likeness to the colourful Addams Family character, can only be applauded for his sensational market manoeuvres this season. Manoeuvres comparable in quality to those of former Juventus transfer guru Luciano Moggi.
Moggi, who has hailed Galliani's work on numerous occasions over the last few months, was prior to his Calciopoli stitch-up the best transfer guru in the world. During 12 years at Juventus he pulled off innumerable inspired signings to help the Bianconeri to a horde of honours at home and abroad." Carlo Garganese hails Milan's transfer policy this season and believes that Adriano Galliani is the new Luciano Moggi.


"The Cesena flanker, for he is as comfortable on the right side as he is on the left, has been renowned in his homeland and within his national side for his indefatigable constitution; he simply does not stop from the first minute to the last. Going forward there are few left-backs his equal in terms of consistency in delivery from wide or willingness to go forward to the by-line.
His club side may be performing as a whole entity as expected this season, poorly, but the 24-year-old on loan from FC Tokyo has stood out. Not that the diminutive full-back was an unknown quantity when signing for the Seahorses; no less a figure than Arsene Wenger had named Nagatomo among his best World Cup 2010 performers." Peter Staunton reasons that Cesena's Japan international Yuto Nagatomo is one of the world's best left-backs.
"Having sold Andrea Barzagli to Juventus earlier this week, Wolfsburg are in the market for a new central defender to serve as back-up for starting duo Arne Friedrich and Simon Kjaer. According to a report from Bild-informationen, the 2009 Bundesliga champions are interested in Hannover defender Christian Schulz. Capable of playing in both the centre and left of defence, Schulz would bring versatility to the Wolfsburg ranks. His current deal is set to expire in the summer, and Wolfsburg have allegedly offered Hannover 25 Volkswagens in exchange for his immediate services." Clark Whitney reports on Wolfsburg trying to lure
Hannover into selling defender Christian Schulz by offering
them

Volkswagens

.

"The major football exclusive turned out to be a report linking Inter with a £40 million move for Tottenham Hotspur starlet Gareth Bale. Of course such exclusives have their value - it would be a monumentally important transfer if it went through - and certainly there is no suggestion that the Guardian have made it up.But fans were left wondering why, in the middle of the winter transfer window, Prior had raised such a fuss over a speculative deal six months away - particularly when sources at Spurs have previously indicated that they won't negotiate for a penny less than £50m." Ewan Macdonald explains
how the social media is a double-edged sword
in the wake of the Guardian's 'revelation' about Inter lining up a bid for Tottenham Hotspur's Gareth Bale in the summer.


"With his side 1-0 down against the hosts in the second half, Orozco took it upon himself to right the scoreline. The prodigy stole the ball inside his own half and, with a combination of blistering pace and flawless control, proceeded to beat five players before blasting the ball home from outside the area." Goal.com's Hot 100 prospect
Yohandry Orozco
does what
Daniel Edwards
had earlier indicated he would -
light up the 2011 South American Youth Championships.
"Time and again, he would use the press conferences to highlight to the press that his squad will not be complete until he gets an extra striker. He would use the media to express his discontent in the hope that his bosses take notice of his grumbling and give in to his demands. But there can be no more excuses now for Mourinho; no more moaning, no more mind games and no more internal politicking. For the players, it will be a welcome relief. You could sense that the transfer rumours and the tension between coach and club were getting to the team. With the distractions out of the way, with the fear of losing their one and only remaining striker alleviated, the 'Men in White' can now get back to the business of scoring goals.
KS Leong
says that Real Madrid coach
Jose Mourinho
now has
nowhere to hide
should he fail to deliver the goods for los Blancos.

"The logic is so difficult to understand that some even suggested FIFA introduced the law due to commercial pressure from the sponsors. While removing the shirt does indeed prevent the brand name on it being shown on TV screens at the most viewed moments of the game, I would like to think this particular aspect doesn't influence the Laws of the Game. If it does, all the known corruption at FIFA offices is just a tip of the iceberg. The reasons behind the law are unclear, but it is one of the very few FIFA instructions to the referees that are indeed consistently and invariably implemented by all of them. While the average number of cards shown by referees in, say, English, German and Brazilian leagues varies very significantly, they all are more than happy to caution players for celebrating." Michael Yokhin explains why yellow cards for celebrations are the biggest travesty in world football.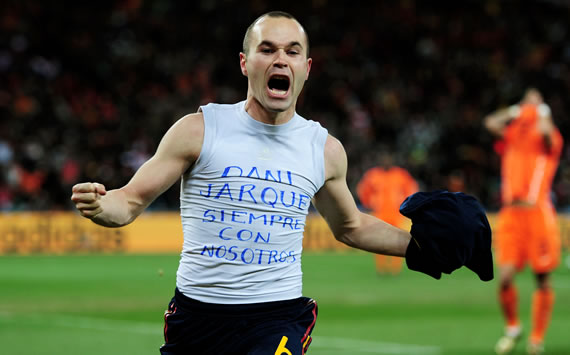 What You Say...
CATALAN4EVER in Dubai seems to know that Andy Gray had it comeing for him: "Hahahhahahahahahhaha. Well I am not surprise to see this since he was already losing his mind when he suggested that Messi won't make it to Blackpool. Thankfully there will be one less salesman of EPL who aren't of other leagues across Europe."
miss u gives this advice to Mr. Gray: "Andy Gray should follow the career paths of all stars past their prime and come commentate in the MLS :) "
Prince Emmanuel Essien in Nigeria gives his take on the arrival of Adebayor to Madrid: "To be candid, I dont think we as Madridsta's care about he name that produces the results as much as we do about the results. Benz or Adebayo, goals are all we ask for; so its a survival of the fittest for both strikers."
Follow Goal.com on

. Get the latest football news direct... Check out Goal.com's

page; be part of the best football fan community in the world!