Another week, another stroll for
Pep Guardiola
and
Barcelona
.
Racing Santander were swept aside, 3-0 at the Camp Nou on Saturday evening, the tone being set within ninety seconds as Lionel Messi laid on Pedro to give the Verdiblancos that proverbial mountain to climb, one that, at the moment, barely anyone can scale.
Almeria's Copa del Rey attempt five days later barely escaped base camp; 3-0 down within 15 minutes, they were utterly overcome by a team light years ahead of them in every conceivable fashion.
Endless amounts of analysts have scoured the annals of history and pitted the might of Barcelona against anointed 'Greatest Sides Ever', and thus it is often difficult to ascertain weaknesses within an entity that seemingly has none. Leaving aside the Real Betis match in the Copa del Rey where qualification had been all but secured, the champions have struck 21 times with only one reply in their last five outings. From an attacking perspective, their displays are unparalleled, with early-season fears over David Villa's ability to adapt to his role completely forgotten. Pedro is scoring prolifically from the wing, and Messi is, well, Messi.
Guardiola has shown his desire to build a perfectly-tuned, compact squad, and utilise the players he trusts. A ludicrously oversized, endlessly rotated team is not his style; fringe players are given ample opportunity, but when the influential individuals are fit and available, they feature, irrespective of the opposition. Those deemed to be on the periphery of the perceived "best XI" are slotted in seamlessly alongside the indispensables.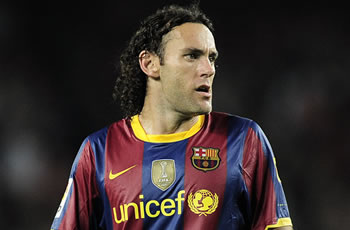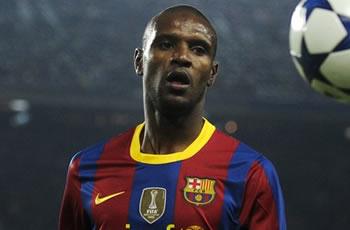 Both have experience, but neither Milito or Abidal represent sufficient defensive cover for Barca
To re-iterate, finding fault is difficult in the extreme, and a repeat of the unprecedented
Triplete
is absolutely within the capabilities of a team who seem, both miraculously and ominously, to be refining itself on a weekly basis.
Defensive Depth
In conjunction with the statistics provided above, it may seem unreasonable to highlight a defence that has conceded just 11 goals in 20 matches, and highlight their shotrcomings. But the Blaugrana wore a similar mask of invincibility after they had obliterated Arsenal in the Champions League last season, and subsequently few anticipated their defensive frailties would be so emphatically capitalised upon by Jose Mourinho's Inter.
For a team in the stage of evolution that Barcelona have reached, defensive duties become almost an afterthought with the exception of a small group of key fixtures. This season looks certain to prove that, domestically, El Clasico(s) will be pivotal and the 5-0 victory in November already looks as if it may be definitive. That leaves only a cup final appearance and the Champions League for genuine tests of the organisation of the Barca rear guard.
A lapse in the first leg ten months ago against the Nerazzurri proved fatal, and this season, despite their continued dominance, there is a belief that the Catalan giants may be caught short in a similar manner if they were to lose any of their regular back-four for an extended period.
That is not to say there is immense quality in their ranks. Carles Puyol and Gerard Pique remain a formidable partnership, combing the experience, commitment and drive of the Spanish international captain, with the composure and on-the-ball assuredness of the man who is destined to be his long-term replacement for both club and country.
But beyond that, Barca unquestionably lack depth. Dmytro Chygyrnskiy's return to Eastern Europe after a doomed, disagreeable 12 months has left Gabriel Milito as the only recognised central stopper in reserve, and despite the coaches' recent protestations that vetoed a loan switch to Malaga, he seems only willing to risk the Argentine in case of emergency. The reason was wholly in evidence in the 3-1 cup defeat away to Betis that has left Milito spiralling in a vicious circle - not trusted to start because of a lack of match sharpness, but unable to gain practice for precisely the same reason.
Abidal as Centre Back

Consequently, Guardiola sees Abidal as his central stalwart to deputise for Puyol, a position he is not unfamiliar with, but one he has rarely employed during his four years at the Camp Nou. He undoubtedly has the pace to cope with the role, but recent outings against Levante and Racing allowed the opposition clear scoring opportunities that better sides would have despatched. His positioning is at times suspect, and while he may comfortably negotiate league matches against bottom half teams at home, can he really be relied on going forward, particularly if Puyol's current bout of tendonitis, which is deemed to be a controllable discomfort, becomes a growing concern?
Beyond that, emerging La Masia graduates Marc Bartra and Andreu Fontas, at 20 and 21 respectively, have just one league start between them, and cannot be considered as a viable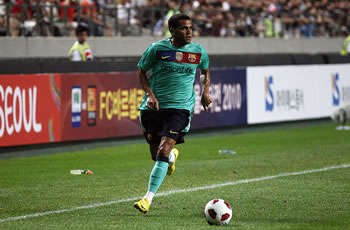 The Dani Alves contract saga continues to rumble on
option for the remainder of this season or possibly even next. Barca have been incredibly fortunate with injuries over the past two seasons, and should a crisis strike, many argue that a lack of replacements of genuine quality could be significantly detrimental to this otherworldly Barca machine.
Disruptive Dani
The problem extends further. Those who have watched this team's trip to its current position on the cusp of perfection will know that the enterprise and indefatigable energy of Dani Alves is essential. The fact he is making noises about moving on, with a seemingly agent-engineered Manchester City 'offer' disrupting negotiations over a contract extension, represents a blot on an otherwise pristine season.
The Brazilian is bartering from more cash, and perhaps previously his affront was to have paid dividends. But given their own financial concerns, Blaugrana president Sandro Rosell will continue to call his bluff until an authentic offer from elsewhere reveals itself.
Johan Cruyff attempted, in his weekly Catalunyan column, to emasculate the 27-year-old by claiming that if Alves has received an offer, Barcelona should simply say "goodbye and good luck".
It's not quite as simple as that, however, and Guardiola knows there is no-one else out there like Alves. The employment of Adriano, a useful utility player but one who comes nowhere close to his dynamism, in that position has given a minor indication of what would be missing should he eventually up and leave. He is a unique specimen, and with the recent contract extension of Sergio Busquets, he remains the last signature required to ensure that this team remains together for the foreseeable future.
Barcelona appear all-conquering at the current juncture, and they have already proven that attack is the best form of defence when it comes to defeating what La Liga has to offer. The Champions League could however be won and lost on the ability of their backline to meet increased standard of opposition, and the loss of a key figure could see Barca fall short once again.