Just under a year ago, Milan owner Silvio Berlusconi and his trusted right hand man, vice president Adriano Galliani were public enemies number one in the red-and-black-half of Europe's fashion capital.
The Rossoneri's first team squad was painfully old, the average age only increased by the January arrivals on loan of a 34-year-old David Beckham and a washed-up Amantino Mancini from city rivals and treble winners-to-be Inter.
Fans around the world were desperate for Berlusconi to sell to an investor prepared to spend the kind of money that the world's joint-most internationally successful club deserves and demands.
Milan were in danger of becoming a laughing stock, more so after they were thumped 7-2 on aggregate in the Champions League last 16 by an ordinary Manchester United team. Goal.com International Chief Editor Ewan Macdonald wrote an editorial titled
'Silvio Berlusconi Is Living In Denial'
, and a poll incredibly resulted in 100 per cent of readers agreeing that the Italian prime minister had to go. Macdonald's closing line was: "With Berlusconi showing no intention of selling, despite fan protests, what will become of this legendary club in the next few years?"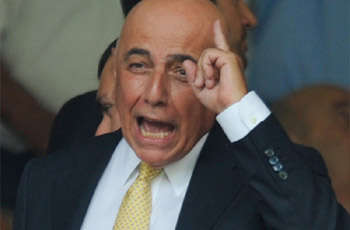 Ten months down the line, and no one could have predicted the present and future to be so bright. The Diavoli are top of Serie A, through to the semi finals of the Coppa Italia after last night's 2-1 win at Sampdoria, and still in with a chance of matching Inter's treble as they build up form ahead of a knockout assault on the Champions League.
More importantly, however, the short, medium and long-term look of the squad is appearing very healthy. And much of this is down to the transfer magic of Adriano Galliani (pictured above in typically crazed mode).
This term Galliani has added to the roster three world class forwards – Zlatan Ibrahimovic (albeit originally on loan), Robinho and Antonio Cassano – for a total of just €20.5 million. In the summer of 2009, Ibrahimovic had moved to Barcelona for €46 million plus Samuel Eto'o. A year earlier, Robinho had transferred to Manchester City for £32.5m. Cassano's true value, meanwhile, was at least €20m. The discount achieved on these deals speaks for itself. Galliani also secured the services of three other respected internationals at super-low prices – Kevin Prince Boateng (co-ownership), Mark Van Bommel (free transfer) & Urby Emanuelson (€1.7m).
From

Barcelona




Fee:
Loan with option


To
Milan


Date:
August 2010



From
Manchester City

Fee:
€18m

Robinho




To
Milan

Date:
August 2010

From
Genoa

Fee:
Co-ownership

KP Boateng

To
Milan

Date:
August 2010
From
Sampdoria

Fee:
€2.5m

Antonio Cassano

To
Milan

Date:
January 2011
From
Ajax

Fee:
€1.7m

Urby Emanuelson




To
Milan

Date:
January 2011
From
Bayern Munich

Fee:
Free Transfer


Mark Van Bommel

To
Milan

Date:
January 2011
The age of the squad has been significantly decreased from 29.8 years in January 2010 to 27.9 in January 2011. This number will only lower this summer when at least two of Flavio Roma (36), Marek Jankulovski (33), Clarence Seedorf (34) and Pippo Inzaghi (37) leave upon the expiry of their contracts.
The 18-year-old Alexander Merkel, outstanding at the Stadio Ferraris, is looking like a real star of the future. Together with Thiago Silva, Mathieu Flamini, Boateng, Robinho and Alexandre Pato, Milan now possess a good group of young players in their mid-twenties and below. And we all know it is only a matter of time until Manchester City's 20-year-old Mario Balotelli jumps on board too.
If Galliani can now just treat the weaknesses at full back, as well as discover a centre back successor to the legendary Alessandro Nesta, the bald-headed chief will have provided coach Massimiliano Allegri with a squad ready to achieve some great things over the next four or five years.
The man affectionately known as 'Uncle Fester', due to his likeness to the colourful Addams Family character, can only be applauded for his sensational market manoeuvres this season. Manoeuvres comparable in quality to those of former Juventus transfer guru Luciano Moggi.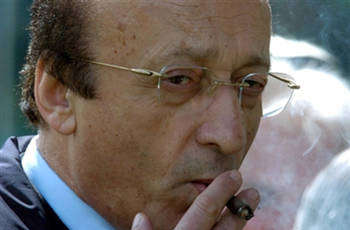 Moggi, who has hailed Galliani's work on numerous occasions over the last few months, was prior to his Calciopoli stitch-up the best transfer guru in the world. During 12 years at Juventus he pulled off innumerable inspired signings to help the Bianconeri to a horde of honours at home and abroad.
From the shrewd purchase of a supposedly over-the-hill 36-year-old Pietro Vierchowod, who would star in the club's 1996 Champions League success over Ajax, to a string of other top quality bargain buys including Edgar Davids (from Milan for just €3.5m), Fabio Cannavaro (from Inter in exchange for Fabian Carini) and Adrian Mutu (on a free transfer after being sacked by Chelsea) – 'Lucky Luciano' was the master of building a world class squad whatever the resources at his disposal. Never was this more evident than in the summer of 2001 when he famously sold the world's best player Zinedine Zidane to Real Madrid for €75m and used this money to build a new, great Juventus by signing three world class players in Gianluigi Buffon, Lilian Thuram and Pavel Nedved.
Galliani's work this season for Milan rivals what Moggi did for Juventus back in 2001.
Follow Carlo Garganese on twitter: twitter.com/carlogarganese
Follow Goal.com International on twitter
:
twitter.com/goal_intl