Remember Andres Iniesta's winner in the World Cup final? He receives the ball from Cesc Fabregas, shoots ahead of Rafael van der Vaart's desperate sliding tackle, and then dedicates the goal to his friend Dani Jarque, the late Espanyol captain. It was one of the most emotional moments in the entire history of football. Iniesta was praised around the world for his fantastic unselfish gesture, he is an absolute hero in his country, but few noticed that he was booked for his actions. Howard Webb didn't send Iniesta off for retaliation on Mark van Bommel earlier in the game, but he felt obliged to issue him a yellow card for removing his shirt. As a matter of fact, Iniesta was cautioned for the very action that brought him all the plaudits. Sounds absurd and idiotic? Absolutely! It's difficult to think of a bigger travesty than that.
Why is there a mandatory yellow card for removing the shirt and for running in joy to the fans during goal celebrations? Here is a law which nobody understands. I was first introduced to it in 2004, without any proper explanation. The Official Laws of the Game reads:
"Celebration of a goal
While it is permissible for a player to demonstrate his joy when a goal has been
scored, the celebration must not be excessive.
Reasonable celebrations are allowed, but the practice of choreographed
celebrations is not to be encouraged when it results in excessive time-wasting
and referees are instructed to intervene in such cases.
A player must be cautioned if:
• in the opinion of the referee, he makes gestures which are provocative,
derisory or inflammatory
• he climbs on to a perimeter fence to celebrate a goal being scored
• he removes his shirt or covers his head with his shirt
• he covers his head or face with a mask or other similar item
Leaving the field of play to celebrate a goal is not a cautionable offence in itself
but it is essential that players return to the field of play as soon as possible.
Referees are expected to act in a preventative manner and to exercise common
sense in dealing with the celebration of a goal."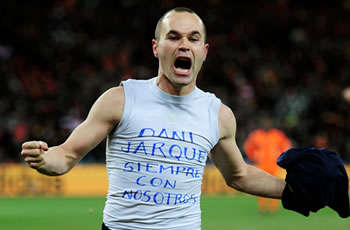 Some say FIFA don't want players to show their naked body for all to see, but that's nonsense. Firstly, players are allowed to exchange shirts after the final whistle, and even at half-time. Secondly, that reason won't explain the fact cards are shown to players who wear another shirt beneath the one removed, like in the case of Iniesta. Thirdly, why should there be any problem with an athlete's body at all? Most of the footballers are only promoting sports when they show their muscles. As for the unfit minority… well, we would all agree that Adriano should be booked for stripping in public, but then again he never scores, so that problem is irrelevant anyway.
Some claim that excessive celebrations are a method of time-wasting, and thus should be punished. Delaying the game is indeed a bookable offence, but not all the celebrations are time-consuming. Real and faked injuries, as well as arguing about free-kicks and penalties are much more damaging to the game's rhythm. In fact, talking to the referee regarding penalties has become a tribal ritual, carried out even in the most obvious and indisputable cases. Taking the shirt off and putting it back on really takes just a few seconds. What's more, covering the head with your shirt, which is also a bookable offence according to the rules, doesn't waste any time at all.
The logic is so difficult to understand that some even suggested FIFA introduced the law due to commercial pressure from the sponsors. While removing the shirt does indeed prevent the brand name on it being shown on TV screens at the most viewed moments of the game, I would like to think this particular aspect doesn't influence the Laws of the Game. If it does, all the known corruption at FIFA offices is just a tip of the iceberg.
The reasons behind the law are unclear, but it is one of the very few FIFA instructions to the referees that are indeed consistently and invariably implemented by all of them. While the average number of cards shown by referees in, say, English, German and Brazilian leagues varies very significantly, they all are more than happy to caution players for celebrating.
It's time to state, loud and clear, that this law is contradicting the very essence of football. Our game is all about emotions, and people express their emotions differently. While some are smiling and hugging their team-mates, others are running wild. Players' desire to share joy with their fans is not just understandable and reasonable, but it contributes to the game. Imaginative goal celebrations are becoming an attraction and a trademark of players and teams. When FIFA state that "the practice of choreographed celebrations is not to be encouraged", they are outlawing the hilarious and brilliant shows by Iceland's Stjarnan, which brought them world-wide fame (look for them on youtube and 101greatgoals if you don't know what all the fuss is about).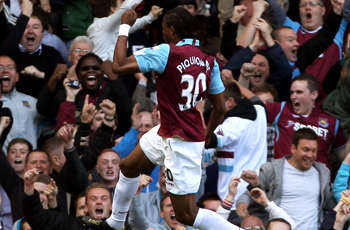 Amazingly, all the bookable offences listed in the law above are marked as "unsporting behaviour". That's right – FIFA think Iniesta's glorious gesture is unsporting behaviour! Stjarnan's antics are an unsporting behaviour. It looks like showing emotions is frowned upon by the people upstairs. On the other hand, fans and press think emotions are very much part of the game. Take notice that Mario Balotelli is even brutally and unfairly criticised for NOT celebrating goals.
Here are fresh examples from the last week. West Ham's Frederic Piquionne was sent off for a second bookable offence just for spending a few seconds hugging his supporters at Goodison Park. Everton duly took advantage of their opponents' reduced numbers to equalise in stoppage time. The question is not whether it's fair, because it's definitely not, and Avram Grant stated very clearly that he doesn't blame his striker at all. The question is whether there is any single sane person in the world who sincerely thinks Piquionne deserved to be red-carded for sharing joy with his long-suffering fans. On the same Saturday, Pavel Pogrebnyak was booked for taking his shirt off after scoring an absolute screamer that earned Stuttgart a very late draw at Dortmund and ended his personal goal drought dating back to early October. Does he deserve the yellow for showing his emotions? It was his third this season, and two more celebrations will see him suspended.
It's somewhat bizarre that FIFA urge referees "to exercise common sense in dealing with the celebration of a goal", while at the same time stating that "a player MUST be cautioned if he removes his shirt". If a referee must do something, how can he use his common sense? Did you see the look on the face of Peter Walton when he was sending Piquionne off? He was almost apologising to the Frenchman. If Walton were allowed to use his common sense, West Ham would have finished the game with 11 men.
Therefore, here is my message to the referees. Stop following every stupid instruction in the law. Sepp Blatter is not going to kill you for letting reasonable celebrations to take place, and that includes removing shirts and running into the crowd. That doesn't mean everything is allowed. Time wasting should be punished. Provocative celebrations must not be tolerated. For example, Emmanuel Adebayor deserved a booking, at the very least, for his actions versus Arsenal last season, and it wouldn't have been excessive to send him off just for that. Players shouldn't undress completely when celebrating, and thus Mirko Vucinic does deserve a caution when he takes his shorts off. But wait! The Montenegrin once defended himself saying there is no such rule: "I know there is a yellow for lifting the shirt, but it says nothing about my pants". Look at the Law, and you will discover Mirko is absolutely right. That just highlights that those who wrote the law were not the brightest minds of our time.
FIFA should have abolished this idiotic rule immediately after Iniesta was booked in Johannesburg. They didn't, but it's never late to right your wrongs. And if FIFA don't act, referees like Walton must do it themselves. Don't apologise, just keep the card in your pocket. Let the players express themselves if they are not hurting anyone. Let football be what it is: free and emotional.